Environmentalists Flip Out Over San Diego's Plans To Erect an 80-Foot-Tall, $975,000 Straw Statue
A giant straw would actually pose fewer environmental risks than standard-sized varieties.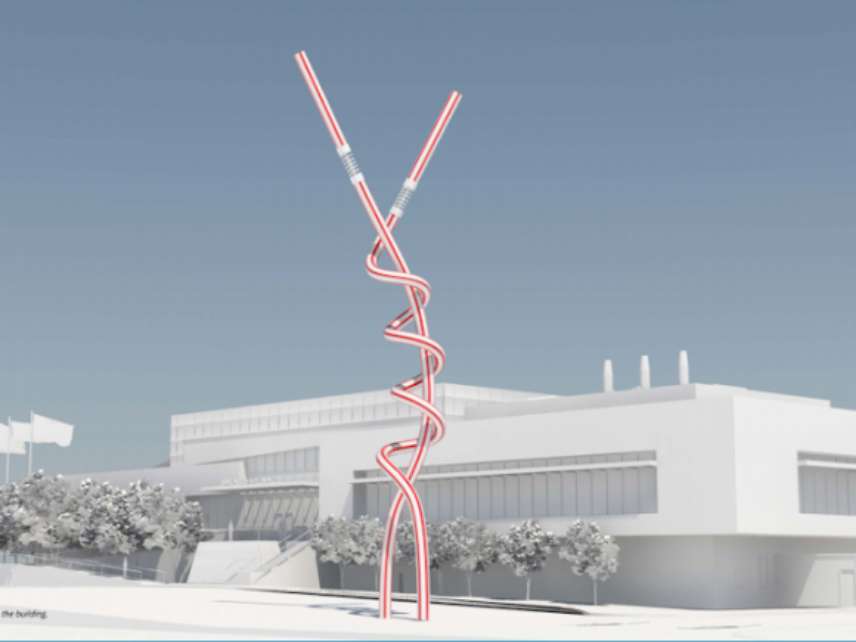 Given the ferocity with which environmentalists have demonized normal-sized, plastic drinking straws, it comes as little surprise that they have lost their minds over a giant, taxpayer-funded straw slated to be installed at a water treatment facility in San Diego.
On Tuesday, San Diego Voice reported that some 600 people have signed a petition against the design for a public art installation at the city's North City Pure Water Facility.
The initial concept, developed by Los Angeles-based artist Christian Moeller, would have featured an 80-foot structure resembling two tangled, single-use plastic straws, which the Voice reports would cost some $975,000.
San Diego, like many localities around the country, has a requirement that a fixed percentage of public infrastructure costs (in this case, two percent) be spent on beautification. That requirement has led to any number of questionable designs around the country.
But few have proven as controversial as Moeller's straw statue.
"Don't let the city memorialize a monument to a product that endangers our natural world. Erecting two intertwining, 78 ft. straws is wrong," reads an online petition against the proposed design at addup.org, which stressed that the straw statue was not just immoral but also "just plain BAD ART."
While I sympathize with San Diego taxpayers who don't want to fund monuments to something they find abhorrent (a position libertarians find themselves in quite often), the anti-straw fanaticism behind this campaign is plain bizarre. It's also misplaced. The immense size of Moeller's design would prevent it from being ingested by any sea creatures, save perhaps for the mighty Gamera. And, while brittle plastic straws are quick to degrade into dangerous microplastics that can then filter into the flesh of sea creatures, Moeller's straw should be easy to spot and remove from any body of water it might fall into.
But the merits of Moeller's design—as art and kaiju utensil—are now moot: the City of San Diego has decided to scrap plans for the giant straw after the outcry. A spokesperson for the city says Moeller is currently "re-evaluating his conceptual approach" to the structure at the North City facility.