TSA Puts the Squeeze on Working Mom
An Illinois mom's breast milk went to waste after TSA agents apparently ignored their own policy.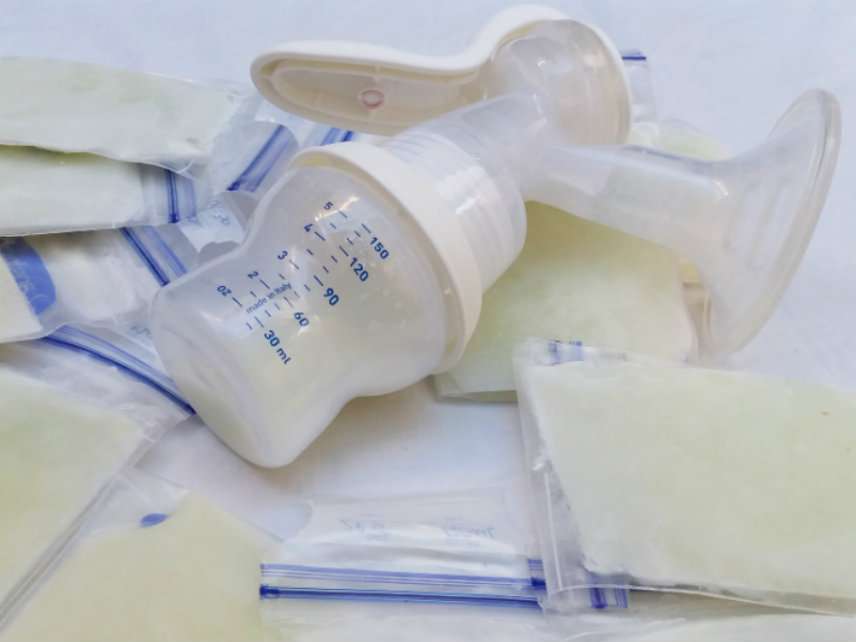 As a working mother of two, Heather Gieseke has flown enough to know the Transportation Security Administration's (TSA) guidelines for traveling with breast milk. She always follows those rules and never had any major issues until Thursday, when TSA agents wouldn't let her take a day's worth of milk through security.
Gieseke, whose youngest daughter is just 2 and a half months old, left her milk behind, but only because she felt she didn't have any other choice. "In the moment, I felt very helpless," Gieseke tells Reason. "At the end of the day, it was the TSA agents versus me," she adds, and "the mom is going to lose every time in that situation."
Gieseke travels about three to four times a month for her job, so she thought she knew the drill. "When you go through security, you declare your milk to the security agent," she says. The TSA's website states that breast milk is "permitted in reasonable quantities through the security checkpoint."
Usually, Gieseke says she walks through the X-ray scanner before receiving a mandatory pat-down. Since she doesn't want her sterile bag of milk to be scanned, an agent will "feel around" the outside of the bag to "make sure there's nothing hiding inside it." Then, the TSA runs paper strips along it. Those strips go through the X-ray machine, and if the scanner detects "hazardous material" from them, an alarm goes off.
On Thursday, Gieseke was making her way home to Edwardsville, Illinois, when TSA agents at Minneapolis-Saint Paul International Airport asked if she would open her bag of milk so they could test it. Officers at other airports have made similar requests in the past, but she always declines and has never run into trouble before. While officers never ask to touch the milk, this sort of testing does consist of an agent waving a paper test strip over the opened bag. It's something Gieseke says she would prefer to avoid.
"A lot of moms are uncomfortable having their milk opened for the chance of it being contaminated," she explains. "There's a lot of exposure to germs and bacteria" that are often airborne, she says, "so it's just not a sanitary situation."
Reached for comment by Reason, a TSA spokesperson confirmed Gieseke could have either sent the milk through the X-ray machine or "made a slight opening" in the bag so an agent "could hover the strip over" it.
But Gieseke pointed out that per the TSA's stated rules, she's well within her rights to opt out of both types of screening. She appears to be correct. According to the agency's breast milk guidelines:
Inform the TSA officer if you do not want the formula, breast milk and/or juice to be X-rayed or opened. Additional steps will be taken to clear the liquid and you or the traveling guardian will undergo additional screening procedures, to include a pat-down and screening of other carry-on property.
She tried telling the TSA agents in Minnesota about this policy, but they wouldn't listen. Instead, she says, they warned her that unless she complied, she wouldn't be able to take the milk through security. "They told me it didn't matter what was posted online, what matters is their internal protocol," Gieseke says.
Gieseke asked to speak with a supervisor, who told her the same thing. At that point, her choices were limited. "My options were: Let them open it and contaminate the milk, in which case I would have just thrown it away on my own, or leave it there," she says. "So I left it there." According to the TSA spokesperson, Gieseke told agents to "just throw [the milk] away."
The milk ended up going to waste, and Gieseke was not pleased. "I was upset. I was angry. I was frustrated." On Saturday, she posted a video to Facebook detailing what happened. That video, she said, "came from pure emotion."
Gieseke sees her experience as part of a wider issue affecting moms who travel. In June 2017, a Colorado mom's breast milk set off an alarm for explosives, prompting an agent to tell her she needed to throw it away. And this past April, a New York mom also claimed she had to toss two bags of milk because the TSA thought they might be "explosive."
It should be relatively easy to tell the difference between breast milk and explosives. Of course, considering the TSA's general ineffectiveness when it comes to evaluating risks, it's not terribly surprising that these sorts of incidents occur.
And occur they do, despite a 2016 law meant to ensure that TSA agents across the country enforce guidelines concerning breast milk and other baby foods uniformly.
Gieseke knows she's not the only one who's gone through a similar ordeal. But she's worried many people will claim it's an "isolated incident."
"We've got to quit doing that because our rights are being violated," she says. "It just makes being a traveling, working mom who's nursing—it makes an already tough job that much harder."