Portland Mayor's 'Emergency Ordinance' to Combat Constant Left/Right Street Brawling Has Civil Liberties Advocates Worried
Mayor Ted Wheeler's proposed ordinance raises "constitutional concerns," says Oregon ACLU.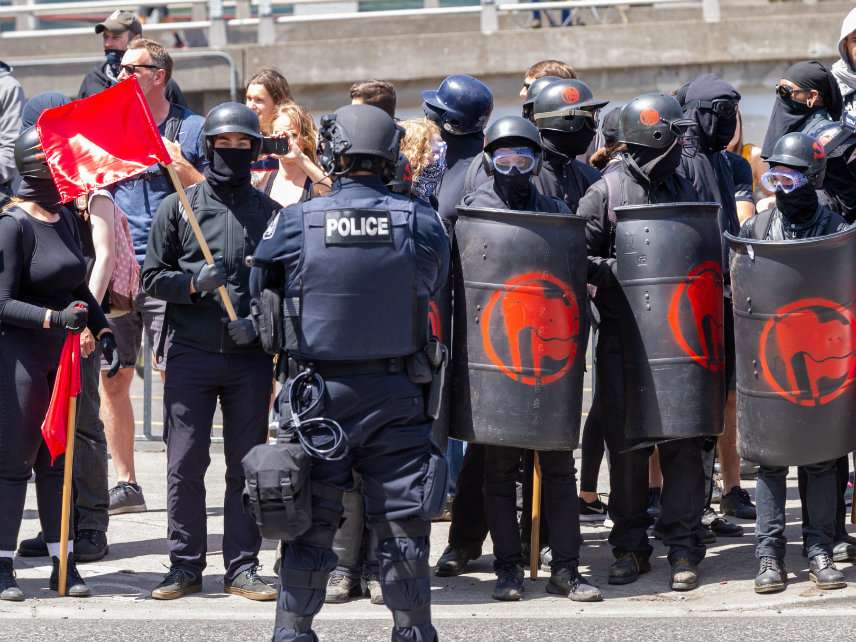 Portland Mayor Ted Wheeler is proposing an emergency ordinance cracking down on violent protests. That move has civil liberties advocates worried.
This past weekend saw a brawl breakout on downtown Portland streets between members of right-wing group Patriot Prayer and left-wing counter-demonstrators. It was the latest in a series of clashes between the two groups that started in spring 2017. In an attempt to curb this violence, Wheeler wants to give himself more powers to regulate where and when these groups can demonstrate.
"There's now a clear history of two or more groups in particular seeking each other out on the streets of our community. This violence is escalating. Public safety is at increased risk," Wheeler said at a press conference. "I will not allow continued, planned street violence between rival factions to take place in Portland Oregon."
The text of the emergency ordinance has yet to be released, but Wheeler did give some specifics at his press conference. The ordinance would allow the police commissioner (also Wheeler under Portland's system) to regulate the time, location, and length of demonstrations if two demonstrations are set to occur that day, and if those two demonstrating groups have either a history of violence, or stand to interfere with access to public property or public services.
The city would also be given the power to move demonstrations to other areas of the city. The ordinance would make it a misdemeanor to violate the conditions place on demonstrations, said Wheeler, meaning violators could be arrested and jailed.
Not having the actual text of the ordinance makes it difficult to understand how sweeping Wheeler's proposal would be. At Monday's press conference the mayor stressed that it would be content-neutral and would govern only the time, place, and manner of these demonstrations.
This has not erased the concerns of civil liberties advocates, who warn that this emergency ordinance is likely to conflict with the First Amendment rights of demonstrators.
"The mayor's proposal grants broad authority to the mayor's office to regulate constitutionally-protected speech and assembly with no meaningful oversight for abuse," said ACLU of Oregon Legal Director Mat Dos Santos in a statement. "This ordinance is being sprung on the public with little notice as an emergency measure that will take effect immediately. This action by the mayor demonstrates a lack of trust in the public and is an end-run around our usual democratic processes."
The Oregon ACLU has previously criticized the Portland police's handling of demonstrators at an August 4 Patriot Prayer rally, when officers fired less-than-lethal rounds and rushed left-wing counterdemonstrators.
Wheeler, meanwhile, has previously called for the federal government to revoke a permit given to Patriot Prayer for a demonstration it had planned to hold at the federally owned Terry Schrunk Plaza in downtown Portland in May 2017.
As I have argued before, many of the folks either attending the rallies put on by Patriot Prayer, or otherwise showing up to protest them, are obviously just looking for a fight. It's fortunate then that Portland has any number of laws on the books that outlaw things like assault, battery, and vandalism.
Enforcing those laws would be a far better way of dealing with the admittedly troubling street violence situation in Portland, rather than passing emergency ordinances that endanger bedrock constitutional freedoms like speech and assembly.