Sears Is Filing for Bankruptcy Because Capitalism Has Given Us Better Options: Reason Roundup
Plus: Parkour robots, price transparency for drugs, and Hillary Clinton defending Bill over the Lewinsky affair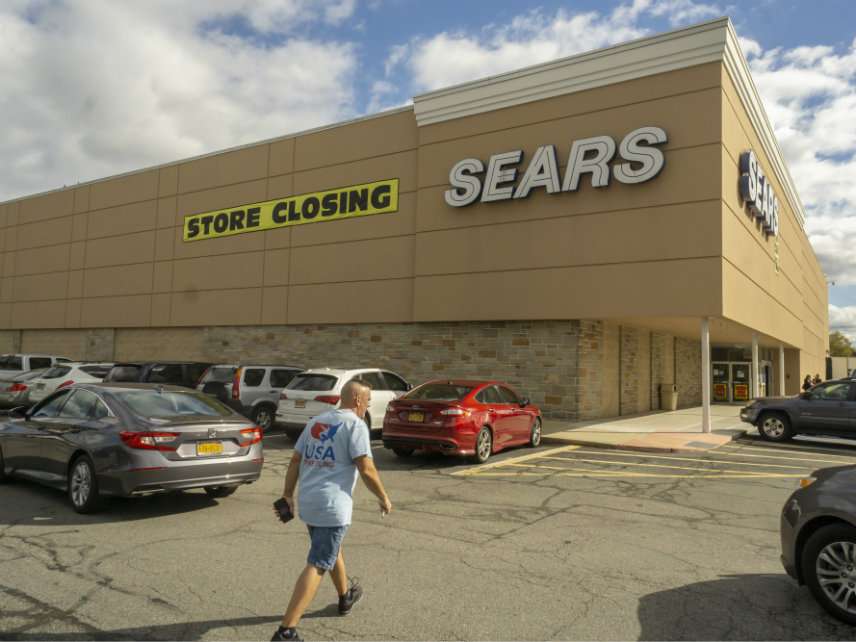 Sears files for bankruptcy. Before Amazon, before Walmart, there was Sears—one of the very first retailers built to sell just about anything to just about anyone. Its demise offers a lesson in the history of American retail and the value of creative destruction.
Founded more than 130 years ago, Sears, Roebuck & Company initially sold through a mail-order catalog; eventually, the company opened a fleet of stores across America, becoming one of the nation's most successful retail enterprises.
But the store has struggled to keep up with the changing retail environment brought on by big-box competitors like Home Depot and Best Buy, which devoted Sears-size stores to a single retail category, providing far greater selection in the process.
Walmart, meanwhile, used its buying power to sell goods at deep discounts and offered grocery sales, luring in daily customers that Sears struggled to reach. Finally, Amazon, with its online ordering, massive selection, relatively low prices, and speedy delivery, turned the retail industry upside-down—in some ways by relying on an internet-era version of the catalog strategy that Sears started with so many decades ago.
In the last 10 years, Sears has closed more than a thousand stores and shed about 230,000 employees. It has lost about $5.8 billion in the last five years, according to The New York Times, and its share price, which soared above $100 a little more than a decade ago, is now less than a dollar. As part of the current reorganization, the company plans to close 142 additional stores. It will keep operating at least through Christmas.
In the Times, retail research firm president Craig Johnson calls this "a sad day for American retail." But he also makes an important point: Sears is winding down because it hasn't kept up with the times. "There are generations of people who grew up on Sears and now it's not relevant," he tells the Times. "When you are in the retail business, it's all about newness. But Sears stopped innovating."
I don't have much personal nostalgia for Sears—I preferred to spend my mall hours at the bookstore and the arcade—but I have a lot of respect for what it represented.
Sears was a business, yes, and it made a lot of money for its owners and workers. But it was also a system for providing affordable, quality goods to the growing middle class for more than 100 years. It's on its way out because we now have superior systems for doing the same. Sears paved the way, but most of us have better options now. That is creative destruction, and it has improved hundreds of millions of lives.
FREE MARKETS
Later today, Health and Human Services Secretary Alex Azar is giving a big speech in which he's expected to push for pharmaceutical price transparency. As Axios reports, this a popular idea with some real complications. For example, "critics of the price-disclosure proposal note that most patients don't pay the full sticker price. If you have insurance, you pay a lower negotiated rate"—but the plan is expected to focus on sticker prices, which few people actually pay.
FREE MINDS
Let's hope Elon Musk isn't right about AI: Boston Dynamics now has a robot that can run a parkour course.
QUICK HITS
In an interview with CBS, Hillary Clinton defends her husband, former President Bill Clinton, regarding his decision not to resign during the Lewinsky scandal.
"In retrospect, do you think Bill should've resigned in the wake of the Monica Lewinsky scandal?" correspondent Tony Dokoupil asked.

"Absolutely not," Clinton said.

"It wasn't an abuse of power?"

"No. No."