Writer Stephen Elliott Sues Over 'Shitty Media Men' Spreadsheet: Reason Roundup
Plus: libertarian accounts purged from Facebook?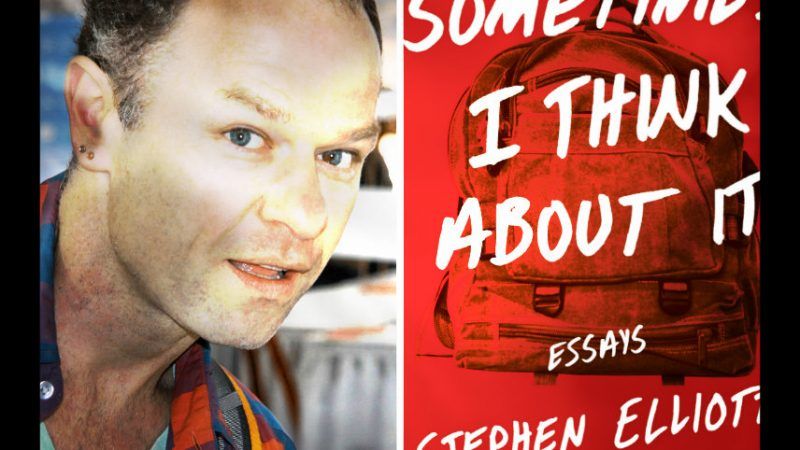 (modified from Wikimedia commons / Elliott book cover)
Google spreadsheet "whisper network" spawns lawsuit. Author and editor Stephen Elliott, founder of The Rumpus, is suing over his inclusion on a Google spreadsheet that started circulating around this time last year. Dubbed the "shitty media men" list, it was created by a woman named Moira Donegan, who urged female friends and fellow writers to anonymously out male journalists, pundits, and literary types who were known to take sexual liberties. The list wound up with allegations against more than 70 named men, ranging from making unappreciated advances on women colleagues to serial sexual assault and rape.
Elliot was anonymously accused of conduct from rape to "unsolicited invitations to his apartment." In a lawsuit filed Wednesday in federal court, Elliott is seeking at least $1.5 million in damages.
In the suit, Elliott asks for details—names, addresses, etc.—on those who contributed to the list, which had straddled the line between public and private. Anyone who had a link could see it and contribute, and even after Donegan took it down, screenshots and PDFs of the page persisted.
Donegan took down the document not long after Buzzfeed published an article about it. She said she hadn't been trying to publicize the names of alleged shitty men, simply to create a digital "whisper network" that allowed women in media to warn one another—more like an email forward of yore than a Facebook post.
But according to Elliott (and some of the other men named on the list), this still had the power to have "derailed" his life. His lawsuit said he will subpoena Google for metadata that can help him figure out who specifically made the allegations against him.
Wait. Stephen Elliott is filing a lawsuit against the creator of the SHITTY MEN IN MEDIA list? Every man on that list i recognized—had reason to be there. Unfathomable. So much will come out in discovery. If I were a man on that list I would NOT want that lawsuit to go thru.

— Christine H. Lee (@xtinehlee) October 12, 2018
Some of the other men whose names were on the list questioned his strategy. "If the problem was that his reputation was affected, this is going to make it infinitely worse," one told The Cut. "And that would be true for me if I were to join him, if I were to make myself part of the public face of this thing. Like, what would I do that for? Money? I've tried to clear my name individually, but I would never join a lawsuit. That just wouldn't help."
FREE MINDS
Facebook purges political "spam." More than 800 pages and accounts were booted by Facebook yesterday. The company said it's because these accounts and pages were spreading spam. Some trafficked in ads appearing to link to political news that actually went to marketing content. Others used different accounts to push the same political posts, memes, and news out more widely, in violation of Facebook policies.
"Unlike previous sweeps of pages in recent years, which have included hundreds of pages and accounts from Russian and Iranian actors attempting to muddle the United States' political conversation, the pages and accounts removed on Thursday all originated domestically," notes Slate.
Some of the accounts that were removed include such libertarian favorites as Cop Block, the Free Thought Project, and Police the Police.
FREE MARKETS
Big Tech embraces big regulation.
Doing research on GDPR. Given the shocking but not surprising study yesterday showing the law has helped Google relative to other ad tech vendors (h/t @s8mb), I wanted to collect my favorite GDPR facts/stats in one thread. Feel free to add yours! https://t.co/W2ocs1zlwo pic.twitter.com/qTY0I30UrN

— Alec Stapp (@alecstapp) October 11, 2018
Tech companies are asking the U.S. government to enact European Union–style privacy rules, now that the big companies have already had to comply to keep regulators across the pond happy. Click through the whole Twitter thread above from Niskanen Center tech-policy analyst Alec Stapp for more on just how bad the effects of these draconian "privacy" and "consumer protection" policies have already been in the E.U.
QUICK HITS
He's announcing he made a hat for Trump that says "made an updated hat that says 'make America great' without the 'again'…and Trump wore it!"

Shows a picture on his iphone of Trump wearing said hat.

Says the "again" part of the original slogan "hurts back people." pic.twitter.com/mt2vO3Sl86

— Jack Jenkins (@jackmjenkins) October 11, 2018