President Trump and Kanye West Talk Prisons, Flyness, and Stop and Frisk
The pair discussed reforms at the White House.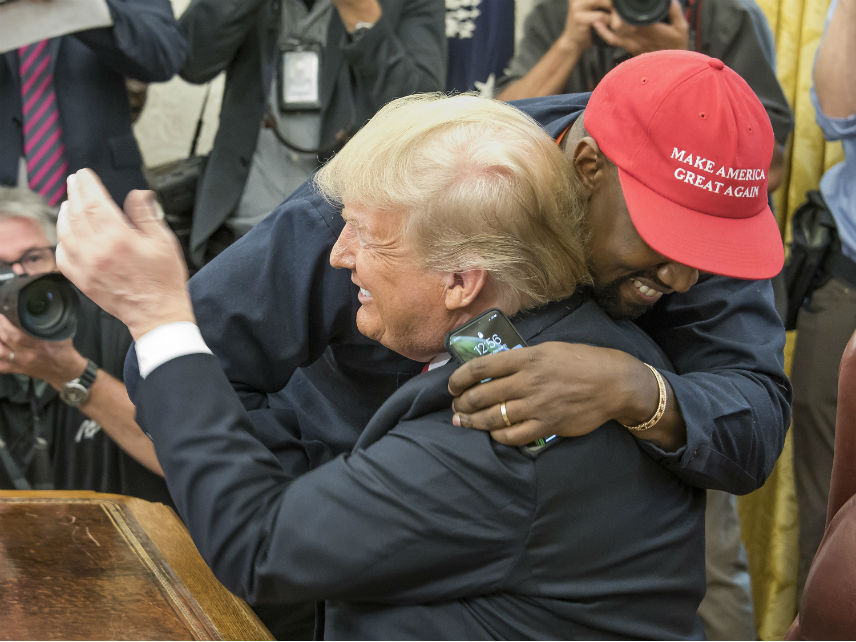 President Trump and Kanye West met at the White House on Thursday. An earlier statement from White House Press Secretary Sarah Huckabee Sanders said the pair was scheduled to discuss topics such as prison reform, manufacturing jobs, jobs for former convicts, and reducing gun violence in Chicago, West's home city, over lunch.
Televised portions of the meeting gave viewers some insight on the discussion. Much of the time was spent on compliments between the two and West's much-talked about support for the president. At one point, West even told reporters that wearing his red Make America Great Again (MAGA) hat gave him a certain power.
When it seemed as though the remainder of the time would be spent this way, West's observations turned toward the prison system, manufacturing, and community relationships.
West said he spoke with advocates who believe that stop-and-frisk programs, in which police detain and pat down pedestrians without probable cause, harm relationships between city governments and residents. Trump supports the policy and recently praised it as a solution to gun violence in Chicago. Stop and frisk not only has proven more harmful than effective at reducing crime; it has been ruled unconstitutional.
Kanye West: "We feel that stop and frisk does not help the relationships in the city." pic.twitter.com/yOCBjSp7xa

— Fox News (@FoxNews) October 11, 2018
The rapper asserted that because so many products are manufactured in China, many Americans seek alternative ways to make money, even those deemed illegal. Then they end up in American prisons, "the cheapest factory ever."
Musician Kanye West is meeting with Trump and Jared Kushner to discuss prison reform pic.twitter.com/tWYHCX46P6

— POLITICO (@politico) October 11, 2018
This is the second time West and Trump have met. In December 2016, West was one of the many faces to appear at Trump Tower in New York City for an audience with the president-elect. At the time, West explained in a series of tweets that the pair spoke about "multicultural issues" and "bullying, supporting teachers, modernizing curriculums, and violence in Chicago."
West's wife, reality TV star Kim Kardashian West, met with Trump in May to ask him to grant clemency to Alice Marie Johnson, a woman who was sentenced in the 1990s to life without the possibility of parole for a nonviolent drug offense. Weeks after their meeting, Trump commuted Johnson's sentence. When asked how she felt about her husband's meeting with Trump today, Kardashian West said she was "proud."