Trump Fact-Checks Kanye West on the Foxconn Deal, but There's More West Might Want to Know
"We could bring Foxconn to set up a factory in, I think, Minnesota," West said of the manufacturing plant being built in Wisconsin.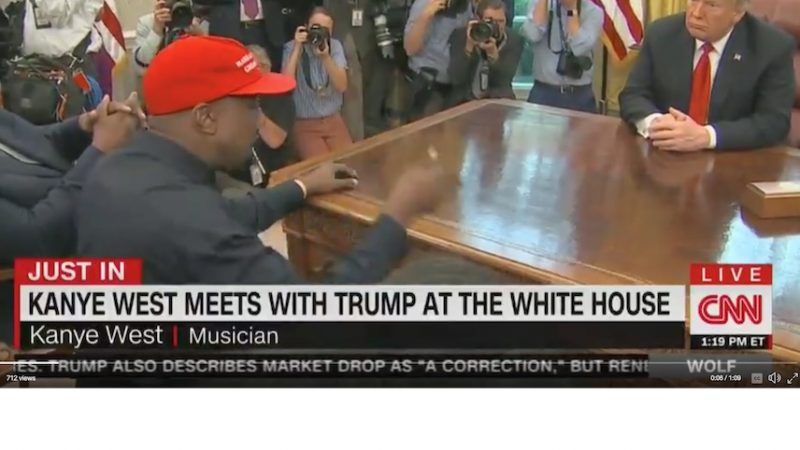 President Trump, who honed the skill of silently sitting across from rambling celebrities during years of hosting NBC's The Apprentice, met with hip-hop artist Kanye West in the Oval Office today to discuss a variety of issues, ranging from the "male energy" of MAGA hats to West's idea of replacing Air Force One with a hydrogen-powered iPlane manufactured by Apple. Reason's Zuri Davis covered the meeting in more detail here.
One peculiar moment of many unfolded when West referred to Taiwanese manufacturing giant Foxconn in the context of bringing jobs back to America. "We can empower our industries," West said. "We can empower our factories. We can bring not only Adidas onshore. We could bring Foxconn to set up a factory in, I think, Minnesota." Trump quickly corrected West, pointing out that the Foxconn plant is being built in Wisconsin.
West can perhaps be forgiven for being vague on the project's details. A more embarrassing series of gaffes came out of the mouth of Wisconsin governor Scott Walker during a July 2017 press conference announcing the deal. As Reason previously reported, Walker repeatedly referred to the company as "Foxcom," mixed up millions with billions when projecting revenue, and at one point misidentified Sony as a key partner (the plant will manufacture Sharp LCD screens).
While broad pronouncements about bringing jobs back to America are understandably appealing to Trump supporters like West, the details are indeed important. Here are some of them: In exchange for a promised 13,000 jobs, Wisconsin has offered $4.5 billion in state and local subsidies and tax breaks, including more than 1,000 acres of free land. The local government obtained that land by issuing millions of dollars in bonds and seizing several family homes via eminent domain.
I covered the eminent domain battle in great detail in the video below. At the time it was produced, eminent domain was merely a threat. The government of Mt. Pleasant has now made good on that threat, obtaining several properties against the owners' will.
I encourage Kanye West, and anyone else hyping the Foxconn deal, to look a little closer. This video is a good place to start.