Booming Construction and Falling Rents in Seattle and Portland Show Laws of Supply and Demand Still Apply to Housing
Despite the claims of NIMBY activists, cities can build their way out of a housing crunch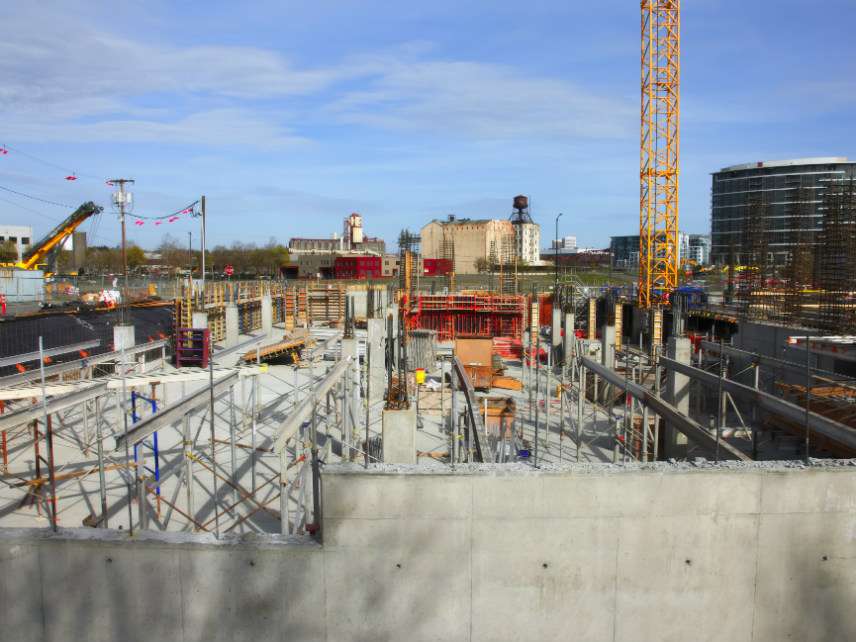 Rents are mercifully beginning to decline in the high-cost, high-growth cities of the Pacific Northwest, thanks to urban construction booms that are adding new units at a rapid pace. Though places like Seattle and Portland remain expensive places to live, the trends show that the rules of supply and demand still apply to the housing market—despite the claims of NIMBY activists.
Portland and Seattle "are sort of the prototypical examples of basic economics in action in the housing market," says Igor Popov, chief housing economist for Apartment List. "In the last few years, they've had this record number of units come onto the market and it's finally giving price relief."
Portland added 4,419 unit of completed housing in 2016, a slight increase from the roughly 4,365 it added in 2015, which combined is more than all the housing units added in the five years prior to 2014, according to the Portland Housing Bureau's 2017 annual report.
Seattle, meanwhile, added some 8,400 units of new housing between 2016 to 2017, up from about 7,600 a year prior, and about double the amount of housing units the city added in 2012, according to data compiled by Washington State's Office of Financial Management. Seattle is tied with Denver for per capita construction spending on multifamily housing units, according to Apartment List.
As the number of apartment units being built has gone up, average rent across these cities has actually started to decrease.
Year-over-year average rents declined by a full 1.2 percent in the city of Portland, with average rents dropping to $1,140 per month for a median one-bedroom apartment, according to the yearly rent report from Apartment List. It's a similar story in Seattle, with Apartment List data showing rents declining 1.6 percent from where they were in 2017. The median monthly rent for a one-bedroom apartment in Seattle is $1,346.
These price declines may not even capture the entire picture, as landlords feeling squeezed by falling prices and rising vacancy rates are starting to offer sweeteners to potential tenants.
A June Seattle Times story found some 112 apartment buildings offering periods of free rent to new renters, with the average offer being a one-month pass. Other buildings were offering Uber Eats credits, Amazon gift cards, and memberships at nearby gyms to any tenants willing to move in, with some of these gift card deals reaching as high as $2,500.
It's the same thing in Portland, with some developers offering as much as eight weeks of free rent, along with $1,000 Amazon gift certificates and health club memberships.
It is important to note that these concessions and price declines are appearing at the top of the market first. Prices for newly-built, expensive apartments are starting to fall, while the prices for many units on the lower end of the market are still increasing.
Data from the economic consultancy ECONorthwest show rents declining by 2.4 percent between June 2017 to June 2018 in buildings where units are priced at over $2,000 a month, but rising 2.3 percent in buildings with units priced below $1,000.
There's still good reason to assume that the additional supply is arresting the growth of lower rents, even if prices are still increasing. Every renter accepting an Amazon gift card to move into an expensive, newly-constructed unit is one not competing for—and thus driving up the cost of—older, more moderately priced housing stock.
Prices for those new units will come down over time too, says Popov. "What often happens is new construction is geared toward the high end and then as it ages it becomes more affordable," he tells Reason.
This trend of rising supply and declining rents provides a clear lesson for high-cost, high-growth cities like Seattle and Portland, as they struggle with the issue of housing affordability: that more housing supply is needed to start bringing rents down for everyone, not just the upper crust of renters.
There has been a tepid acceptance of this fact over the past several years. Seattle has been upzoning some areas around its downtown at a snail's pace, allowing for the construction boom we are seeing today. A rising tide of YIMBY activism in Portland too is starting to have an effect. In September the city's Planning Commission recommended loosening zoning regulations to allow for more triplexes and duplexes where now only single-family housing is allowed. (YIMBY is an acronym for "Yes, in my backyard," and represents a very different way of thinking about zoning and new construction than NIMBY, or "not in my backyard.")
Yet for every policy that encourages more housing construction, these cities have also passed a series of laws that discourage housing production, and some of them might even push smaller landlords out of the market.
In 2016, Portland passed a strict inclusionary zoning ordinance, which sets affordability requirements for a certain percentage of new units in new housing developments. Applications for new building permits slowed considerably after the law went into effect.
Seattle has banned landlords from using criminal background checks to vet tenants. Earlier this year, the city also reversed it's recent upzoning of a plot of downtown land to try and save an iconic music venue. The move prompted a $40 million lawsuit against the city, and undermines developers' confidence that the city won't try to hamstring other controversial projects. Homeowners have also fought tooth and nail against proposals to allowing more dense housing in the city's single-family neighborhoods.
The specter of rent control looms large in the politics of both cities.
Yet if housing affordability is the goal, the cities of the Pacific Northwest should embrace the laws of supply and demand—and not to mention property rights—and let people build what they want, where they want.