Mike Pence's National Anthem Stunt Cost More Than $300,000
That's quite a lot of money to prove your loyalty to a song. And why are we paying to send politicians to football games anyway?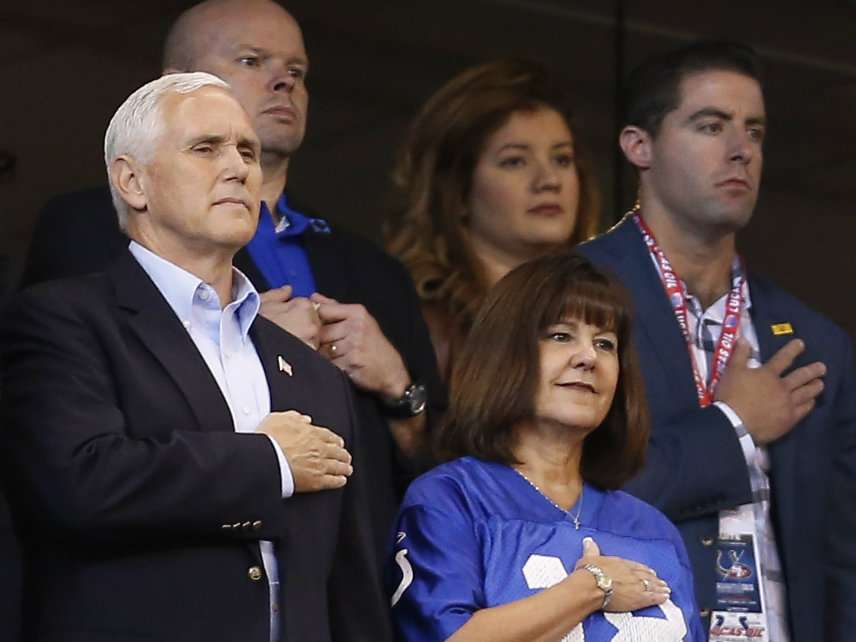 Remember when Vice President Mike Pence made a big point of leaving an Indianapolis Colts game last October after several players knelt during the national anthem? That stunt cost more than $300,000, with taxpayers likely footing the majority of the bill.
The walkout came at the height of the NFL's national anthem controversy. Weeks earlier, President Donald Trump had denounced the protests, suggesting they ought to be fired. Predictably, that just prompted more players to take a knee.
Pence, who had served as governor of Indiana before becoming vice president, wanted everyone to know he wouldn't tolerate such disrespect. On October 8, he went to Lucas Oil Stadium in Indianapolis to watch the Colts take on the 49ers. After multiple 49ers kneeled during "The Star-Spangled Banner," Pence left. Pence later said he "will not dignify any event that disrespects our soldiers, our Flag, or our National Anthem."
That stunt came with a hefty price tag—at least $325,000, if you accept HuffPost's calculations. HuffPost obtained documents from the Department of Homeland Security detailing the Secret Service's expenses. All told, the vice president's security detail racked up more than $75,000 in costs. Most of that—$64,637.88—was spent on hotel rooms. Another $11,000 went to additional travel expenses and temporary walkways that were set up in preparation for Pence's visit.
What about the rest? Well, it's not exactly cheap for the vice president to travel on Air Force Two. Pence flew to Indianapolis from Las Vegas, then departed for Los Angeles. As The Washington Post reported last year:
It costs the federal government about $43,000 an hour to fly Air Force Two, according to a 2012 estimate by the Air Force. Assuming a total flight time of six hours for the journey east and then west again, the tab for the flight alone would have topped $250,000.
HuffPost arrived at its $325,000 figure by adding $75,000 to the Post's $250,000 estimate. But the correct number may be a bit less. According to CNN, Air Force Two's hourly cost is closer to $30,000. CNN pegged Pence's total time in the air—from Las Vegas to Indianapolis to Los Angeles—at just over eight hours, putting the cost of the flight at roughly $242,500. Moreover, Pence was in Southern California for series of political fundraisers, so the Republican National Committee likely reimbursed the federal government for a portion of his flight costs.
Regardless of the exact number, Pence's stunt didn't just cost the federal government. According to the left-leaning advocacy group Citizens for Responsibility and Ethics in Washington, Pence's presence at the game also cost Indianapolis police more than $14,000.
There's no question Pence's national anthem stunt cost taxpayers a pretty penny. But even if he had stayed and watched the game, the expenses would have been the same. That raises a question: Why should taxpayers foot the bill for high-profile politicians to attend sporting events in the first place? To the extent that they're just there to be seen, we shouldn't have to pay for their publicity. And if they really do care about the game, maybe they should watch on TV like the rest of us.