L.A. Mayor Says Gas Taxes Are Needed to Fix Roads While Standing in Front of Rail Station Funded By Gas Taxes
Opponents of reducing California's gasoline tax are talking out of both sides of their mouths.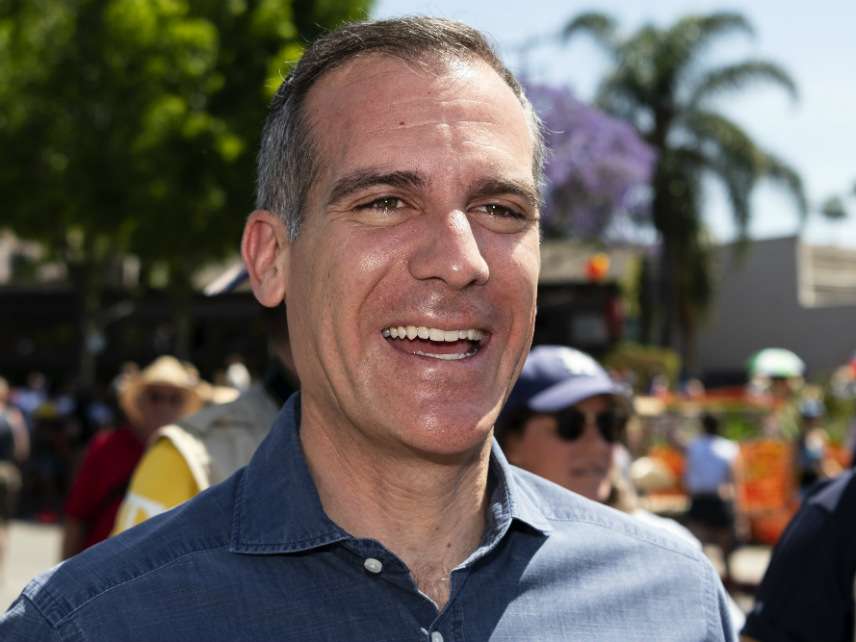 Opponents of Proposition 6, a California ballot initiative that would repeal the state's recent $5-billion-a-year gasoline tax increase, are playing a difficult double game. They argue that any additional money motorists pay at the pump is needed to fix the state's dilapidated roads and bridges, while insisting that eliminating the revenue will jeopardize mass transit projects those motorists don't use.
Yesterday, for instance, Los Angles Mayor Eric Garcetti gave a full-throated endorsement to the No on Prop. 6 campaign while standing in front of a $150 million train station funded by the gas tax hike. "If we see this repealed, we will pay—make no mistake," Garcetti said. "We'll pay in lives, we'll pay in dollars, we'll pay in broken axles, we'll pay in popped tires, we'll pay during earthquakes." He was surrounded by hardhat-wearing construction workers waving signs reading "stop the attack on road and bridge safety."
A news release promoting that event mentions rail funding in passing before listing a bunch of highway projects threatened by the ballot initiative. On Twitter, Garcetti warned that "California's #Prop6 would delay or eliminate 900 L.A. projects that are working to ease congestion, fix local roads, and improve bridge safety."
The official No on Prop. 6 campaign also has been leaning heavily on the road funding angle. This week saw a new ad blitz featuring the hardhat-wearing president of the American Society of Civil Engineers, Kristina Swallow, arguing that "crumbling bridges and roads put lives at risk every day" and that a repeal of the gas tax would cost Los Angeles some $6.3 billion in dedicated transportation funding. The ad does not mention how much of this transportation funding is actually mass transit funding. The answer is a lot.
In April, L.A. Metro, Los Angeles County's main transportation agency, was awarded some $330 million, mostly from gas taxes, for a slate of rail and other mass transit projects. The city of Los Angeles got another $33 million to buy new electric buses. Intercity rail connecting San Diego and Los Angeles got another $180 million in these grants. L.A. Metro has warned that if Prop. 6 succeeds, the agency will lose some $4.9 billion in grants.
These projects are getting scant mention in gas tax proponents' messaging in the lead-up to Election Day, and it's not hard to understand why. Some 83 percent of Californian workers drive to work (either alone or in some form of car or van pool) on some of the nation's worst-maintained, most congested roads, while paying the second highest gas taxes in the country.
Whatever hope gas tax proponents have of getting these motorists to vote for keeping their gas taxes so high rests on convincing them that the new money will pay for road repair and maintenance. Highlighting the billions of dollars of gas tax revenue being siphoned away from these repairs to pay for mass transit does not make that task any easier.
At the same time, getting urban liberals, environmentalists, and other members of the pro-transit coalition to show up and vote no on the gas tax repeal requires occasional references to all those rail and bus projects. Walking this tightrope requires press conferences like Garcetti's, where all the talk is about road repair, while in the literal background is nothing but gas-tax-funded transit.