Trump Mocks Christine Ford and Calls for 'Getting Tough' on Media Rape Reports: Reason Roundup
Plus: the FBI raids Juul and Trump's real-estate empire was built on tax-dodging.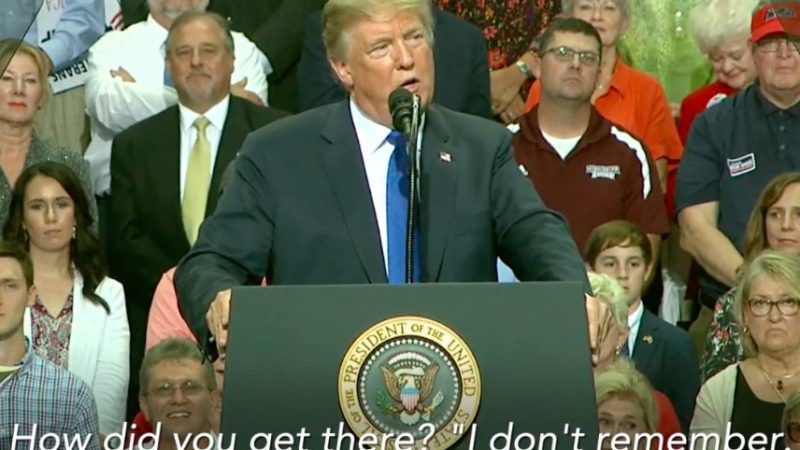 (screenshot/Associated Press)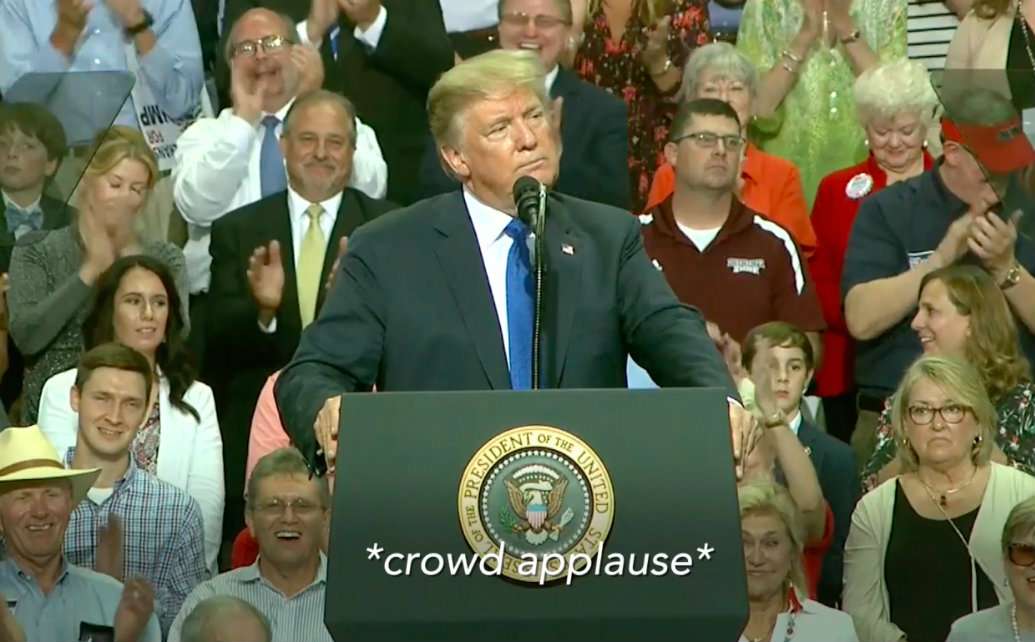 Trump says we must start "getting tough" on media rape reports. Last night, to loud laughter and applause, President Donald Trump mocked testimony from Christine Blasey Ford about her alleged assault by Judge Brett Kavanaugh. "I had one beer. Well, do you think it was—nope, it was one beer," said Trump, imitating Ford, at a Tuesday night rally in Southhaven, Mississippi.
"How did you get home? I don't remember," Trump continued. "How'd you get there? I don't remember. Where is the place? I don't remember. How many years ago was it? I don't know. I don't know. I don't know. What neighborhood was it in? I don't know. Where's the house? I don't know. Upstairs, downstairs: Where was it? I don't know—but I had one beer. That's the only thing I remember."
That Trump's impulse is to mock Ford should (alas) surprise no one. But the politics of it are still astoundingly bad. Last week, Trump said Ford had been a "very credible" witness. He has for days been asserting that the FBI investigation into claims against Kavanaugh would be legitimate and thorough.
Openly mocking the same claims and saying they're perpetuated by "evil people" doesn't exactly inspire confidence that this is true.
The president went on to conjure a melodrama in which hardworking "IBM or General Motors" employees will be facing down a gauntlet of fake rape claims if we don't take a stand now by putting Kavanaugh on the Supreme Court ASAP. "Mom, a terrible thing just happened," said Trump, taking on the part of this innocent young man:
A person who I've never met said that I did things that were horrible, and they're firing me from my job, mom, I don't know what to do, mom, what do I do? What do I do?
Trump warned the women in the audience to "think of your son. Think of your husband. I've had so many false accusations."
This, of course, set Trump off on the media and how sad it is that he can't sue us more. America has the "worst libel laws anywhere in the world," he said. It's a "damn sad situation. And we better start as a country getting smart and getting tough. We shouldn't let those cameras back there tell us how to live our lives."
In other Kavanaugh-related news:
Sen. Jeff Flake told an Atlantic Festival panel this morning that Kavanaugh had been "sharp and partisan" during his Senate testimony. "We can't have that on the court," he said.
A letter obtained by Fox News from an ex-boyfriend of Ford's claims she lied about various things during her testimony.
A letter obtained by The New York Times was allegedly written by Kavanaugh in high school. In the June 1983 letter, someone who signs off "FFFFF, Bart" makes plans for an upcoming beach week in Ocean City, Maryland, and describes himself and his friends as "loud, obnoxious drunks with prolific pukers among us."
FREE MINDS
Freelance journalist @ZachWritesStuff was charged with contempt of court and arrested after he recorded part of a high-profile murder trial, in violation of the judge's order that limits recording to a media pool. https://t.co/0W4CwzaOzS pic.twitter.com/w9KE96VrCd

— U.S. Press Freedom Tracker (@uspresstracker) October 2, 2018
FREE MARKETS
Trump's real-estate empire was built on tax-dodging, according to a new report from The New York Times. Trump "has long sold himself as a self-made billionaire, but a Times investigation found that he received at least $413 million in today's dollars from his father's real estate empire, much of it through tax dodges in the 1990s," the paper reports.
In his book "How to Get Rich," Trump left out this part. https://t.co/gewCyZGIhI

— Windsor Mann (@WindsorMann) October 2, 2018
It's good to have some confirmation of those long-held suspicions that Trump's self-made-man schtick is dubious. But it would be nice to see a few less stop letting people pass down wealth through these "loopholes" takes and a few more tales calling for a lower tax burden on us all.
One of many takeaways from the big Trump/Tax scoop is that rich people can illegally avoid taxes on gifts & if they're caught, there's no punishment, they just pay what they owed originally. Asking for friend: can, um, other people do this on normal taxes? https://t.co/XcH6laEmsQ

— Avi Asher-Schapiro (@AASchapiro) October 3, 2018
QUICK HITS