Amazon's New $15 Per Hour Minimum Wage: Silencing the Critics or Keeping up With the Times?
What's behind Amazon's new minimum wage policy?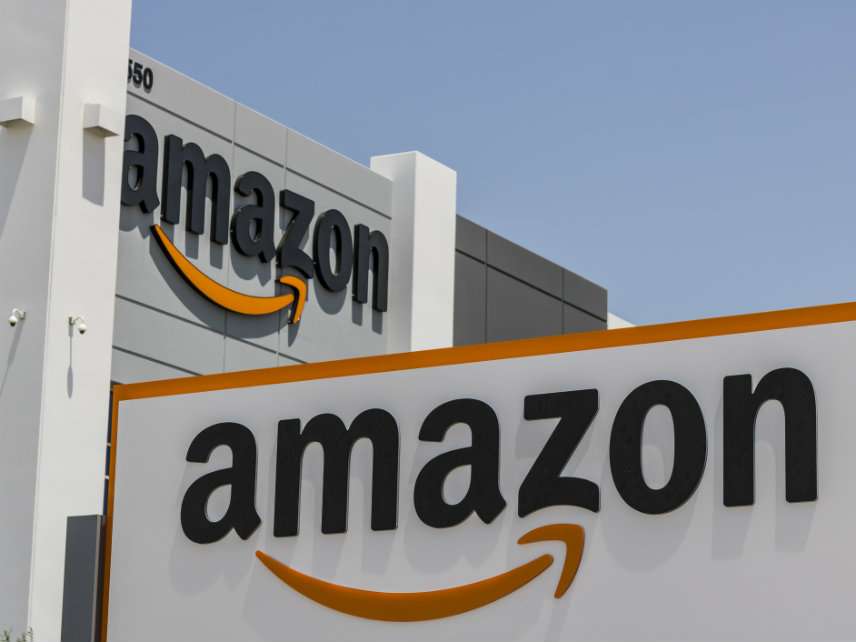 Retail giant Amazon said today that it is raising its minimum wage to $15 an hour for all U.S. workers. Is the move supposed to silence Amazon's critics, or is it a market-based response to a falling unemployment rate?
At first glance, Amazon CEO Jeff Bezos' statement accompanying the announcement suggests it's the former. "We listened to our critics, thought hard about what we wanted to do, and decided we want to lead," Bezos said. "We're excited about this change and encourage our competitors and other large employers to join us."
To which critics is Bezos referring? Sen. Bernie Sanders (I-Vt.) is the first name that comes to mind. As Reason's Zuri Davis reported, the avowed democratic socialist has hammered Amazon in recent months for not paying its workers enough. In April, Amazon revealed that the median annual pay for its workers around the world was just $28,466. And in August, nonprofit outlet The New Food Economy reported that thousands of Amazon employees in the U.S.—including one-third of the company's Arizona workers—were enrolled in the Supplemental Nutritional Assistance Program (SNAP).
Bezos, by contrast, is believed to be worth upward of $150 billion.
In response, Sanders accused Bezos of contributing to the "gap between the very rich and everyone else." Then last month, he introduced the Stop Bad Employers by Zeroing Out Subsidies Act, also known as the Stop BEZOS Act. The legislation would mandate that companies with more than 500 employees—like Amazon—foot the bill for government benefits their workers receive.
The proposed bill has yet to gain much traction in Congress. But the bad publicity may have been enough to force Amazon to act. Coupled with the nationwide push to raise the minimum wage to $15 an hour, Amazon may have felt that sooner or later, it would have to increase wages anyway. Instead of waiting for state and local governments to gradually mandate higher pay, Amazon may have opted to get ahead of the curve.
As a result, more than 250,000 of Amazon's U.S. workers, as well as the 100,000 seasonal employees it plans to hire for the holidays, will be getting a pay raise. That's a big change from the company's previous policy, where starting pay was dependent on location and type of work, The Wall Street Journal reports. The new minimum wage affects full-time, part-time, and even temporary employees.
Amazon wants people to know it supports higher wages for workers at other companies too. According to Senior Vice President of Amazon Global Corporate Affairs Jay Carney, the company will "be working to gain Congressional support for an increase in the federal minimum wage," which is currently $7.25 an hour. "We intend to advocate for a minimum wage increase that will have a profound impact on the lives of tens of millions of people and families across this country," Carney said in the company's statement.
The minimum wage increase could also be seen as an attempt to keep up in a "tight labor market," Neil Saunders, managing director of the consulting firm GlobalData Retail, tells CNN. "Without a rise in wages, Amazon would be placing itself at a disadvantage in the labor market," Saunders observes, adding that this is particularly true as the holiday season approaches.
Saunders has a point. Unemployment in the retail labor market has dropped from 5.7 percent in January to 4.4 percent in August. That's a negative 1.3 point differential over the first eight months of the year, compared to a 0.8 point drop from January to August 2017.
Ultimately, there's more than one factor at play here. The retail labor market certainly favors workers right now; at the same time, raising pay is a good publicity move for Amazon, particularly in light of recent criticism.
We'll soon see how it impacts the company's bottom line.