Far-Right German Party Tries to Recruit Jews by Attacking Muslims
But many of the Alternative for Deutschland's leaders have questionable track records when it comes to anti-Semitism.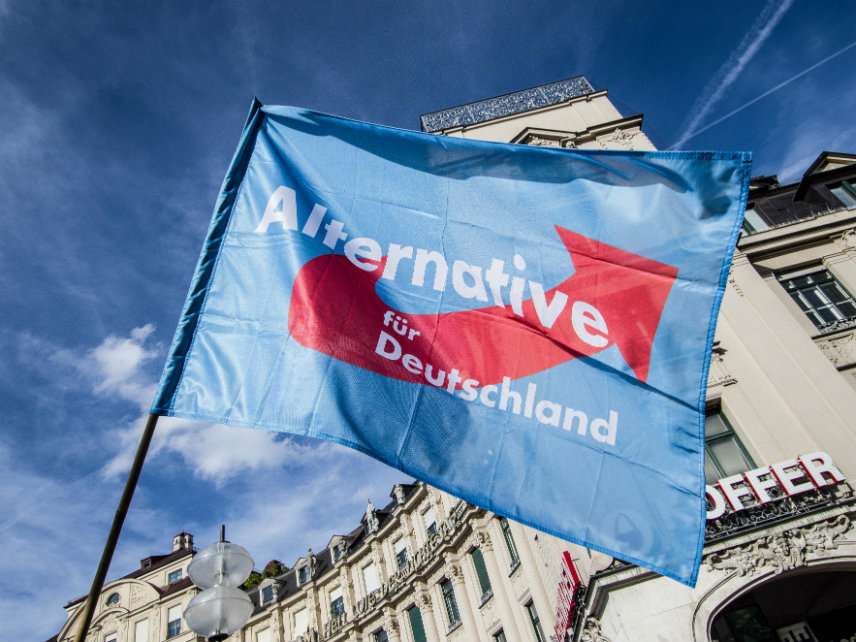 Germany's most prominent right-wing nationalist party is trying to attract Jewish voters by stoking the flames of anti-Islamic sentiment. The twist: Some of the party's leaders have a history of offending the very people they're trying to reach.
The Alternative for Deutschland (AfD) claims it's not anti-Semitic. But in May, the party confirmed that some of its local politicians exchanged anti-Semitic messages in a WhatsApp group chat. In June, AfD co-leader Alexander Gauland downplayed the Nazi era, claiming that "Hitler and the Nazis are just a speck of birdshit in over 1,000 years of successful German history." And last year AfD regional leader Björn Höcke said that Germany needed to do "a 180-degree reversal on the politics of remembrance" of the Holocaust. Referring to Berlin's Holocaust Memorial, he claimed that "Germans are the only people in the world that have planted a monument of shame in the heart of their capital."
But like many nationalist parties, AfD tends to back Israel. And now it's trying to appeal to Jews by arguing that the two groups share a common enemy: Islam. In the town of Offenbach, the AfD is launching a new association called Juden in der AfD, or Jews in the AfD.
"The AfD is the only party in the Federal Republic that makes anti-Semitism toward Jews by Muslims a topic without trivializing it," says Dimitri Schulz, the initiative's Jewish founder, according to ABC News. Schulz also decried the "mass immigration of young men from Islamic culture," and particularly their "anti-Semitic socialization."
In a Facebook post, the AfD highlights several acts of anti-Semitism perpetrated by Muslims. Anti-Semitism is "normal" for those who live in Arab countries, Joachim Kuhs, a Christian AfD leader, argues to Deutsche Welle. "Why should they be different when they get here?"
The AfD's pitch likely won't work for most of Germany's roughly 100,000 Jews. Already, a host of Jewish organizations have warned against joining the party. The AfD, they warn, simply wants to further its own misguided xenophobic goals. They're right: The best solution to Germany's migrant crisis, as Jenipher Camino Gonzalez explained in a July piece for Reason, is to loosen work restrictions so immigrants can actually find good jobs.
ABC notes that anti-Semitic attacks do appear to be on the rise in Germany. "But," it adds, "93 percent of the perpetrators are far-right Germans." Evidently, AfD's fans contribute far more to the problem than AfD's foes.