Two New Shows Pander to Boomers, Millennials
Sit this round out, Gen Xers.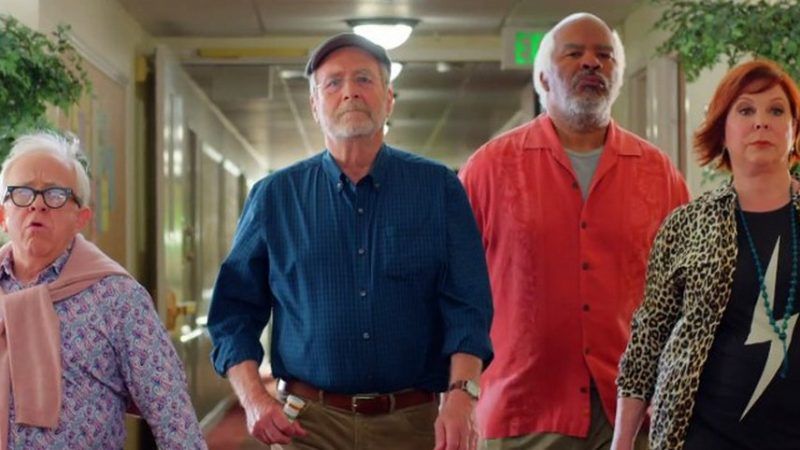 The Cool Kids. Fox. Friday, September 28, 8:30 p.m.


'The Cool Kids,' Fox

God Friended Me. CBS. Sunday, September 30, 8:30 p.m.
Over the weekend we will more or less hit the halfway mark of the new fall TV season: The new shows number 20 or so depending on how you count the exhumations of Murphy Brown and Last Man Standing, and The Cool Kids and God Friended Me are the 9th and 10th to debut.
To celebrate that epochal moment, the networks are offering up shows that target their past—the baby boomers, the generation for whom television was invented—and what they hope will be their future, the millennials, though there's some question that the kids are going to cooperate.
Certainly the odds will not favor the networks if they keep serving up warmed-over hash like God Friended Me, a remake of a remake, all of which aired in the last 15 years. Like its late predecessors Touched by an Angel and Joan of Arcadia, God Friended Me features celestial creatures messing about in the lives of ordinary citizens, with results better than might be expected in real life (no ISIS nor Moral Majority result from their work) but not necessarily constituting interesting television.
In Touched by an Angel, the buttinskys were angels carrying out instructions from an amiable Hallmark-style deity. In Joan of Arcadia, a flighty teenager got her assignments from God him-or-her-self working in various human disguises. (The theme song was Joan Osborne's "One Of Us": "What if God were one of us, just a slob like one of us?") It was not entirely clear if God was real or just a pesky brain tumor.
God Friended Me follows the Joan model. Its hero is Miles Finer (Brandon Michael Hall, The Mayor), who does a weekly podcast on atheism that seems to have at least one high-profile listener: On Facebook, Miles gets a friend request from God.
Thinking the request comes from an amusing troll, he accepts, resulting in a steady stream of friend suggestions from Mr. G, all of them for people in dire need of either divine help or quick disembowelment.
In short, God Friended Me is utterly a clone of Joan of Arcadia except for two things. One is the absence of Amber Tamblyn, who mercurial teenage temperament as God's unwilling henchperson led her to regularly bitch out Big Guy over theological issues like whose idea it was to invent death and actually made the show compulsively watchable.
The other is all the shiny baubles attached to God Friended Me intended to lure unsuspecting millennials inside. Podcasts! Tinder-is-for-old-people jokes! Hacker sidekick! Sirius-XM radio! And best of all, the notion that God is not a being or even a consciousness, but a big stack of AI software that can reverse-engineer unlucky coincidences but is not responsible for cancer or fatal auto accidents!
I did pick up one useful journalistic tip from Miles' reporter pal Cara (Violett Beane, The Flash), who, though she hasn't written a story in six weeks, can easily flounce off on his let's-find-God mission. Her excuse to her boss: "It took Hemingway 10 years to write his second novel." I bet Reason editors will go for that one.
On the other end of the age-demographic dial are the baby boomers. Though they've been the target of TV programmers from the tube's earliest commercial inception—who do you think was buying all those Captain Video decoder rings?—mortality is finally taking its toll on the Pepsi Generation.
The youngest cadre of boomers will turn 55 next year, the outside edge of the demo most advertisers value, with the oldest in their 70s and spending more on cemetery plots than beer or cars.
So Fox's The Cool Kids is a bit of a last stand, possibly the last show to be aimed squarely at boomers. It stars a clutch of television veterans—Vicki Lawrence, Leslie Jordan, David Alan Grier, and Martin Mull, collectively ranging from 62 to 75—as a group of nursing-home residents who are sooooooo not going gentle into that good night.
The show draws its title from an incident in the pilot at the home's requisite goodbye party for another Grim Reaper-arranged departure. ("Free balloons and cheese plate!" enthusiastically shouts an orderly.) Trying to sit in the dead guy's now empty dining room chair, Lawrence is ordered away by pals Jordan, Grier and Mull. "Who are you?" she snaps. "The cool kids?"
She gets the chair anyway, winning it in an arm-wrestling match while slamming shots from a flask, and soon is joining the men in all manner of senescent deviltry, including as escape from the home in a stolen car. ("Everybody just relax," counsels Grier when a cop approaches. "Act like we have Alzheimer's.") All this is much to the displeasure of the home's Nurse Ratched (or maybe its Dean Vernon Wormer), the penurious and opposed-to-all-fun-of-any-kind Allison (Artemis Pebdani).
Created by Charlie Day, one of the producers and stars of the hilariously vulgar and half-witted sitcom It's Always Sunny In Philadelphia , Cool Kids shares its proud tastelessness. Even background conversational fragments shouldn't be missed: "… Did he get the enema, or was it me? …" That's the Boomers, making one last glorious mess on their way out.