Cracked Beam Compels San Francisco Officials to Close Brand New $2.2 Billion Transit Hub
The transit center will remain closed through the end of next week.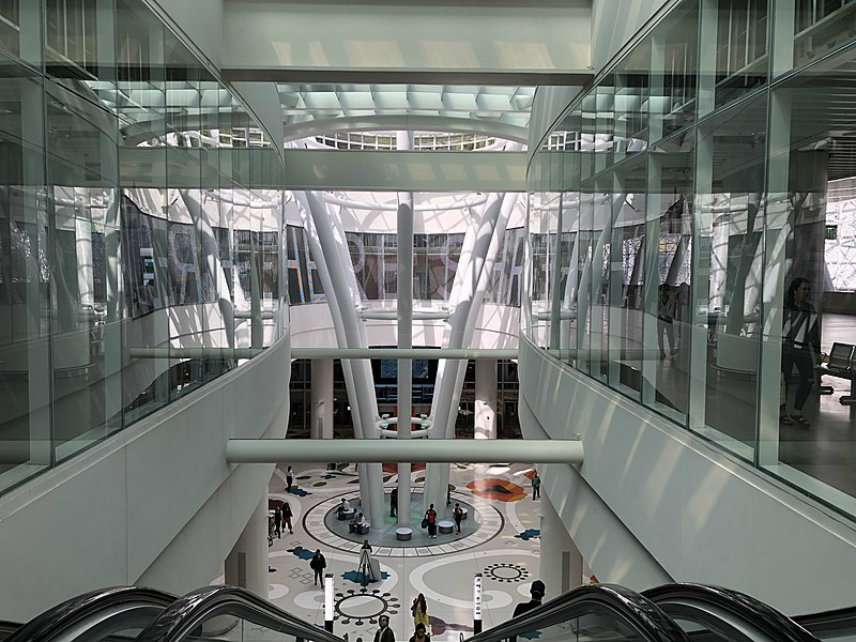 The Salesforce Transit Center in San Francisco cost more than $2.2 billion and took about eight years to construct. Yesterday the city had to shut it down because of a cracked steel support beam.
The center will stay closed through the end of next week.
The four-story transit center, which opened to the public on August 12, serves as hub for many of the city's bus lines. Hailed the "Grand Central of the West," it's supposed to serve as many as 45 million people each year, the Associated Press reports. In addition to its bus services, the transit center features restaurants, shops, and even a rooftop public park.
But Tuesday morning, workers installing ceiling panels discovered a crack in a 6 ½-foot steel beam on the third floor. Officials had no choice but to close down the center. "The beam is cracked, so the behavior of the beam is unpredictable," Transbay Joint Powers Authority Executive Director Mark Zabaneh said at a news conference. Zabaneh called it a "safety issue," adding that "we can't take any chances."
It wasn't clear what caused the crack, but it meant chaos for commuters. Buses were redirected, and several of the streets surrounding the structure were closed to traffic. In a press release, officials asked motorists to "avoid driving downtown," while warning transit riders "to allow extra time for their commute." This afternoon, Zabaneh said a second cracked beam had been discovered as well.
So what caused the issue? Joe Maffei of the San Francisco–based firm Maffei Structural Engineering tells the San Francisco Chronicle that he sees two potential culprits for the first crack: It could be "a fabrication problem—something went wrong when the beam was manufactured—or the beam is supporting more weight than it's designed to bear."
The cracked beams aren't the only problem to plagued the new transit center. When construction finally ended, the structure was more than $500 million over budget. And earlier this month, the rooftop park's walkway started crumbling.
As San Francisco spends resources on public transportation, it has made life harder for companies trying to give commuters more choices. The San Francisco Board of Supervisors passed an ordinance in April requiring dockless electric scooter services to be licensed and instructing the city's Metropolitan Transportation Agency to draft regulations for these scooters. The city eventually granted permits to just two companies, and each was only allowed to deploy 625 vehicles.
It's not just scooters. For months, San Francisco City Supervisor Aaron Peskin has pushed a plan that would tax Uber and Lyft's net rider fares. Last week Gov. Jerry Brown signed a bill allowing San Francisco voters to have the final say on that proposal. Peskin hopes to have the measure on the ballot in 2019.
The San Francisco government clearly values public transportation over private alternatives. In a better world, the city would take its ability to spend billions on transit without getting it right as a sign it should rethink those priorities.