Brett Kavanaugh Accused of Sexual Misconduct By a Second Woman
Claim that Kavanaugh exposed himself at a Yale party 35 years ago is less convincing than Ford's alleged rape, but suggests a pattern.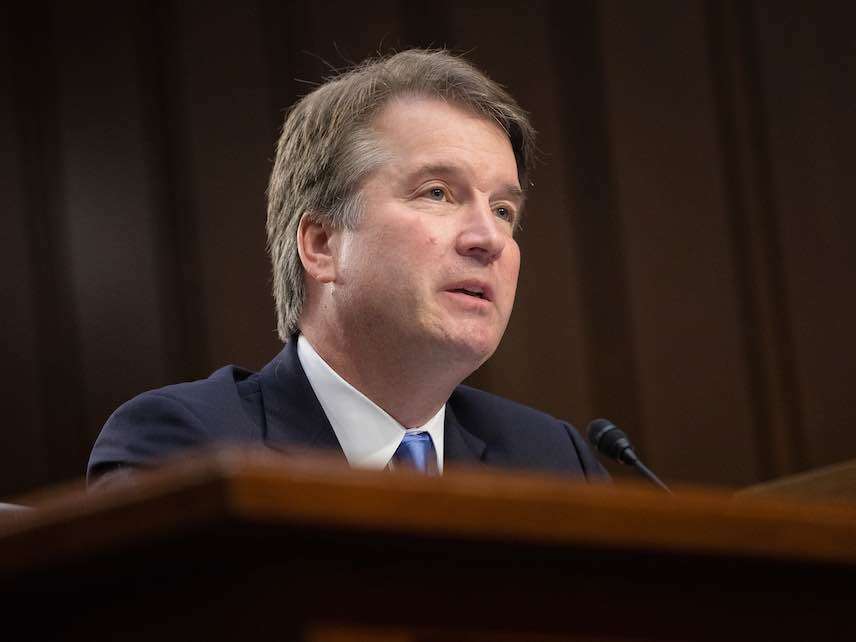 Another woman who knew Supreme Court nominee Brett Kavanaugh three decades ago has come forward to accuse him of sexual misconduct.
Deborah Ramirez attended Yale University with Brett Kavanaugh. They were both present at a party in a dorm room their freshman year, Ramirez told The New Yorker's Ronan Farrow and Jane Mayer. They sat in a circle with other students, consuming alcohol, and Ramirez became extremely drunk. She was "foggy and slurring her words," according to The New Yorker, when a male student exposed himself to her. She pushed him away, touching his penis in the process, she said.
Ramirez now claims this man was Kavanaugh, though she admits there are "significant gaps in her memories." She was "reluctant to characterize Kavanaugh's role in the alleged incident with certainty," according to The New Yorker. "After six days of carefully assessing her memories and consulting with her attorney, Ramirez said that she felt confident enough of her recollections to say that she remembers Kavanaugh had exposed himself at a drunken dormitory party."
The New Yorker got in touch with several other students who confirmed they had heard this story—and that Kavanaugh was the perpetrator—but none who could confirm that he was actually present at the party, which sounds awfully familiar: Everyone supposedly present at the party where Ford was allegedly assaulted has similarly denied Kavanaugh was there. What's more, a host of second-hand sources disputed Ramirez's story:
In a statement, two of those male classmates who Ramirez alleged were involved in the incident, the wife of a third male student she said was involved, and three other classmates, Dino Ewing, Louisa Garry, and Dan Murphy, disputed Ramirez's account of events: "We were the people closest to Brett Kavanaugh during his first year at Yale. He was a roommate to some of us, and we spent a great deal of time with him, including in the dorm where this incident allegedly took place. Some of us were also friends with Debbie Ramirez during and after her time at Yale. We can say with confidence that if the incident Debbie alleges ever occurred, we would have seen or heard about it—and we did not. The behavior she describes would be completely out of character for Brett. In addition, some of us knew Debbie long after Yale, and she never described this incident until Brett's Supreme Court nomination was pending. Editors from the New Yorker contacted some of us because we are the people who would know the truth, and we told them that we never saw or heard about this."

The former friend who was married to the male classmate alleged to be involved, and who signed the statement, said of Ramirez, "This is a woman I was best friends with. We shared intimate details of our lives. And I was never told this story by her, or by anyone else. It never came up. I didn't see it; I never heard of it happening."
Ramirez's lack of confidence in her own memories means that this accusation seems less convincing on its own than the one made by Christine Blasey Ford, who has alleged that Kavanaugh pushed her into a bedroom and held her down, muffling her screams as he attempted to rape her. Farrow and Meyer's story does include comment from a former girlfriend of Mark Judge, the conservative writer who was friends with Kavanaugh in high school and was allegedly present for the attempted rape of Ford. (Judge has denied everything.) The former girlfriend, Elizabeth Rasor, disputed Judge's contention that he never sexually abused women, though she had no specific knowledge of misbehavior involving Kavanaugh.
There's no smoking gun here, so anyone hoping for an immediate resolution to the Kavanaugh mess in either direction is bound to be disappointed. But the existence of a second accusation probably makes Ford more credible, at least in the eyes of the public.
Ford and Kavanaugh are set to testify before the Senate Judiciary Committee on Thursday.