Trump Is Angry at Jeff Sessions for the Wrong Reasons
"I don't have an attorney general," Trump says.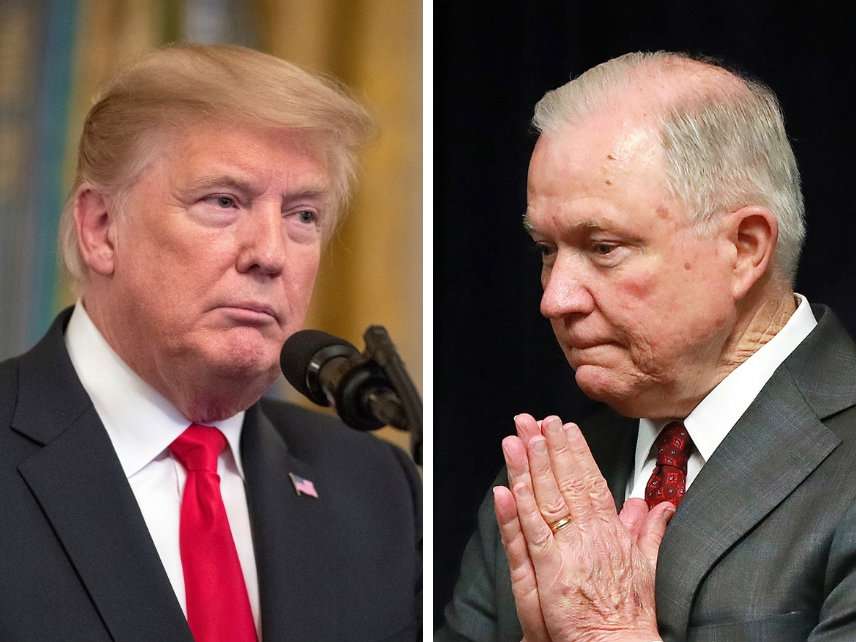 President Donald Trump yesterday levied perhaps his harshest attack yet on Attorney General Jeff Sessions, his one-time ally.
In an Oval Office interview with The Hill, Trump again expressed displeasure with Sessions' decision to recuse himself from the Justice Department's probe into Russian meddling in the 2016 election. But the president also suggested Sessions has done a bad job "at the border" and with "numerous" other things. "I don't have an attorney general. It's very sad," Trump told The Hill.
His remarks will no doubt fuel rumors that Sessions could be fired soon after the November midterm elections. Ironically, Trump is right in claiming that Sessions is a bad attorney general, through firing him because of his recusal would be the wrong move.
Trump noted that Sessions was the first senator to endorse his presidential bid, but said he couldn't see at the time that the Alabama politician was gunning for the attorney general job. After Sessions was nominated, though, Trump said the confirmation process was a tell-tale sign something was wrong.
"[T]hen he went through the nominating process and he did very poorly. I mean, he was mixed up and confused, and people that worked with him for, you know, a long time in the Senate were not nice to him, but he was giving very confusing answers," Trump said. "Answers that should have been easily answered. And that was a rough time for him."
Sessions really sparked Trump's ire in March 2017 when he recused himself from the Russia probe due to previously undisclosed conversations with a Russian ambassador in 2016. Sessions' recusal left oversight of the Russia investigation in the hands of Deputy Attorney General Rod Rosenstein, who appointed special counsel Robert Mueller in May after Trump fired FBI Director James Comey.
Mueller's investigation has been a thorn in Trump's side ever since, and he clearly thinks Sessions deserves much of the blame. In a July 2017 interview with The New York Times, Trump said he wouldn't have hired Sessions had he known the attorney general was going to recuse himself. And last month, Trump told Fox & Friends that Sessions "never took control of the Justice Department."
Trump has also taken issue with what he sees as Sessions' failure to investigate the "other side," namely allegations that the Obama-era DOJ tried to get Hillary Clinton elected president. Sessions, for his part, has said the DOJ "will not be improperly influenced by political considerations."
So will Trump fire Sessions? "We'll see what happens," the president told The Hill. "A lot of people have asked me to do that. And I guess I study history, and I say I just want to leave things alone, but it was very unfair" of Sessions to recuse himself.
From a policy standpoint, it is hard to defend Sessions' record. But it's not because he's "weak," as Trump tweeted last July. Rather, as Reason's C.J. Ciaramella reported in August, Sessions is "taking law enforcement back to the 1980s" with his policies on the drug war, police oversight, sentencing, and civil asset forfeiture. He's also an immigration hardliner and an opponent of cannabis research.
Regarding his recusal from the Russia investigation, though, Sessions actually made the right call. As former Reason editor Ed Krayewski explained in May 2017, Sessions was involved in the Trump campaign, so overseeing a probe into alleged wrongdoing by that same campaign could have presented a conflict of interest.
Trump may eventually fire Sessions because he's not sufficiently loyal. But the attorney general is not supposed to blindly do the president's bidding when it comes to political matters.
Trump told The Hill that "we'll see how it goes with Jeff." There's nothing wrong with making a decision on Sessions' future based on policy. But by letting politics guide his actions, Trump is proving that he's worried more about political loyalty than he is about Sessions' actual performance. That's a bad precedent to set when it comes to the Department of Justice.