The Texas GOP is Trying to Beat Beto O'Rourke by Accusing Him of Being Too Cool
Texas Republicans invoke band membership and dyeing one's hair in outdated character attacks.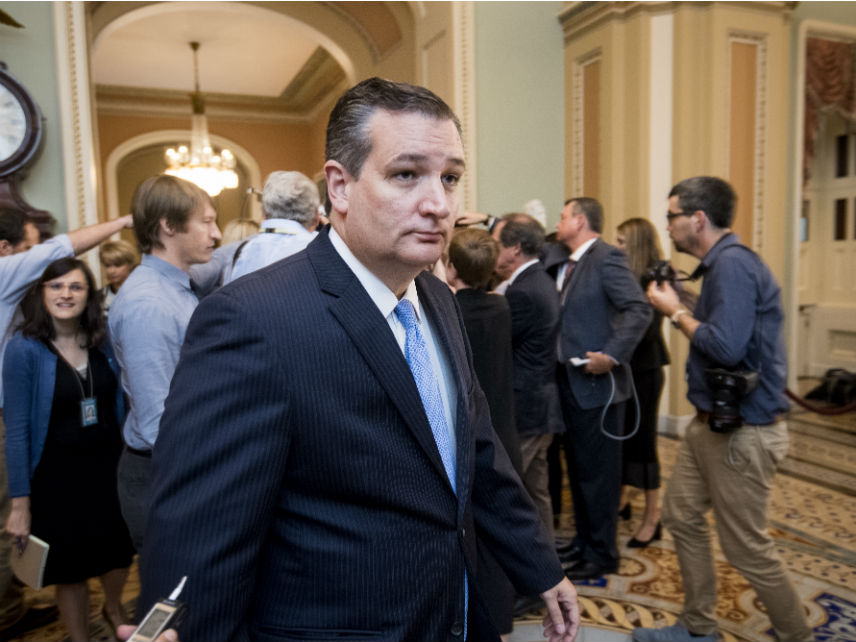 From a "free markets and free minds" perspective, Rep. Beto O'Rourke (D–Texas) would likely be more of the same if elected to the United States Senate. Like many members of Congress, O'Rourke supports government intervention over free market solutions.
It would be one thing if Sen. Ted Cruz (R–Texas), whose seat O'Rourke is after, challenged his opponent on those grounds. While Cruz recently voted for an $854 billion spending bill to increase federal defense, health, and labor funding, he does claim to be a small-government conservative. But his preferred method of campaigning is much, much lamer.
The Texas GOP has already made fun of O'Rourke for being in a band when he was younger, and for knowing how to skateboard. Cruz also released an ad criticizing his opponent for saying "fuck" in public. But the latest tactics are even more out of touch, and include accusing liberals of wanting to infuse Texas with "tofu and silicon and dyed hair." He's even suggested (jokingly, of course) that O'Rourke would make BBQ illegal in the state. Just a week prior, Cruz knocked O'Rourke's support for national anthem protests.
Democratic Socialist Alexandria Ocasio-Cortez tweeted an interesting question following some of the 'too cool' attacks on O'Rourke: "Why is the GOP so corny?" she asked, just before observing that superficial things such as piercings and ripped jeans are not enough to disqualify someone from running for office.
Ocasio-Cortez is not the first person to observe that the Republican Party is in the habit of pandering to a dying voter base. Sen. Rand Paul (R–Ky.) warned his fellow Republicans in 2014 that they needed to adapt. This included embracing people "[with] tattoos, without tattoos, with earrings, without earrings, black, white, brown." Paul repeated himself in 2016, adding, "When we become the old white man's party—which we've been kind of headed towards for a while—we're never going to win another election."
Though Cruz led O'Rourke in the polls by double digits just a few months ago, a new poll has O'Rourke in the lead. A Wednesday Reuters poll put O'Rourke ahead of Cruz by two points. Larry Sabato, director of the University of Virginia's Center for Politics, observed that Cruz's contentious relationship with President Trump has hurt his reputation with some Republican voters in the state. RealClearPolitics showed Cruz leading O'Rourke by an average of 4.5 points on Tuesday.