In Constitution Day Speech, Betsy DeVos Says 'Government Muscle' Is Not the Answer to the Campus Free Speech Problem
"Solutions won't come from new laws from Washington, D.C., or from a speech police at the U.S. Department of Education."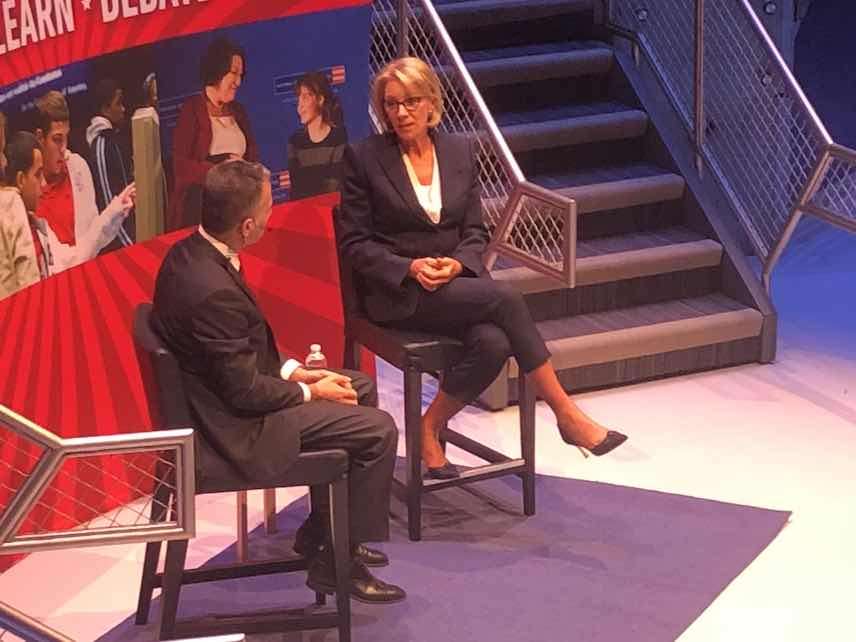 Today Education Secretary Betsy DeVos said free speech in education is necessary for the pursuit of objective truth during her Constitution Day remarks at the National Constitution Center in Philadelphia.
The secretary had harsh criticisms for university administrators who are "complicit in creating or facilitating a culture that makes it easier for the heckler to win" on college campuses.
"As the purpose of learning is forgotten, ignored, or denied, we are inundated daily with stories of administrators and faculty manipulating marketplaces of ideas," said DeVos.
DeVos cited cases I've covered here at Reason as evidence of the problem. (She referenced one of the most egregious examples of campus censorship: Black Lives Matter shutting down an ACLU event at William & Mary last fall because "liberalism is white supremacy.")
According to DeVos, young people have less appreciation for the freedoms guaranteed under the First Amendment. She cited a Brookings Institution poll in which more than half of the surveyed students didn't think the Constitution protected certain views.
Even so, DeVos decisively opposed the idea that a new law, or a heavy-handed federal approach, would be the best way to fix what's wrong in schools.
"The way to remedy this threat to intellectual freedom on campuses is not accomplished with government muscle," she said. "A solution won't come from defunding an institution of learning or merely getting the words of a campus policy exactly right. Solutions won't come from new laws from Washington, D.C., or from a speech police at the U.S. Department of Education."
Instead, DeVos opined that the campus free speech problem is really a crisis of civic values. She commended the University of Chicago and called on more institutions to adopt—voluntarily—its free speech principles.
DeVos also took questions from the audience, which consisted mostly of K–12 students. These kids weren't afraid to criticize the secretary: One asked rather pointedly about her qualifications, and DeVos was more than happy to respond. Good on DeVos for not expecting any kind of emotional safe space when she delivered her remarks, and good on the kids for taking the opportunity to grill the secretary. This is the kind of meaningful debate that so many of us would like to see more of on college campuses, even when the speaker is Charles Murray or Heather MacDonald or Ben Shapiro or someone else left finds intolerable.
DeVos's impulses on campus free speech and Title IX issues continue to be solid. She has addressed the former problem without proscribing a government cure that would be worse than the disease, and she has charted a reasonably restrained course for addressing the latter.