Jury Clears Campus Cops Who Fatally Shot a Navy Vet Who Was Breaking Up a Fight
Jason Washington was killed after trying to pick up his legal firearm from the ground.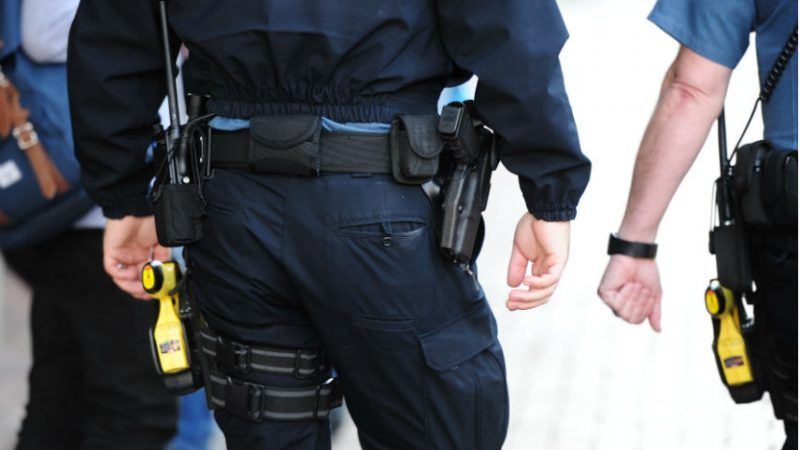 (Alex Milan Tracy/Sipa USA/Newscom)
A grand jury has decided to clear two Portland State University (PSU) officers who killed a Navy veteran who was trying to break up a fight.
In June, cellphone video captured 45-year-old Jason Washington attempting to break up a fight outside a sports bar. After PSU Officers Shawn McKenzie and James Dewey arrived on the scene, Washington fell to the ground and his handgun came out of the holster on his hip. When he went to pick it up, McKenzie and Dewey yelled at Washington to drop his weapon and opened fire. Washington passed away from his injuries. Police later found that he had a concealed carry permit for his gun.
On Thursday, a grand jury declined to indict McKenzie and Dewey. According to a press release from the Multnomah County District Attorney's office, the grand jury determined that the shooting was a lawful act of self-defense and/or the defense of a third person.
A statement from the office of Rahmat Shoureshi, the president of the university, says the incident will be investigated by two independent sources. McKenzie and Dewey, who were placed on leave after the incident, will return to work for desk duty and other administrative tasks. The officers will also remain armed.
The 2015 decision to arm PSU officers was met with fierce opposition from several students. The president's statement explained that the future of an armed PSU police force will be determined by the suggestions made in the independent investigations.