Norm Macdonald's Comedy Isn't Politically Correct, Which Is Now a Problem: Reason Roundup
Plus: the East Coast braces for impact.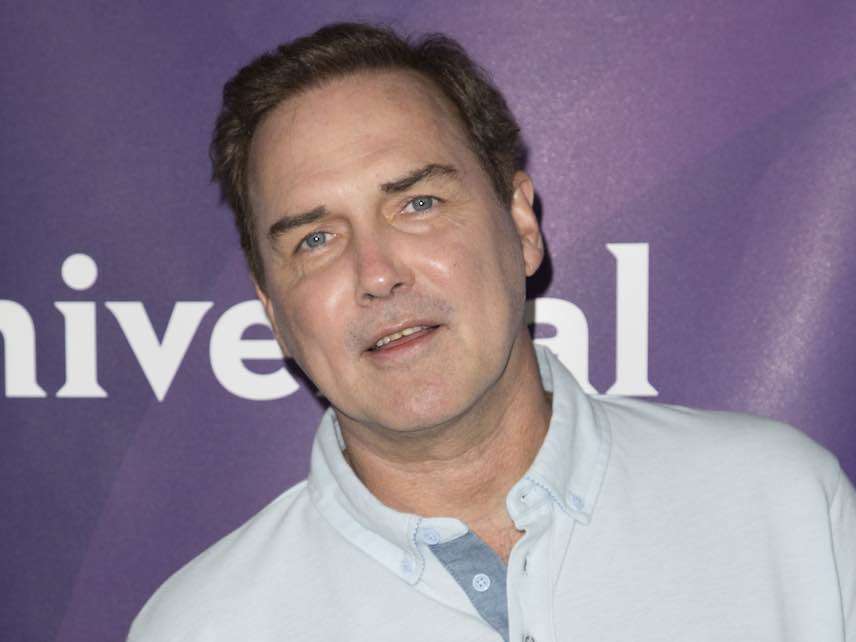 The comedian Norm Macdonald is in hot water after having the audacity to express sympathy for two disgraced friends, Louis C.K. and Roseanne Barr. His transgressions were deemed serious enough that the Tonight Show rescinded its invitation "out of sensitivity to our audience." According to Macdonald, host Jimmy Fallon told him the show's senior producers had broken into tears at the prospect of featuring Macdonald.
Earlier this week, Macdonald gave a controversial interview to The Hollywood Reporter in which he said he was happy the #MeToo movement had slowed down "a bit" because it was quickly moving to a place where everyone would be expected to automatically believe all women (a flawed approach), and he worried innocent men would be ensnared. He also said he felt sorry for two friends: Louis C.K., who was vanished from polite society after numerous women said he revealed himself and attempted to masturbate in front of them without their consent; and Roseanne Barr, whose rebooted show was cancelled after she tweeted racist remarks about former Obama aide Valerie Jarrett. Specifically, MacDonald pointed out that they lost everything in a single day. "The victims didn't have to go through that." The AV Club called the remarks "predictable but disappointing."
Macdonald issued an apology on Twitter:
Roseanne and Louis have both been very good friends of mine for many years. They both made terrible mistakes and I would never defend their actions. If my words sounded like I was minimizing the pain that their victims feel to this day, I am deeply sorry.

— Norm Macdonald (@normmacdonald) September 11, 2018
Then he made things worse, in some people's minds, by going on The Howard Stern Show and attempting to walk back his original statement by saying "you would have to have Down's syndrome" to not feel sorry for #MeToo victims.
This is all pretty obvious outrage fodder for liberals: oh no, the bad comedian said something mean, in a manner that dissents from leftist orthodoxy on believing all victims and calling out every racially problematic statement.
And when something outrages liberals, conservatives must always and automatically defend that thing, even if it really isn't worth defending. Not one, but two writers from The Daily Wire felt the need to play white knight to Macdonald. So did The New York Post and Ricochet. As long as there's even one lib to be owned, so be it. The actor James Woods, a conservative, said this:
So what exactly DOES the #FirstAmendment actually protect? https://t.co/tvE5v88AV5
— James Woods (@RealJamesWoods) September 12, 2018
To which I would respond: well, not your right to appear on the Tonight Show, obviously.
Here's the thing: Macdonald may have been joking. The character he plays is a self-deprecating out-of-his-element kind of guy who acts dumb but possesses a certain wisdom. This nontroversy seems tailor-made to bring out the worst in both the PC left and the own-the-libs right, which is exactly what happened. Maybe Macdonald knew that all along—it's the equivalent of a made-you-look gag. In any case, Macdonald's new Netflix show, Norm Macdonald Has a Show (for now, at least), premieres on Netflix Friday.
FREE MINDS
Video footage leaked to Breitbart of top Google executives bemoaning the victory of Donald Trump in the immediate aftermath of the 2016 presidential election. Breitbart describes the footage as follows:
These individuals, who preside over a company with unrivaled influence over the flow of information, can be seen disparaging the motivations of Trump voters and plotting ways to use their vast resources to thwart the Trump agenda.

Co-founder Sergey Brin can be heard comparing Trump supporters to fascists and extremists. Brin argues that like other extremists, Trump voters were motivated by "boredom," which he says in the past led to fascism and communism.

The Google co-founder then asks his company to consider what it can do to ensure a "better quality of governance and decision-making."

VP for Global Affairs Kent Walker argues that supporters of populist causes like the Trump campaign are motivated by "fear, xenophobia, hatred, and a desire for answers that may or may not be there."

Later, Walker says that Google should fight to ensure the populist movement – not just in the U.S. but around the world – is merely a "blip" and a "hiccup" in a historical arc that "bends toward progress."

CEO Sundar Pichai states that the company will develop machine learning and A.I. to combat what an employee described as "misinformation" shared by "low-information voters."
The story is emblematic of the right's increasing hostility toward tech companies. Laura Ingraham recently called for social media to be regulated like a public utility, and Tucker Carlson is as skeptical of Amazon as Bernie Sanders.
Last week, Google's CEO declined to attend a hearing on Capitol Hill—probably because the company didn't want to answer senators' questions about its cooperation with certain authoritarian governments.
FREE MARKETS
Housing and Urban Development Secretary Ben Carson is considering methods to encourage cities and local governments to get rid of exclusionary zoning laws that make it possible to build new housing options. The plan has the support of Bloomberg's Noah Smith, who says it could be a game changer.
ICYMI: @HUDgov is taking on the #NIMBYs. I agree with @Noahpinion that we must look at increasing the supply of affordable housing by reducing onerous zoning regulations. Zoning laws are holding back America's cities. #YIMBY https://t.co/5K3dVAOd7A

— Ben Carson (@SecretaryCarson) September 12, 2018
QUICK HITS
Hurricane Florence will hit the Carolina coast Thursday afternoon, and it's going to be bad.
At least a million people are expected to lose power in the coming days due to the storm.
Meanwhile, Trump can't stop talking about the last hurricane.
3000 people did not die in the two hurricanes that hit Puerto Rico. When I left the Island, AFTER the storm had hit, they had anywhere from 6 to 18 deaths. As time went by it did not go up by much. Then, a long time later, they started to report really large numbers, like 3000…

— Donald J. Trump (@realDonaldTrump) September 13, 2018