This California Man Researched the City Code Before Building a 'Dream' Treehouse. The City Is Screwing Him Anyway.
Not only did Brian Esola make sure he wasn't violating the city code, he also checked with his neighbors beforehand.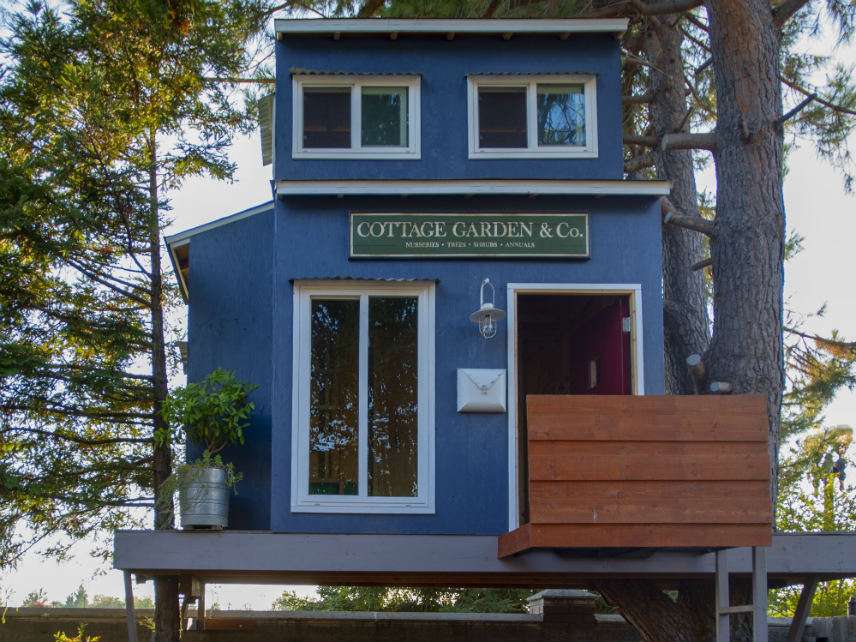 Before fulfilling his longtime "dream" of building a backyard treehouse for his four children, California man Brian Esola says he made sure to do his "homework." But the city is giving him problems anyway.
"Always kind of been a dream of mine to build a treehouse for my kids, so I did," Esola, a resident of Folsom, California, told KOVR.
First, Esola researched any relevant city ordinances to see if he needed a permit. He didn't think he did. He refrained from installing electricity or plumbing, knowing that would be in violation of the city code. Esola also made sure he was using the correct materials to guarantee his children's safety and prevent the treehouse from impeding the growth of nearby trees. "I did my homework," he told The Sacramento Bee. "It's not like I just threw this thing up."
He also says he ran the idea by his neighbors. They had no issues, so he started building.
The result? A thing of beauty. The two-story structure, suspended between two trees, is painted navy blue, with a red door and plenty of windows. Inside the structure, there's furniture, school supplies, and even a mini-basketball hoop. It's a perfect space for his kids to "hang out or have sleepovers with their friends," Esola told ABC News.
But not everyone was pleased. Several months after the treehouse was finished, the city received an anonymous tip that the structure was in violation of Folsom coding regulations. There were several problems, which the city specified in a statement to KOVR: "Accessory buildings must be at least five feet from the property line and eight feet from the home, and no more than fifteen feet tall."
Esola's treehouse, though, is roughly 21 feet tall. And it's "very close" to the property line, Folsom city manager spokesperson Christine Brainerd told the Bee. Esola also failed to get the city's permission before attaching the treehouse to a sound wall.
So if Esola did his research, why couldn't he foresee the code violations? He says he knew about the regulations for "accessory" structures, but thought they only applied to structures like sheds and playhouses. The city code doesn't say anything about treehouses.
At first, Esola was given an ultimatum: either move the treehouse or simply get rid of it. Neither of those options seemed particularly attractive. He wasn't about to abandon something he'd put so much time and money into, and relocating it would just mean additional hassle.
Esola came up with a unique idea: the city should add new ordinances that specifically deal with treehouses. That way, Esola could keep his treehouse, and the problem wouldn't arise again in the future. He presented his idea Tuesday night before the Folsom City Council. But while members of the council said they understood where he was coming from, they declined to do what he asked.
It would be "politically difficult" to come up with new regulations that only apply to treehouses, council member Andy Morin said. Despite a nearly two-hour-long debate on treehouses, the council decided that Esola must either change the structure so it complies with code, or else take it down.
Esola's case is just one example of local governments' war on treehouses. In January, a Florida couple was found to have built a treehouse on their own property without the proper permit. They were fined $50 per day until the structure came down. And in 2013, a zoning board ordered a Pennsylvania father to take down a partially constructed treehouse that he was making for his daughter's birthday.
Bonus link: Here's how to save your treehouse from a zoning board: