Millions in FEMA Funding Was Diverted to ICE: Reason Roundup
Plus: How social media has "socialized speech" and Libertarians struggle for inclusion in state debates.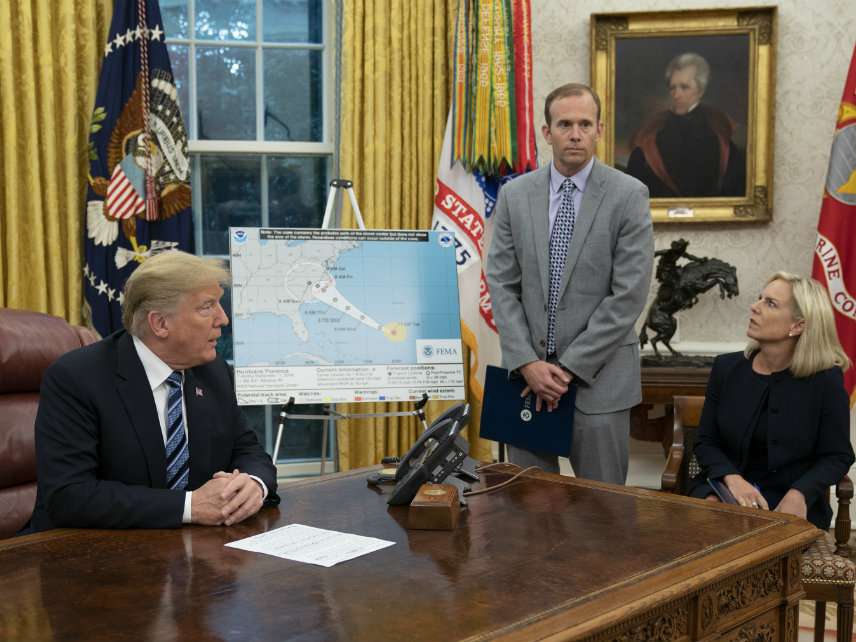 Where the Department of Homeland Security puts its resources. Money marked for lifesaving use during natural disasters was shifted by the Trump administration to people tasked with rounding up and detaining undocumented immigrants.
Nearly $10 million was diverted from the Federal Emergency Management Agency (FEMA) budget and instead given to Immigration and Customs Enforcement (ICE)—a move that seems especially sociopathic in light of Trump's terrible treatment of post-hurricane Puerto Rico, and that is being reported just as a Category 4 storm is slated to hit the Carolinas.
The money transfer was revealed by Sen. Jeff Merkley (D-Ore.) on Tuesday night's Rachel Maddow Show. The senator's office "provided the 39-page budget document independently to The Washington Post," the paper reports. More:
It shows that DHS requested that about $9.8 million going toward FEMA efforts such as "Preparedness and Protection" and "Response and Recovery" be funneled instead into ICE coffers, specifically underwriting "Detention Beds" and the agency's "Transportation and Removal Program." The U.S. Secret Service was also a beneficiary of the reallocation.
A statement from Merkley complained that the government would transfer these resources just "to implement their profoundly misguided 'zero-tolerance' policy" on immigration.
Meanwhile, Texas residents rocked by Hurricane Harvey last year are still struggling. People in Puerto Rico—where approximately 3,000 were killed during last year's Hurricane Maria—are still struggling. But Trump said on Tuesday that his team did an "incredibly successful" job dealing with the Puerto Rico storm.
A FEMA spokesperson said the money transferred to ICE hadn't been specifically designated for hurricane relief anyway.
"Anyone who knows FEMA knows it's parsing words," Moira Whelan, a former Homeland Security official, told the Post.
FREE MINDS
"Social media has, in effect, socialized speech." In a new New York Times op-ed, Reason's Peter Suderman warns that these days, "speech is often perceived not as an individual right, but as a public act, in which words and ideas are not your own, but a contribution to the collective." This has increased calls from across the ideological spectrum for more intense regulation of social platforms. Read the whole thing here.
FREE MARKETS
Miami Beach may make unlicensed Airbnb hosts pay. Initially, Mayor Dan Gelber suggested criminal penalties for hosts who don't have the proper city permit. "Gelber's office has now revised its proposal and slightly backed off plans to criminalize Airbnb hosts," Miami New Times reports.
"The mayor now proposes issuing $1,000 and $3,000 fines before filing criminal charges as a third strike. But charges could still rack up quickly, as the city would consider each day operating without a license as a separate, "new" offense.
QUICK HITS