Chicago Mayor Rahm Emanuel Won't Run for Re-Election
The Windy City will be left drowning in debt, despite the high taxes and vicious money-grubbing fines.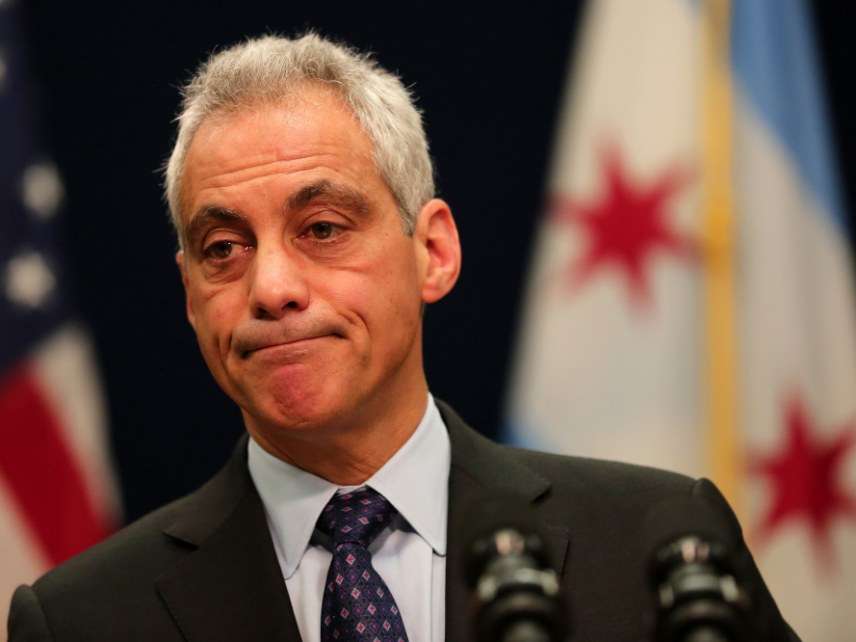 Chicago Mayor Rahm Emanuel announced today that he will not be running for a third term next year—a surprising statement, given that he had already raised millions for another run.
In a news conference, he declared: "This has been a job of a lifetime, but it is not a job for a lifetime."
Certainly not for Emanuel. Over the past few years Chicago has seen a significant jump in violent crime, though that has finally begun to decline. Meanwhile, Chicago's reputation for police misconduct has continued under his administration.
Many Chicagoans will remember Emanuel for City Hall's attempt to block the release of dashcam footage showing police officer Jason Van Dyke fatally shooting teenaged Laquan McDonald seconds after arriving at a call. Officers on the scene insisted that McDonald had lunged at them with a knife, but the video footage showed that nothing of the sort had happened. A judge had to order the city to release the footage, and Van Dyke was subsequently charged with murder. Probably by sheer coincidence, jury selection for Van Dyke's trial is scheduled to start this week.
Chicago has tried to improve the relationship between officers and the public, implementing body cameras and giving more officers Tasers (though those themselves are a tool that can lead to death and are frequently misused to force compliance).
But mostly it seemed that under Emanuel, Chicago was focused on trying to rake in more money to deal with the growing debt caused by expensive bureaucracies and underfunded pensions. As Reason's C.J. Ciaramella reported earlier this year, Chicago is impounding motorists' cars and collectively fining the owners millions, often for petty crimes—burying them in debt in the hopes of digging the city out of its own debts. Emanuel has also jacked up property taxes even further. Small wonder that the greater Chicago area has been losing citizens for the past two years, including its millionaires.
And yet, through all of this, Emanuel seemed to think that the problem was not enough government meddling in its citizens' lives. Under the mayor's urging, Chicago Public Schools implemented a program requiring high school seniors to submit to a selection of approved post-graduation options in order to actually receive their diploma. "Move as far away from Chicago as I possibly can" was not one of the approved choices.
Emanuel's legacy is to affirm everyone's worst perceptions of Chicago's governance: that it's utterly corrupt and cares more about keeping the revenue streams that line officials' pockets and budgets than about holding itself accountable for serving its citizenry.
To read Emanuel's speech, go here.