NYC Housing Authority Embroiled in Boozy, Salacious Orgy Scandal
Apparently, nothing could get in the way of city employees' desire to party.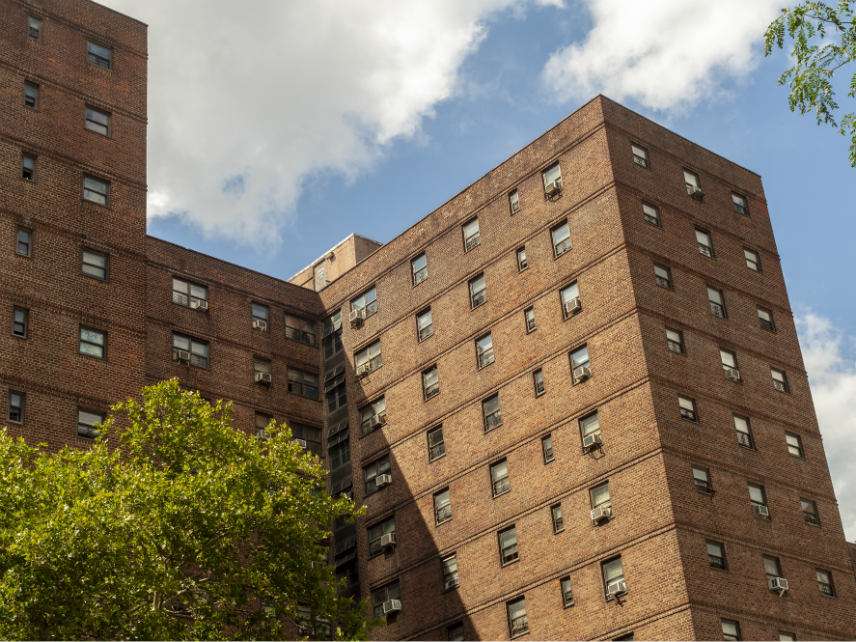 Two New York City Housing Authority (NYCHA) employees have been suspended and dozens more transferred amid allegations of on-the-clock staff orgies at a Bronx public housing project.
The New York Daily News first reported on the scandal earlier this week, which involved booze-filled sex parties held in a groundskeeper's shop. Sources told the Daily News that the parties took place on Fridays and included lots of sexual activity between supervisors and their subordinates. When the orgies were held after work, staff would apparently claim overtime for the hours they spent partying.
According to Throggs Neck Houses Tenant Association President Monique Johnson, nothing could get in the way of the staffers' desire to party. "[It happened on] overtime, during working hours, after working hours, any day or any time of the day," Johnson tells the New York Post. "I now understand why work wasn't getting done."
One resident says the state of the housing development suffered while the staffers were otherwise occupied. "In the meantime, we kept seeing the garbage pile up, the grounds not being kept, lights not being replaced in a timely matter," Lehra Brooks, 66, tells The New York Times.
It wasn't just the partying. Johnson tells the Times that many staffers weren't involved in the salacious behavior. But they were told that if they spoke up, they'd face retaliation.
NYCHA higher-ups found out about the scandal in May and started investigating soon thereafter. On Friday, NYCHA General Manager Vito Mustaciuolo reassigned the entire Throggs Neck staff—about 40 people in all—to other apartment complexes. "We've had longstanding concerns about management and performance issues at Throggs Neck," NYCHA spokesperson Robin Levine tells the Times. "Those concerns, coupled with troubling allegations of misconduct, are why the staff was reassigned. We can't comment further on an ongoing investigation."
In addition to reassigning dozens of employees, NYCHA suspended two of the Throggs Neck staffers without pay: grounds supervisor Brianne Pawson and caretaker Tayron Hazel. According to the Daily News, the suspensions weren't handed down until Tuesday, one day after news of the scandal broke. It's worth pointing out that Pawson is the daughter of NYCHA executive Charles Pawson.
The Throggs Neck development will surely benefit from an entirely new staff, though this latest scandal comes after years of problems for the massive apartment complex, which houses more than 2,700 residents. Last year, for instance, NYCHA faced accusations that it found traces of lead paint in 78 of the development's apartments, but didn't reveal that information to residents.