Why the Fading Credibility of Pope Francis Should Worry More than Just Catholics
Depletion of trust and confidence in public and private institutions is happening across the board and leads to more, not less, government.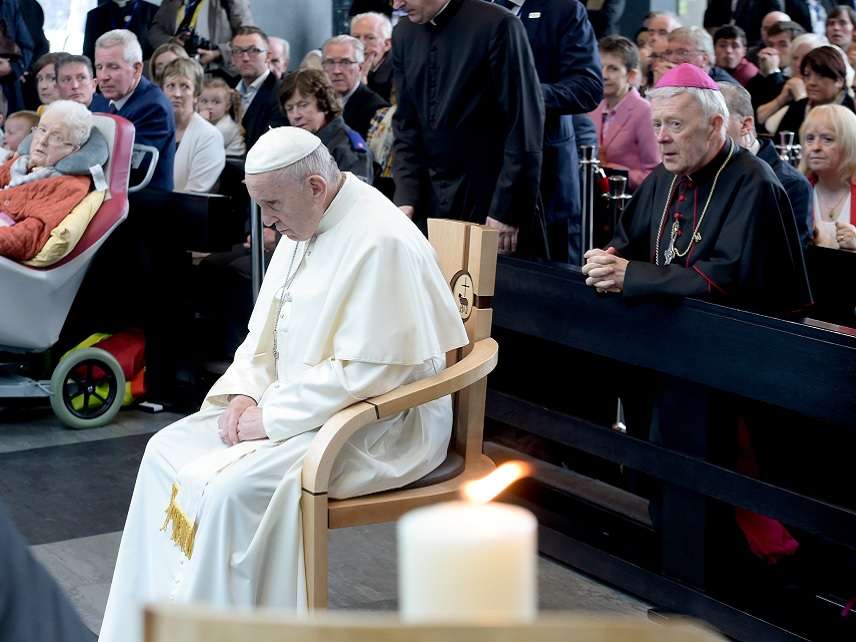 "POPE FRANCIS MASS IN IRELAND HAS LOW ATTENDANCE AMID ABUSE SCANDAL REVELATIONS," blares a recent headline in Newsweek, which reports that "less than one-quarter of the crowd expected to attend Pope Francis's mass in Phoenix Park, Dublin, came to the…event, amid large-scale protests against child sex abuse in the church." The rock star Pope John Paul II, the magazine notes further, managed to pull over 2.5 million Irish Catholics to a Mass back in 1979.
Nobody can tell exactly how much the abuse scandals hurt the turnout for Francis in Ireland, but this much we can say with a fair degree of certainty: The ongoing revelations of abuse and, perhaps even more important, refusal of those in charge to even address the issue, aren't helping.
Pope Francis has just been accused by an archbishop and former Vatican diplomat of actively protecting former American Cardinal Theodore McCarrick, who faces many charges of abuse and was removed from public life by Pope Benedict. "Read the statement [against me] carefully and make your own judgment… I will not say a single word on this," Francis has responded.
In a remarkable interview with a local TV station, Cardinal Blase Cupich of Chicago said that many of the pope's detractors are biased against him because he is from Latin America and averred that "the Pope has a bigger agenda… He's got to get on with other things, of talking about the environment and protecting migrants and carrying on the work of the church. We're not going to go down a rabbit hole on this."
Such reactions from actual Church leaders are made even worse by defenders such as Catholic League President William Donohue. In response to a recent Pennsylvania grand jury report that documented decades of abuse by priests and others in positions of power, Donohue, writes The Weekly Standard's Andrew Ferguson, insists on Jesuitically "trying to distinguish between forced fellatio and rape."
The Catholic Church is facing a hell of a backlash. Even though many of the revelations of abuse are about crimes committed decades ago, the unwillingness to openly address the issue now is rightly a major concern to Catholics and helps to explain why their numbers in America, especially once immigrants are factored out, are declining).
This is all of obvious concern to Catholics, but the Church's failure to earn back lost confidence and trust should be of concern to non-Catholics as well. Across the board, from major religious institutions to the media to the government, the United States is becoming a low-trust country. The major consequence of that isn't simply people getting on with their lives. It often ends in calls for more and more government intervention into all aspects of life, even when people believe the government either to be corrupt or incompetent:
In "low-trust countries"… citizens "support government regulation, fully recognizing that such regulation leads to corruption." As an example, they point to differing attitudes toward government-mandated wages in former socialist countries that transitioned to market economies. "Approximately 92 percent of Russians and 82 percent of East Germans favor wage control," they write, naming two low-trust populations. In Scandinavia, Great Britain, and North American countries, where there are higher levels of trust in the public and private sectors, less than half the population does.
That's from work by Philippe Aghion, Yann Algan, Pierre Cahuc, and Andrei Shleifer (read more about it here).
Figuratively speaking, we are evacuating many major, long-lived institutions. Or, nearly the same thing, we're recognizing that many arrangements and organizations in our lives are played out. Fewer of us identify as Republican and Democrat, we're more secular, and we're less likely to be married than a few decades back. None of these is a bad thing but when our major private and public institutions fail us, trust declines and, all too often, government increases.