The New Farm Bill Is Going To Suck
Just like the last one. And the one before that. And the one before that.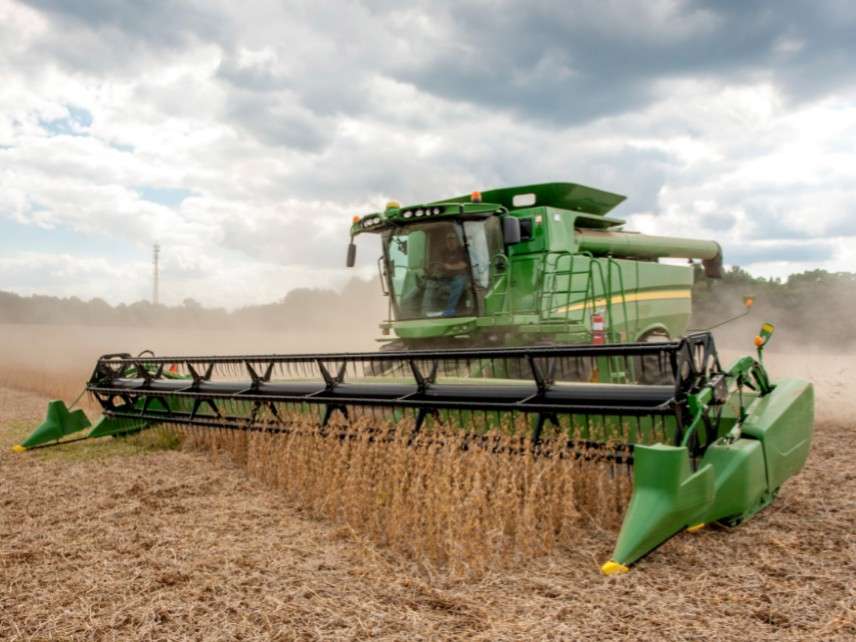 The quinquennial tragedy that is the Farm Bill is currently winding its way through Congress. Members of a joint House-Senate conference committee are beginning work to coalesce respective House and Senate versions of the bill before bringing the finished product to a vote by the end of September.
However the finished product turns out—whether a perfect marriage or one that nods more to the House or Senate version—this year's Farm Bill will suck. Just like the last one. And the one before that. And the one before that.
There was hope, thanks to bipartisan support, that Congress would cap farm subsidies (in the form of taxpayer-subsidized crop insurance) paid to many of America's wealthiest farmers. As I lamented earlier this year, those hopes were already on life support. Now, they're dead.
"An unusual coalition of libertarians, free-marketers[,] and environmentalists hoped this farm bill cycle would be the one to rein in subsidies for wealthy farmers," Politico reported this week. Despite good efforts, the coalition's efforts were for naught.
It's worth noting, though, that libertarians, free-marketers (including, um, libertarians), and environmentalists banding together to fight crappy farm bills isn't the least bit "unusual." These groups work together to fight back against wasteful Farm Bill excesses every five years, as I've noted many times, including in this 2012 column and in my recent book, Biting the Hands that Feed Us: How Fewer, Smarter Laws Would Make Our Food System More Sustainable.
In any case, the coalition was no match, as Politico reported elsewhere, for a more powerful coalition, one featuring top Democratic and Republican leadership in the House of Representatives, including speaker Paul Ryan (R–Wisc.), minority leader Nancy Pelosi (D–Calif.), and agriculture committee chairman Mike Conaway (R–Texas).
The defeat of subsidy reform comes as new analysis reveals yet another way that farm subsidies are an abomination.
The analysis, published this week by the Daily Yonder, a rural news site, reveals that eight of the top 10 congressional districts for farm subsidies—in terms of dollars per year—are represented in Congress by members of the party of fiscal restraint. Top among the group is the statewide district of North Dakota Rep. Kevin Cramer (R–N.D.): the farmers in his district receive more than $381 million in subsidies per year.
Playing with that data yields some absurd results. For example: All told, North Dakota receives more than $500 in subsidies for every state resident. North Dakota farms received an average of more than $15,000 per year in federal farm subsidies. Perhaps most galling is this: if subsidies were a crop, then USDA data show that North Dakota's hardworking subsidy farmers would be the state's fourth largest in terms of the dollar value of their production—trailing only soybeans, wheat, corn, and canola while easily edging out hay, beans, potatoes, sunflowers, barley, peas, lentils, flaxseed, oats, safflower, and sugarbeets.
Still, the final version of the Farm Bill might not be all bad. Rep. Morgan Griffith (R–Va.) took to the pages of the Augusta Free Press with a real peach of a piece extolling the virtues of the Farm Bill as a means to "support farmers" and similar drivel. But Griffith also used the piece to push for one of the few potential bright spots in this Farm Bill: the possibility to end what he rightly labels the "illogical and unproductive ban" on raising hemp.
In fact, farmers around the country are hopeful the nation's hemp ban may fall with passage of this Farm Bill.
"We're optimistic the 2018 Farm Bill will include hemp legalization," Jonathan Miller, general counsel for a group that represents hemp companies, told UPI.
Let's hope so. But will farm subsidies ever die? Probably not. They're a game Congress continues to play with taxpayers' money. And that game is rigged to ensure hundreds of millions of Americans will always lose.