Sexual Assault Accusation Against #MeToo Hero Asia Argento Relies on Uncommon Age of Consent Law
An actress who helped take down Harvey Weinstein paid $380,000 to keep a young man quiet about their encounter.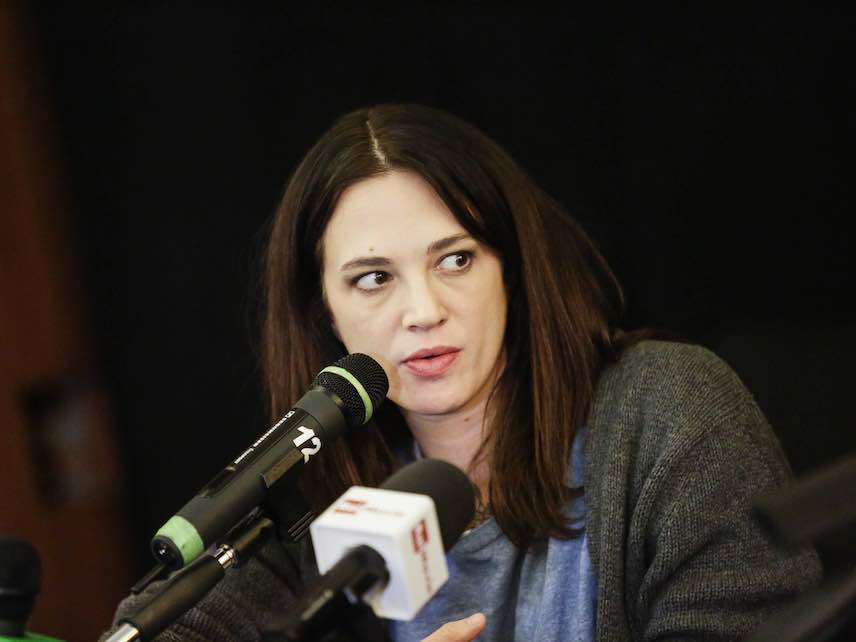 Asia Argento, an Italian actress and director who helped bring down Harvey Weinstein and launch the #MeToo movement, paid $380,000 to an underage actor with whom she had a sexual relationship in 2013.
That actor, Jimmy Bennett, was 17 at the time, and he viewed Argento as a mother figure. Years later, after she became a hero for going public with her sexual assault accusation against Weinstein, Bennett attempted to sue her for intention infliction of emotional distress, lost wages, assault, and battery.
That's according to The New York Times, which obtained documents detailing their agreed upon settlement of $380,000. The Times story claims the documents were sent via encrypted email by an unidentified third party—Bennett declined comment, and it's unclear whether he wanted this story leaked. (I'm somewhat baffled by the paper's decision to name him at all.)
Victims' advocates are reeling from this news. Rose McGowan, an actress and fellow Weinstein accuser, wrote on Twitter, "My heart is broken."
Needless to say, Argento's behavior in this case does not change her status with regard to Weinstein. There's no unwritten law that says you can't be both a perpetrator and a victim of sexual misconduct. People are complicated.
It sounds like at the time the Weinstein allegations were being made public, Argento didn't necessarily know Bennett was uncomfortable with what had happened between them. He didn't threaten to sue her until after she was named in the Weinstein news cycle, in part because "his feelings about [the incident] were brought to the forefront recently when Ms. Argento took the spotlight as one of the many victims of Harvey Weinstein," according to the legal documents.
Also of note: While Argento's alleged conduct does indeed meet the definition of sexual assault, this is only because the age of consent in California is 18. In most other states, it's 16 or 17. Since Bennett was 17 at the time of the encounter, it would have been legal for Argento to have sex with him in 39 of the 50 states. That doesn't make Argento's decision to have sex with this particular young man, with whom she had a quasi-maternal bond, any less creepy. But I'm a little uncomfortable using the word assault to refer to incidents between adults who are both clearly capable of consenting to sex, regardless of what the law says.