Security Bars Couple From Statue of Liberty for Wearing 'Abolish ICE' Shirts
Tiffany Huang and her fiancé just wanted to exercise their "right to free speech." But security guards apparently had other ideas.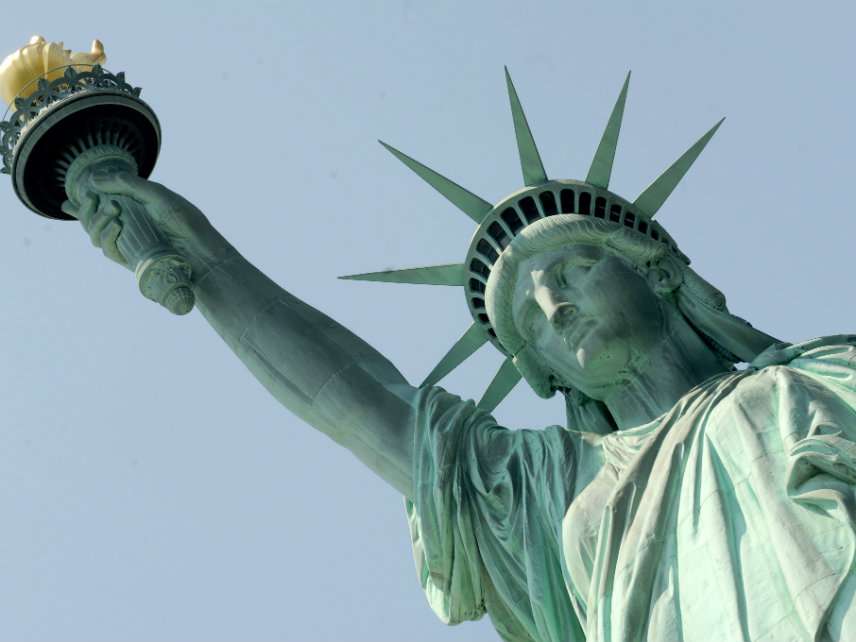 A New York couple planned to symbolically protest President Donald Trump's immigration policies last month by visiting the Statue of Liberty while wearing "Abolish ICE" T-shirts. But they say security guards told them they couldn't tour the monument unless they changed their shirts.
Tiffany Huang and her fiancé "felt we needed to acknowledge the symbolism of visiting the Statue of Liberty," Huang tells Gothamist. They planned their visit for July 14, less than two weeks after protester Therese Okoumou was arrested for scaling the monument. Prior to her arrest, Okoumou and other demonstrators unfurled a banner from the statue's pedestal calling for Immigration and Customs Enforcement to be abolished.
But Huang and her fiancé didn't intend to take similar action. "We did not have any plans for any other sort of action—just exercising our right to free speech," she tells Gothamist.
Still, citing "what happened on July 4th," security guards gave them an ultimatum: Change their shirts, or leave. One guard told them "it was our 'choice' to either change or put on clothes over our T-shirts, or leave," Huang says. "So we said we would rather leave, and another security person walked us back out through security."
The couple contacted to the New York Civil Liberties Union (NYCLU), who says they were the victim of "viewpoint discrimination."
"Prohibiting would-be visitors to the Statue of Liberty from accessing the nation's most prominent public symbol of welcoming immigrants simply because of the message on their shirts violates our most sacred values," NYCLU staff attorney Jordan Wells tells INSIDER.
The NYCLU got in touch with the National Park Service (NPS), who admitted to the "misstep." NPS spokesperson Jerry Willis tells Gothamist "this never should've happened" and said "it's pretty clear from our standpoint that we don't restrict free speech."
Statue Cruises, the company that operates Statue of Liberty tours, refunded the couple for their unfinished tour, and the NPS invited them to return. Huang and her fiancé have taken the agency up on that invitation. They planned to come back today, again wearing their "Abolish ICE" shirts.