L.A. Metro Starts Rolling Out TSA-Approved Scanners at Subway Stations
The new scanners will prove just as effective as TSA airport security.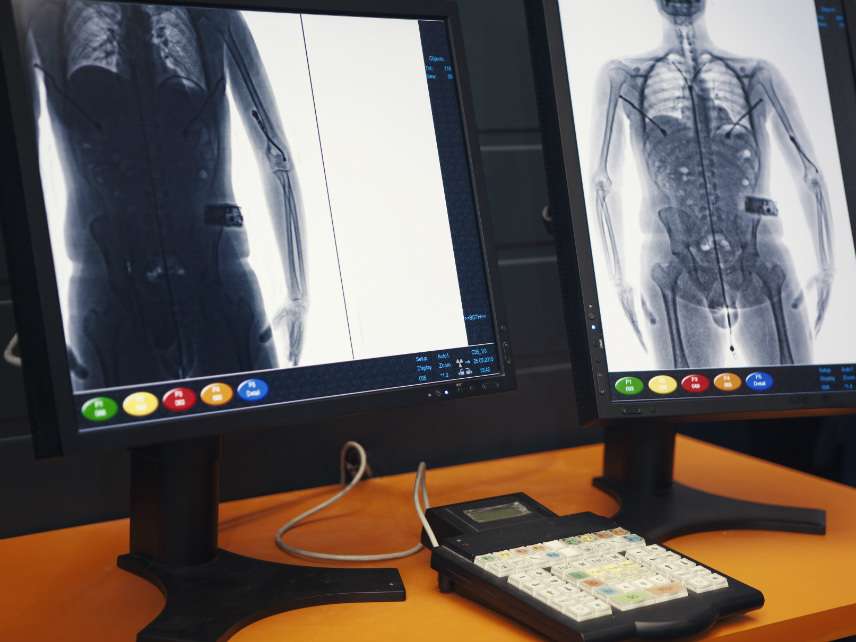 Public transportation in the U.S. is often overly expensive and unnecessary, so it makes sense that the agencies that run transit systems would want a security system to match.
On Tuesday, the Los Angeles County Metropolitan Transportation Authority (Metro) announced that it was partnering with the Transportation Security Administration (TSA) in deploying new body scanners on its subway system.
Metro will be the first transit agency in the country to deploy the new machines, which are supplied by British company Thruvision at the rough cost of $100,000 a piece. According to a TSA press release, the scanners will be used to "keep transit riders safe from person-borne improvised explosive devices or other weapons that are intended to cause mass casualties."(Similiar machines are being experimented with at bus and rail stops in New York and San Francisco.)
The scanners, which TSA tested and recommended but which Metro staff will operate, mercifully do not require people to line up one by one to be scanned. Rather, the portable Thruvision machines are able to pick up the waves emitted by the human body as they walk through the machine's field of vision, while security personal look for concealed objects that might be blocking these waves. That makes them less invasive and cumbersome then the body scanners you might find at airports. It doesn't make them any more useful.
Because they rely on those waves emitted from the human body to reveal hidden objects, these scanners can only detect things that people are carrying on their person. In the case of terrorism prevention, that would be suicide vests or maybe pipe bombs (like the one used in an unsuccessful attack near the New York Port Authority Bus Terminal in December 2017).
A would-be terrorist with any kind of guile could get around this security precaution by simply carrying an explosive device in a backpack.
The two most high profile attacks on rail transit in Western Europe—the 2004 Madrid train bombing and the 2005 London Underground bombing—both saw the perpetrators smuggle explosive devices onto trains in backpacks or small bags.
There's reason to be skeptical about how useful these scanners will be even for spotting dangerous concealed objects on passengers' persons. According to a 2015 ABC investigation, undercover federal agents had a 95 percent success rate at getting fake weapons and explosive devices through far more intensive and individualized TSA airport screenings. A 2017 report from the Department of Homeland Security's Inspector General also found that TSA screeners and equipment often failed to detect contraband smuggled through security by undercover agents, with failure rates possibly as high as 80 percent.
It's possible LA Metro security staff scanning whole crowds of people at once will do a better job, but I doubt it.
This ineffectiveness shouldn't worry passengers too much. Actual instances of terror attacks on public transit in the U.S. remain incredibly rare. Apart from the 2017 Port Authority bombing—which killed no one, and only left the attacker seriously injured—I could find no example of similar attacks on U.S. buses or trains.
The security threats one actually faces on America's public transit systems are more mundane: muggings, assaults, and occasional homicides. The new scanners will do precious little to prevent these crimes. Judging by videos of Thruvision scanners in action, security personal will have a hard time telling the difference between someone's phone or wallet and all but the most conspicuous weapons.
The end result of these scanners then will be less privacy, and the same amount of safety for Metro riders.