Trump's Trade War Could Kill Alaska's Seafood Industry
American farmers have already fallen victim to Trump's trade war with China. Could Alaskan fishermen be next?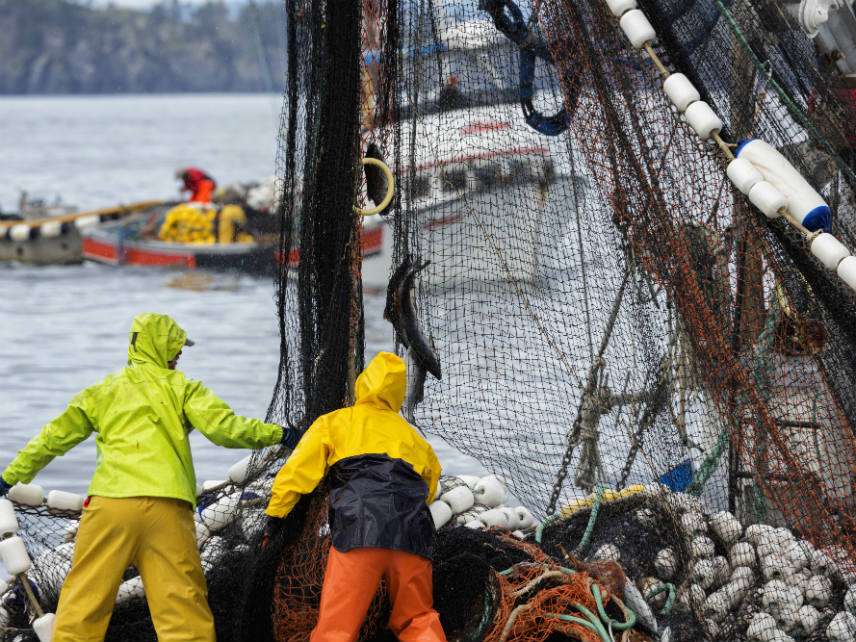 President Donald Trump's trade war with China has already hurt American farmers. Soon, Alaskan fishermen might suffer the consequences as well.
Alaska exports about $1 billion worth of seafood to China every year, according to Reuters. That's the result of years of diplomacy between the Alaskan and Chinese governments. Last year, for instance, Chinese President Xi Jinping visited Alaska, and earlier this year, Alaska Gov. Bill Walker returned the favor.
Then in June, China responded to Trump's tariffs on Chinese goods with duties of their own—namely, 25 percent tariffs on a variety of American seafood exports.
According to the United Fishermen of Alaska, the biggest seafood trade group in the state, the burgeoning trade war could have "devastating" consequences. "This isn't an easily replaced market," the group's executive director, Frances Leach, tells Reuters. Leach expressed concern that "China is just going to stop buying Alaska fish."
Alan Noreide, a black cod and halibut fisherman based in the port town of Seward, expressed similar sentiments. "We'd rather be left to our own challenges that we have. We don't need any more," he tells Reuters.
Though Chinese consumers like Alaskan fish, higher prices could lead them to give their business to other countries, like Russia and Norway.
Alaska's concerns over Trump's trade war with China aren't new. "It has clearly rattled my state," Sen. Lisa Murkowski (R–Alaska) told U.S. Trade Representative Ambassador Robert E. Lighthizer last month, referring to Trump's tariffs. "Our seafood industry is the number one private industry in terms of the jobs and the economic opportunity it brings."
Murkowski indicated fishermen in her state should get the same treatment as American farmers, to whom the Trump administration is giving $12 billion in subsidies to offset the harm done by tariffs. "The administration's announcement of $12 billion in aid is an admission that tariffs are hurting, not helping, our country," the Alaska Republican said. "Yet, farmers are hardly the only ones caught in the crossfire—so, too, are our fishermen, the energy industry, and many others."
It's not just the Alaskan fishing industry that should be worried, the National Fisheries Institute (NFI) said in June, right after China announced its seafood tariffs. "It is not clear where these trade actions will ultimately lead, what is clear is that they will negatively impact American seafood jobs," NFI President John Connelly said in a statement at the time. "It is Maine lobstermen, the men and women on boats in Alaska and families harvesting and processing seafood in the Pacific Northwest who will feel the brunt of the Administration's misguided policy."
It doesn't look like Trump's trade war is going to end anytime soon. Last month, the administration announced plans to impose tariffs on $34 billion worth of Chinese goods. China responded last week by imposing 25 percent tariffs on $16 billion worth of U.S. exports.