Antifa Still Wants to Punch the Two Dozen Damp, Sad Nazis Who Showed Up at Unite the Right II
But most counterprotesters were calm and nuanced about free speech and fascism at the D.C. rally.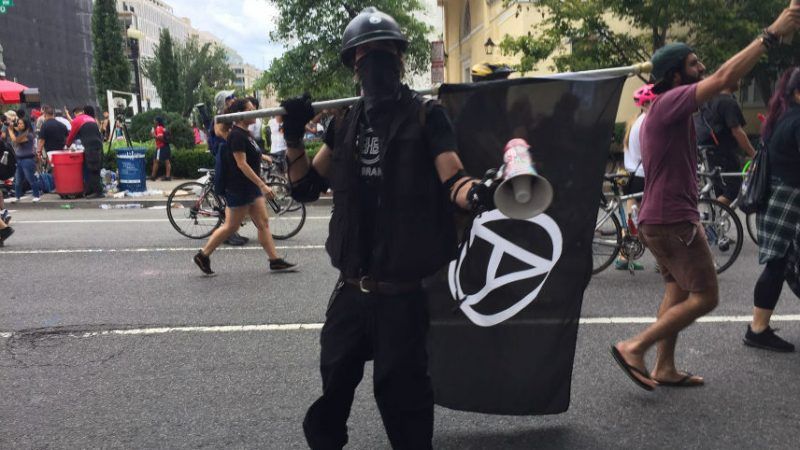 (Christian Britschgi/Reason)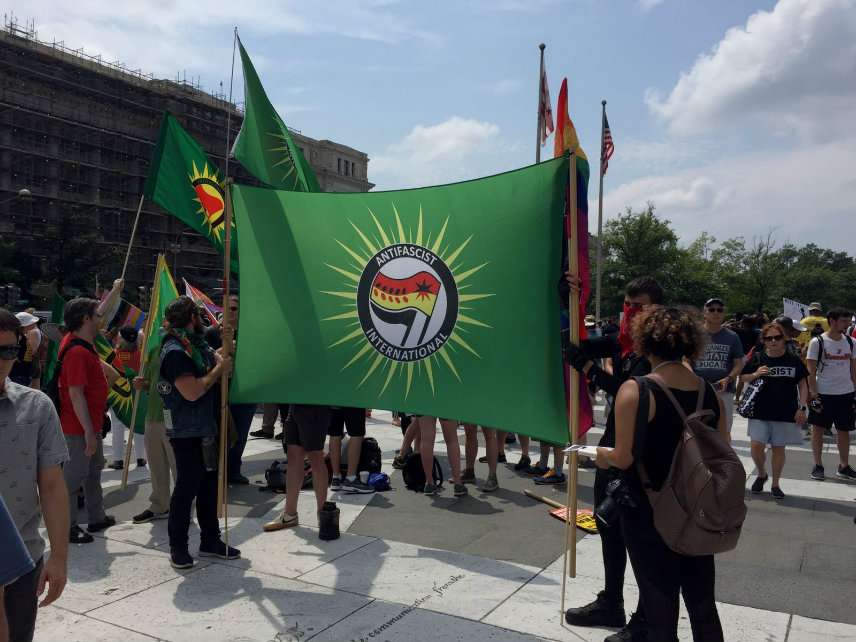 "I really think we should just ignore them," counterprotester Glen Hellman told Reason outside the Vienna Metro station this morning, where Unite the Right II rally participants boarded a subway headed into downtown D.C. "We're validating them, and that is a problem," he added, describing himself as "torn" over whether to ignore the rally or protest it.
As expected, it was a chaotic scene outside the White House on this rainy Sunday, as white nationalists staged a rally in the nation's capital.
But the core "Unite the Right II" group managed to draw only about two dozen people, compared with thousands who showed up in response, including plenty of anti-fascist (antifa) and Black Lives Matter (BLM) protesters.
The white nationalist rally in Washington, D.C., served as a sequel to last year's Unite the Right event in Charlottesville, Virginia, where violent clashes broke out and one counterprotester, Heather Heyer, was killed. In light of the events in Charlottesville, D.C. authorities made sure they were prepared for unrest. There was a huge police presence in Lafayette Square (where the rally was held) and the surrounding area. Cops guarded the white nationalist protesters wherever they went.
There just weren't that many of them. Rally organizer Jason Kessler predicted in his National Park Service permit that 400 people would participate. Less than 30 actually showed up.
The rally's actual size didn't stop antifa protesters from getting all riled up. Decked out in black with their faces covered, they screamed chants like, "Any time, any place, punch a Nazi in the face" and "Whose streets? Our streets!"
But there were also plenty of level-headed counterprotesters, like Hellman.
"Anti-fascism isn't just punching Nazis in the face. It's giving food out to people who don't have food," says Marina, who declined to give her last name.
Many counterprotesters say they support the white nationalists' right to hold a rally. "Everybody has to have a right to free speech, but man, there can be some disgusting messages out there," one anonymous protester told Reason. "You can't stop it. That's the way our country is built."
Paul Mitchell, a counterprotester wearing a U.S. Army veteran cap, compared the white nationalists' right to hold a rally to NFL players' right to kneel during the pre-game playing of the national anthem. "I would never do it, but I do support their right to make a statement," he says.
The range of emotions was perfectly represented by the variety of signs counterprotesters were clutching outside the Vienna Metro station. Some, like "Hate has no home here" and "We were all created equal" had anti-hate, pro-equality messages. Other signs were much blunt. "Give them a platform," read one, next to an illustration of a guillotine. "Fuck you fascist fuck," read another.