Movie Review: BlacKkKlansman
Spike Lee gets his groove back.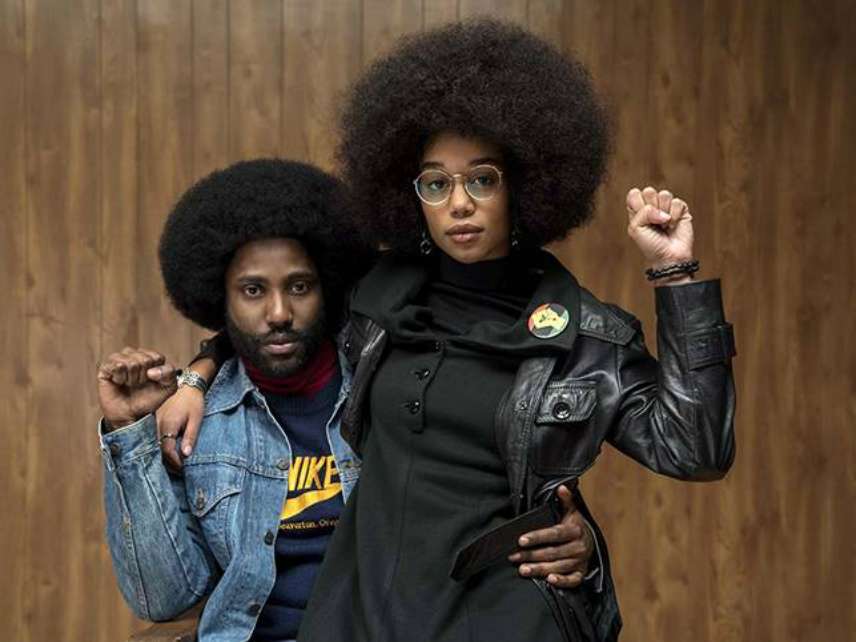 Back in the mid-1970s, Ron Stallworth became the first black police officer in the town of Colorado Springs, some ways south of Denver. In 1979, in an even more impressive feat of cultural pioneering, he became the first black member of the Ku Klux Klan.
Therein, of course, lies a story. Stallworth told it in a 2014 book, and now it has provided rich material for Spike Lee, a director long-overdue for a hit. The movie he's made from Stallworth's tale is surprisingly funny, mainly because most of the white Klansmen we meet here are such utter buffoons. There are dark currents running through the film, too, of course, and Lee doesn't let them flow by unnoticed. But when you hear one character talking about black people being "shot down in the streets by white racist cops," or saying, "They're killing us like dogs," you'd have to be terminally narcoleptic to miss the contemporary resonance.
There's a sweet continuity in Lee's casting of John David Washington to play Stallworth. The actor made his screen debut in a bit part in Lee's 1992 Malcolm X—a movie that starred John David's father, Denzel Washington. All grown up now, the younger Washington gives a carefully fenced-in performance as a man who can never come all the way out of himself and show people who he really is.
Stallworth was initially used by the Colorado Springs PD as an undercover infiltrator to—what else?—keep tabs on the local black-power scene, especially when outside firebrands like Stokely Carmichael came to town looking to stir things up. The Stokely we see here—played by Corey Hawkins as Kwame Ture, the latter-day name Carmichael adopted during a sojourn in Africa—has a powerful oratorical appeal ("Arm yourself, brother, 'cause the revolution is comin'"), and Stallworth, looking around, sees the audience of black students on hand hanging on his angry words. He especially notices a beautiful student-union leader named Patrice Dumas (Laura Harrier in an Angela Davis-size Afro and period round-rim glasses), who turns out to also be both very smart and quite salty. Talking to her afterwards, Stallworth is immediately frustrated. He can't tell this woman he's a cop (for her and her friends, cops are all "pigs") or that he's wearing a wire, which is being monitored by his partner, Flip Zimmerman (Adam Driver), in a car out on the street. But he hates not being straight with Patrice, because while he's proud to be a cop—he always wanted to be one—he shares her dedication to black liberation.
This setup smoothly ushers us toward the key moment when Stallworth spots a newspaper ad—an ad!—seeking new members for the local chapter of the Ku Klux Klan. Stallworth calls the number, identifies himself as exactly the sort of racist bumpkin the group prizes, and almost immediately is asked to come meet them face to face. This presents an obvious problem. But Stallworth is able to convince Flip Zimmerman to represent him in this and all future situations requiring actual whiteness.
Soon Flip, wearing a wire of his own, is learning many ridiculous things about the Klan first-hand. To begin with, the group is no longer called that—now it's "The Organization." And its notorious leader, David Duke, is no longer the "Grand Wizard"—now he's the "National Director." Also, while Klan initiation fees are only a few dollars, they don't include the robes and hoods.
The movie's script, written by Lee and Charlie Wachtel, David Rabinowitz and Kevin Willmott, creates an especially perceptive moment with Driver's character. Flip is Jewish, but he tells Stallworth he never gave that fact much thought—until he started hanging around the endlessly antisemitic Klansmen. "Now it's all I think about," he says.
The movie is handicapped somewhat by the story's lack of dramatic payoff. There's not a lot of black-vs.-white or cops-vs-klowns action, and what there is—like a bomb-planting subplot—feels worked-up (or maybe invented). But the characters carry the movie solidly on their own merits. Washington is restricted by Stallworth's necessarily cautious nature. But Laura Harrier is the very incarnation of the black-and-proud era (James Brown's great hit gives it voice on the soundtrack); Driver brings his usual warm appeal to the role of a guy for whom the fight against racism is just a part of his job, not a crusade—at least at first; and Paul Walter Hauser and Finnish actor Jasper Pääkkönen offer variations on racist styles (traditional backwoods dimwit and snarling hate-merchant, respectively).
One of the movie's most interesting performances is by Topher Grace, who plays Klan "director" David Duke with unwavering restraint. Lee can't give us Duke's full, post-1979 backstory, of course: the race-baiting neo-Nazi, alt-right enthusiast and Donald Trump fan who has run for political office as both a Democrat and a Republican (failing dismally in each guise), served time in prison (for tax fraud), and flown the flag of plastic surgery at full staff. We do see him presiding over a screening of D.W.Griffith's blazingly racist The Birth of a Nation (a movie once screened at the White House by the deplorable Woodrow Wilson). But otherwise, Grace plays Duke as what he surely is: an upwardly mobile nincompoop in a cheap three-piece suit, pathetic in his lunatic convictions but—as we saw in Charlottesville last year — still a force for social chaos.