Ignore the Outrage Mob and Watch Insatiable
Maybe folks angry about "fat-shaming" should have seen an episode before freaking out?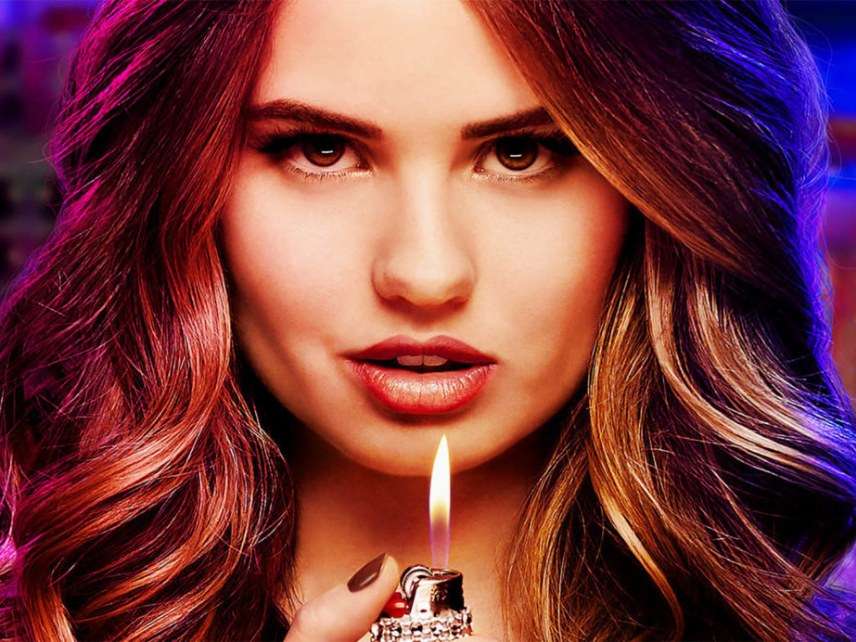 More than 200,000 people have already signed a Change.org petition to cancel the Netflix comedy Insatiable before a single frame of it has aired. "We still have time to stop this series from being released," the petition seethes, "and causing a devastation of self-doubt in the minds of young girls who will think that to be happy and be worthy, they need to lose weight."
Reading those words of these warriors against thin privilege fills me with a righteous rage as I brood about the victims of this manifest unfairness—namely, that I have to watch television shows before I write about them. It would be sooooo much easier (and lucrative!) to do these reviews based on the TV-log description or the title or the voices in my head.
But life's not fair, so they say, which means I had to invest three hours of viewing a sharply written and antically acted comedy about a fat, bullied teenage girl who drops four dress sizes after an accident, then goes on a rampage against her former tormentors, in order to tell you that Insatiable is not an assault on human decency but an extremely funny piece of work.
Something like Death Wish if it had been directed by John Hughes, Insatiable starts off with Debby Ryan (Life Of The Party) encased in a Michelin-man size fat suit, playing a high school pariah named Patty—or Fatty Patty, as the rest of the school (even, oh my God, the band dorks) calls her. The name may be cruel, but it's not exactly inaccurate. "While my classmates were out losing their virginity, I was at home, stuffing another hole," laments Patty.
She bottoms out one night when a homeless drunk demands her chocolate donut on the grounds that she's too fat to eat it. She punches him; he punches back, much harder, and breaks her jaw. Three months of liquid diet later, Fatty Patty is Hottie Patty, with all the popular kids who once shunned her (and now have no idea who she is) begging her to join their cafeteria table. She's unplacated by her new popularity, and the stage is set for Revenge of the Plus-Sized.
But Patty's not the only one bearing homicidal grudges. Bob (Dallas Roberts, The L Word), the attorney defending Patty on criminal charges over slugging the homeless guy, has his own kettle of barely suppressed rage.
An airhead partner in his dad's law firm, Bob is despondent that he's been banned from his real love: coaching teenage contestants in the town's cutthroat beauty pageants. (A mother, furious when her daughter loses a pageant after imprudently giving a happy-face oratory on keeping "trannies" out of women's restrooms, falsely accused Bob of unhinging the girl by touching her "ho-ho.") Seeing a chance to get back in the game and humiliate his rival coaches, Bob suggests that the newly beautiful Patty enter a pageant. Heinous, hilarious skullduggery ensues.
Insatiable is a madcap race through every kind of antisocial and un-PC activity known to mankind. The wives are all promiscuous—particularly Bob's, played by Alyssa Milano—and the husbands all on the down-low. (Gender is not just fluid in this show, it's Niagara Falls at peak flow.) Even the nicknames are filthy. (My favorite: "Bag of Boners.") The most random, bit-player characters say things like (while bragging about bagging a bear on a hunting expedition), "Unfortunately, you can't wall-mount a bear fetus."
The show is filled with gleeful weirdness, most particularly that it was originally intended for teeny-bopper network The CW. And the bright-eyed blood-thirstyness of Debby Ryan is likely to make her a star.
Here's what Insatiable is not: an exercise in fat-shaming or any other teenage caste cruelty. Sure, Patty gets mocked and abused, but the kids who engage in that behavior are unambiguously treated as villains, and they don't fare well. And Patty's acts of vengeance mostly seem heroic, even when they are patently misanthropic. Everybody who ever suffered shunning or scorn at the hands of a high-school social overlord will be raising a fist in solidarity.
Which is the point. Executive producer Lauren Gussis, who worked on Showtime's boy-psycho-next-door Dexter for several years, says Insatiable is really her memoir of an overweight adolescence full of convulsive anger at the way other kids treated her: "the kind of rage that makes you want to do dark things." Dark, funny things.