American-Backed Saudi Coalition Kills 40 Children in Airstrike, Injures Dozens More
The airstrike in northern Yemen kills 51 civilians and injures 79 more.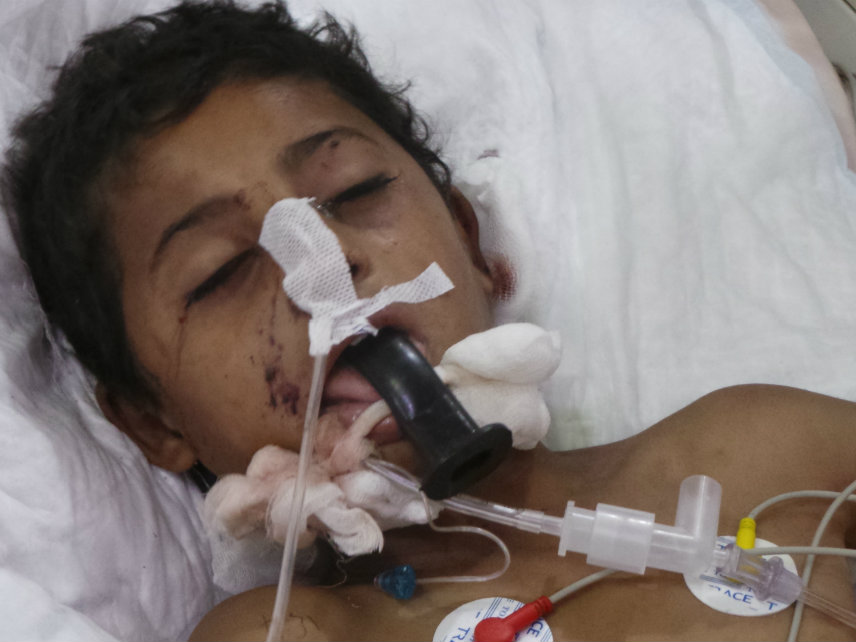 A Saudi airstrike in northern Yemen yesterday claimed the lives of 51 civilians, at least 40 of whom were children. An additional 79 people, including 56 children, were reportedly wounded. Given the dismal conditions of the area, it's likely more will die from the lack of adequate medical care.
The American-backed Saudi coalition says the attack was a retaliation for a previous attack by Houthi rebels that killed one Yemeni person. The coalition claims that the missile was intercepted and the fragments ended up hitting a bustling market square and a bus carrying kids. Colonel Turki al-Malki, a spokesperson for the coalition, insists that the airstrike "conformed to international and humanitarian laws." But Al Jazeera reports that the market was nowhere near any sort of Houthi rebel installation.
So far, the Pentagon has offered mixed messages about America's role in the disaster. One spokesperson told Vox that the Pentagon isn't sure whether American weapons were used in the strike or if the U.S. helped refuel the Saudi jets; another flatly denied any American involvement. Washington has yet to condemn the airstrike.
Regardless, this incident isn't an anomaly. Just a little over a month ago, the United Nations found that the Saudi coalition was responsible for a majority of the conflict's children casualties, and also that they were guilty of recruiting child soldiers. More than 5,000 civilians have been killed in this war so far, and U.S. support for the Saudis is adding gasoline to an already out-of-control fire. As Lee Keath of the Associated Press told CBS, American weapons, intelligence, and logistical help "has been vital for the coalition."