Saudis Sentence Man to Crucifixion, Criticize Canada's Human Rights Record
Canada called on Saudi Arabia to release a blogger from prison. Here's how Saudi Arabia responded.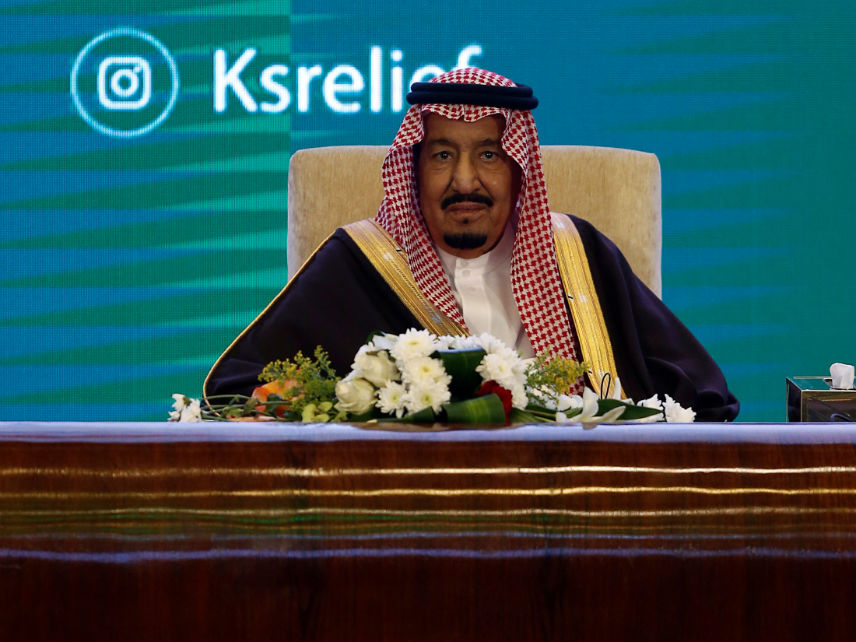 Saudi Arabia and Canada are officially in disagreement over the topic of human rights. As the criticisms between the two countries mounts, a recent crucifixion is overshadowing Saudi Arabia's accusations that between the two, Canada has the worse record on human rights.
Saudi King Salman recently endorsed a court's decision to crucify a Myanmar man accused of theft and murder. The man, Elias Abulkalaam Jamaleddeen, was charged with breaking into a woman's home and stabbing her to death. He was additionally accused of stealing weapons, trying to stab another man, and attempting to rape a woman.
Crucifixions in Saudi Arabia, as explained by the Associated Press, involve beheading an individual and placing their body on display. Though the practice of crucifixion is admittedly rare, Saudi Arabia imposes the death penalty at a higher rate than most other countries. Amnesty International reported in 2015 that China and Iran were the only two countries that used capital punishment more than Saudi Arabia. Just this past year, the country was criticized for killing 48 people over the span of four months. About half of those executed by the Saudi government were convicted of nonviolent drug charges.
Just before this latest execution was carried out, Saudi Arabia accused Canada of having a poor human rights record. The accusation was part of a larger fight that began when Canada called for the release of Saudi women's rights activists on Twitter. One of the activists named, Samar Badawi, and her brother, Raif Badawi, were arrested in 2012 after Raif blogged criticism of Islam. He was sentenced to 1,000 lashes and 10 years in prison. Earlier in the year, his wife and children became citizens of Canada, which has since joined other western countries in calling for the Badawi siblings' freedom.
Saudi Arabia responded by ordering Canada's ambassador to leave the country while recalling its own ambassador from Canada. The country has also called on its citizens currently present in Canada to return home, has suspended various operations in Canada, and has placed sanctions on the country.
Saudi Arabia also accused Canada of hypocrisy by bringing up the arrest of Ernst Zündel. Though he was born in Germany, Zündel operated a Nazi publishing house in Canada for several years. He was arrested and held in solitary confinement in a Toronto jail before Canada deported him back to Germany in 2005. In 2007, Zündel was sentenced to five years in prison for Holocaust denial and inciting racial hatred under German law.
The disagreement only escalated when a verified, pro-Saudi government Twitter account shared a digitally altered picture of an Air Canada plane flying towards the Toronto skyline with the caption "sticking one's nose where it doesn't belong." The picture seemed to evoke the 9/11 terrorist attacks that targeted New York City and Washington, D.C. The picture was deleted and the Saudi Ministry of Media announced an investigation.
(Note: Saudi Arabia has repeatedly denied its involvement in the 9/11 terrorist attacks. A U.S. district court judge ruled in March that the families of the victims had a right to sue Saudi Arabia for damages under the Justice Against Sponsors of Terrorism Act.)
Saudi Arabia is currently a member of the United Nations' Human Rights Council.