Utah Officer on Paid Leave After Shooting Woman Who Was Holding a Screwdriver
A county prosecutor says the cop was not justified in shooting the screwdriver-wielding woman.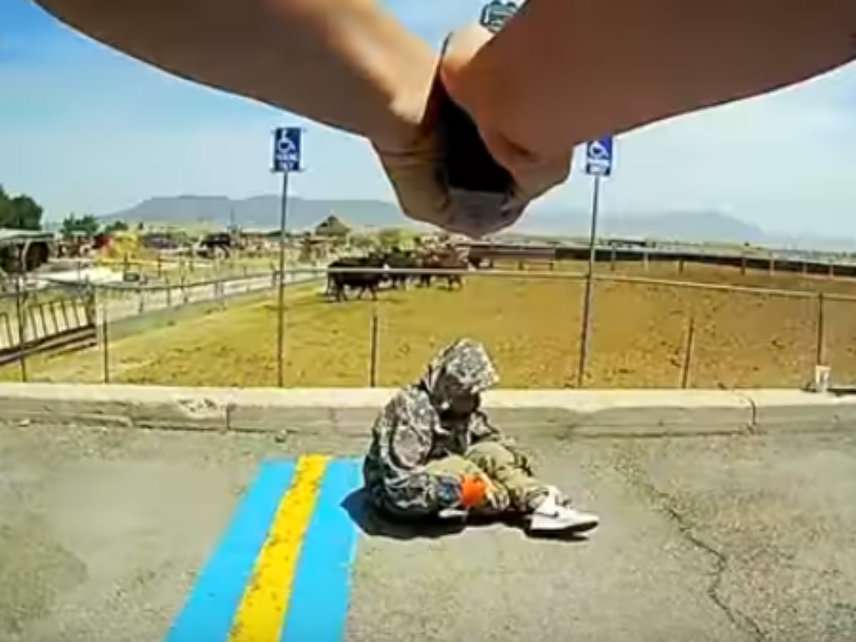 A county prosecutor says a Utah cop was not justified in shooting a woman wielding a screwdriver. But an area use of force board disagrees, and the officer, who remains employed, has simply been placed on paid "administrative leave."
The shooting incident occurred in June after Enoch City Police Cpl. Jeremy Dunn responded to an alleged truck stop burglary in Parowan, Utah. Body camera footage shows Dunn arriving at the scene to join Parowan City Police Sgt. Mike Berg, who was already holding two suspects at gunpoint—an unarmed man and a woman with a screwdriver.
Both officers tried to get the woman, identified as Ivonne Casimiro, to drop the screwdriver, but she refuses. At one point in the video, Casimiro tells the officers to "go ahead and blow." Dunn, meanwhile, tells her: "You come at me with that knife, I guarantee I'll smoke ya."
At one point, Dunn references a 2012 incident, also involving Berg, in which he shot a man with a knife who was approaching both officers. "I can take her out like last time. Do you want me to take her out like last time?" Dunn asks Berg.
Later, Dunn attempts to tase Casimiro but fails. After Casimiro appears to take a step toward him, he fires three shots with his gun, hitting her in the leg twice.
Dunn clearly overreacted, says County Attorney Scott F. Garrett. "While the suspect was armed with a screwdriver and had been non-compliant by failing to follow officer's commands, including multiple commands to drop the screwdriver, it cannot be objectively stated that the officers or anyone else were in danger of death or serious bodily injury at the exact moment that lethal force was used," he wrote in a letter to the Enoch Police Department. "From the video and Sergeant Berg's testimony, it appears that the situation was manageable at the time Corporal Dunn arrived and it would have seemed reasonable for officers to continue de-escalation tactics until the situation could be more fully contained. Corporal Dunn was only on scene for three minutes before firing shots."
But Garrett declined to press criminal charges, noting that "the State would not be able to prove the requisite criminal intent."
The Enoch City Use of Force Review Board came to an entirely different conclusion. In a report released yesterday, the board claimed "Dunn's actions were within department policy" and that he used "reasonable force" to deal with an "immediate and severe threat."
In the board's view, "After resisting Sergeant Berg's attempt to detain her, and being subjected to two ineffective TASER deployments, and after the female raised the screwdriver in her right hand across her body appearing to load for an attempt to strike, taking a step forward with her left leg while her arm was cocked, Corporal Dunn chose to incapacitate the female suspect using lethal force in a non-lethal manner."
According to the city board, the only thing Dunn did wrong was to aim for Casimiro's legs instead of her extremities. But he was cleared of wrongdoing there as well, as the board accepted his argument that he was trying to incapacitate her with non-lethal force.
Dunn "is currently on administrative leave until a determination can be made in compliance with and by all relevant agencies," the city board says. His short-term fate isn't particularly surprising, given that getting paid not to work is a pretty common "consequence" for officers involved in controversial shootings.
Casimiro was taken to the hospital and later booked on multiple charges, including vehicle burglary and assault of a police officer.