New Iran Sanctions Inflame Tensions, Isolate U.S.
If you want to make Iranians poorer and more hostile to America, we've got a policy for you!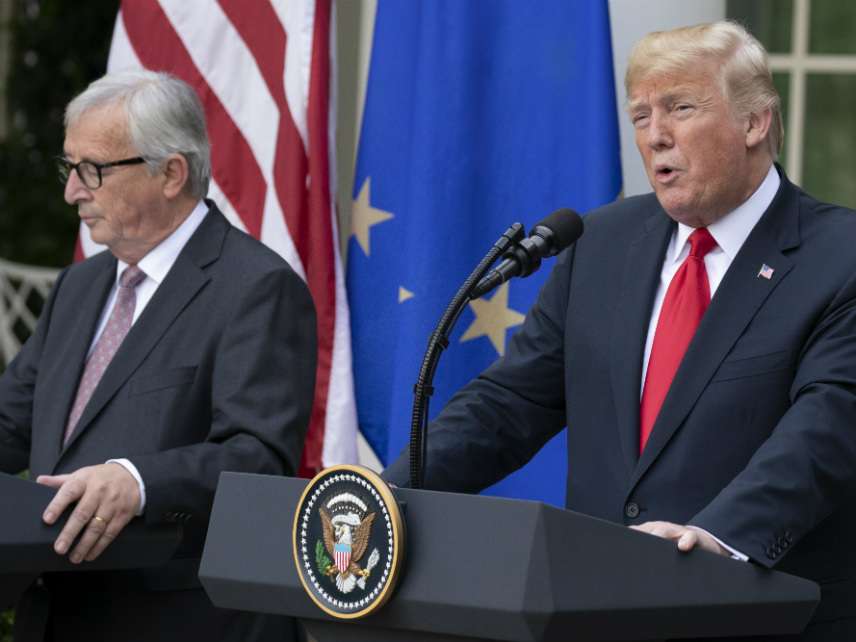 Today Washington imposed sanctions on anybody doing business with Iran's automotive sector. Companies selling car parts and services in Iran could be denied U.S. export licenses, frozen out of government contracts, and have visa applications for their corporate officers rejected. The new sanction also target anyone who helps the Iranian government purchase U.S. banknotes or precious metals.
"The Iran sanctions have officially been cast. These are the most biting sanctions ever imposed, and in November they ratchet up to yet another level," President Donald Trump wrote on Twitter this morning. "Anyone doing business with Iran will NOT be doing business with the United States. I am asking for WORLD PEACE, nothing less!"
The sanctions themselves are hardly a surprise, coming three months after the administration announced it was terminating the 2015 Joint Comprehensive Plan of Action, which lifted financial and trade restrictions on Iran in exchange for limits on the country's nuclear program. They are nevertheless inflaming tensions both within Iran itself and among America's European allies, who were far more committed to the 2015 agreement and whose companies were quick to reinvest in Iran following the rollback of sanctions.
"We deeply regret the re-imposition of sanctions by the U.S.," say the chief diplomats of France, the United Kingdom, Germany, and the European Union in a joint statement. "We are determined to protect European economic operators engaged in legitimate business with Iran."
The E.U. Commission has enacted a statute that prohibits European companies from complying with U.S. sanctions without explicit permission from the European Union. This so-called "blocking statute" gives business a rather nebulous instruction to ignore "any requirement or prohibition" of U.S. Iran sanctions; what exactly this will look like in practice, or what kind of penalties the E.U. might bring against sanction-abiding companies, is anyone's guess. The European law also allows these businesses to recover damages from any institutions helping to enforce U.S. trade sanctions.
This leaves such firms as the French automaker Renault and the German engineering company Siemens—both of whom had invested in Iran's auto industry—between a rock and a hard place, unable to satisfy the mutually exclusive demands of E.U. and U.S. policymakers.
Both companies announced plans to scale back their Iranian dealings prior to today's sanctions. Honeywell, Boeing, General Electric, and other American companies have similarly said they'll be exiting the country.
In Iran itself, the sanctions have sparked protests from citizens increasingly frustrated with their government and its continuing isolation. Reuters reports that crowds of demonstrators numbering between a few dozen to a few hundred took to the streets in Tehran and nearby towns, chanting anti-government slogans like "death to the dictator" and throwing rocks.
Both the Iranian protests and the decision of some European companies to back out of the country have been treated as a win by U.S. National Security Advisor John Bolton, who said Monday that "reimposition of sanctions has already had a major effect."
The Iranian-American commenter Hamid Zangeneh rejects this notion, saying the Trump administration's hardline anti-Iranian actions have only undermined the U.S.'s reputation with the Iranian public.
"In general, Iranians, unlike their government, sentimentally have been pro-American. Yet, they have been shunned by the Trump administration, through the imposition of an unjust travel ban and now resumed sanctions," writes Zangeneh in an article for the Atlantic Council. "The Iranian government has exploited these issues to whitewash social, economic and political failures caused by its own mismanagement and corruption."
It's laughable to think these sanctions will get the country to come to the table, let alone agree to U.S. demands that it open all its military facilities to international inspection, roll back its support for pro-Iranian factions across the Middle East, and become best friends with Israel. At best, this attitude shows a naive belief that threats and bullying will convince the world's nations just to lay down and accept U.S. demands. At worst, it suggests that the Trump administration is not really interested in coming to an agreement with Iran at all.