Dallas Mayor Blames Bike-Sharing Company for Recycling Bikes After City's New Fees Killed Bike-Sharing
Those bikes could still be on the road if Dallas hadn't demanded an $800 registration fee and $21 per bike.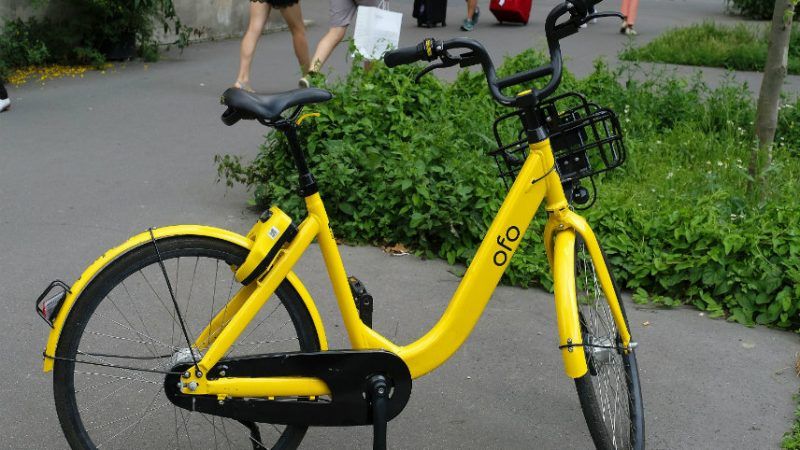 (AY-COLLECTION/SIPA/Newscom)
New permitting and registration fees have killed off at least one bike-sharing company previously operating in Dallas, Texas.
Which means that instead of helping people commute, run errands, or visit friends, thousands of yellow bikes previously operated by Ofo, a Beijing-based bike-sharing firm, are now heaped in a city recycling center like a massive modernist monument to poor civic policy.
Ofo decided to pull out of Dallas after the city passed new rules requiring an $800 registration fee and permit fees of $21 per bike, according to The Dallas Morning News. While there were more than 20,000 shared bikes available in Dallas—including roughly 5,000 operated by Ofo—before the city's new registration fee system went into effect, there are now only about 3,500 such bikes available, the paper reports.
Bike-sharing companies and other app-based transportation options like electric scooters have popped up in many major American cities over the past two years, offering a competitively priced alternative to struggling public transportation systems and ride-sharing services. They are hip, useful, and environmentally friendly—in other words, they are everything that city transit planners usually love, except for the fact that they are operated by private companies instead of as public monopolies.
They also operate on razor-thin margins, with users typically paying only $1 per ride, plus additional per minute costs of a few pennies. It's the type of business model that might struggle to survive if subjected to huge fees like the ones imposed in Dallas.
But judging from some reactions, people are happy to blame the victim for the pile of useless yellow bikes waiting to be melted down and recycled. People including Dallas Mayor Mike Rawlings.
Terrible. -MR https://t.co/puYnMuAjSV

— Mike Rawlings (@Mike_Rawlings) August 5, 2018
Others have criticized Ofo for not donating their bikes to youth centers or other charitable causes after the company decided to cease operations in Dallas—something the company said it did with bikes that were in good working condition.
But criticizing Ofo for it's decision to trash bikes or donate them is missing the point. All those brightly painted bikes would still be serving as a useful and affordable transportation alternative if city officials had not driven Ofo out of Dallas. Rawlings can use Twitter to throw shade at Ofo all he wants, but his city government is what's ultimately responsible for that big pile of useless bikes.
Terrible, indeed.