U.S.–Saudi Coalition Paid Al Qaeda Militants to Scram, Let Them Keep Weapons, Then Declared Wins Against Extremism in Yemen: Reason Roundup
Plus: No segregated subway cars for white nationalists and a new law-and-order centered series from Dick Wolf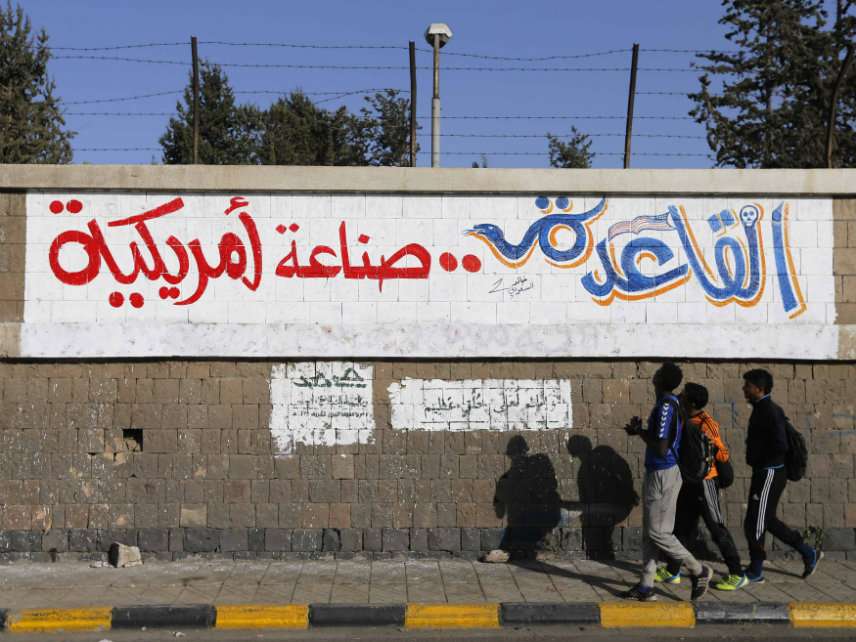 Apparently, we do negotiate with terrorists. A U.S.-backed military coalition in Yemen has "cut secret deals with al-Qaeda fighters," according to an Associated Press (AP) investigation.
Throughout the past two years, the coalition—led by Saudi Arabia—"has claimed it won decisive victories that drove al-Qaeda militants from their strongholds across Yemen and shattered their ability to attack the West," the AP reports. "Here's what the victors did not disclose: many of their conquests came without firing a shot."
The "without firing a shot" part sounds good, until you realize how they got these guys to leave key places in Yemen—places publicly portrayed by U.S. authorities as dangerous strongholds of extremists from whom the we needed to wrest control and free the inhabitants. According to the AP, the coalition simply paid some al-Qaeda fighters to leave. Others were allowed to take cash and weapons with them in exchange for leaving peacefully, while hundreds more were admitted into the Saudi-led coalition.
Terrorism analyst Michael Horton tells AP there was "much angst" in certain segments of the U.S. military about this, but that "supporting the UAE [United Arab Emirates] and the Kingdom of Saudi Arabia against what the U.S. views as Iranian expansionism takes priority over battling [Al Qaeda in the Arabian Peninsula] and even stabilizing Yemen." UAE and Saudi pledges to fight Al Qaeda are mostly "a farce," Horton adds. In fact, the AP found that the coalition actively recruited current or recent Al Qaeda fighters because they were good at what they did.
American Enterprise Institute Research Fellow Katherine Zimmerman tells the AP that "in some places, it looks like we're looking the other way" when it comes to Al Qaeda.
Last week, U.S. Ambassador Nikki Haley told the U.N. Security Council that the U.S. government is beginning to grow concerned over our allies' actions in Yemen. "The idea that a Saudi-led coalition had air strikes today against a fish market and a hospital in Hodeida that may have caused dozens of casualties," said Haley. "The idea that strikes almost hit some of the water tanks, with the cholera outbreak, all of these things are starting to show a disregard for the people on the ground in a time when they are already suffering so much." Haley suggested that "we've hit a new day now" in terms of U.S. policy there. We'll see.
The Saudi-led coalition's conduct in relation to al-Qaeda in #Yemen is impossible to defend here, even on the coldest reading of self-interest/preservation. https://t.co/JbcqLQ1Xhe

— Kyle Orton (@KyleWOrton) August 6, 2018
The AP notes that Washington has sent billions of dollars' worth of weapons to the coalition, has given the coaliton "intelligence used in targeting on-the-ground adversaries in Yemen," and has provided American jets for air-to-air war-plane refueling. We don't directly give money to the coalition, which was launched in 2015.
Amid the chaos, Al Qaeda is gaining ground. "[A]l-Qaeda says its numbers—which U.S. officials have estimated at 6,000 to 8,000 members—are rising," AP reports. "An al-Qaeda commander who helps organize deployments told the AP that the front lines against the Houthis provide fertile ground to recruit new members."
Meanwhile, everyone's declaring mission accomplished left and right.
In February, Emirati troops and their Yemeni militia allies flashed victory signs to TV cameras as they declared the recapture of al-Said, a district of villages running through the mountainous province of Shabwa—an area al-Qaeda had largely dominated for nearly three years. It was painted as a crowning victory in a months-long offensive, Operation Swift Sword, that the Emirati ambassador to Washington, Yousef al-Otaiba, had proclaimed would "disrupt the terrorist organization's network and degrade its ability to conduct future attacks."

But weeks before those forces' entry, a string of pickup trucks mounted with machine guns and loaded with masked al-Qaeda militants drove out of al-Said unmolested, according to a tribal mediator involved in the deal for their withdrawal.

Under the terms of the deal, the coalition promised al-Qaeda members it would pay them to leave, according to Awad al-Dahboul, the province's security chief. His account was confirmed by the mediator and two Yemeni government officials. Al-Dahboul said about 200 al-Qaeda members received payments.
The earliest such deal that the AP uncovered took place in 2016 and involved Mukalla, Yemen's fifth-largest city and a major port:
The militants were guaranteed a safe route out and allowed to keep weapons and cash looted from the city—up to $100 million by some estimates—according to five sources, including military, security and government officials….Coalition-backed forces moved in two days later, announcing that hundreds of militants were killed and hailing the capture as "part of joint international efforts to defeat the terrorist organizations in Yemen."

No witnesses reported militants killed, however. "We woke up one day and al-Qaeda had vanished without a fight," a local journalist said, speaking to AP on condition of anonymity for fear of reprisals.
In other Al Qaeda news: Osama bin Laden's mom spoke out for the first time last week:
"We knew from the beginning [that it was Osama], within the first 48 hours. From the youngest to the eldest, we all felt ashamed of him." Via @martinchulov in @guardian: https://t.co/Ua8NmQaXPS

— Ajit Pai (@AjitPaiFCC) August 4, 2018
Meanwhile Osama's son, Hamza bin Laden, "has married the daughter of Mohammed Atta, the lead hijacker in the 9/11 terror attacks," The Guardian reports.
FREE MINDS
No segregated subway cars for white nationalists. "Metro will not be providing a special train or special car for anyone next Sunday," said Jack Evans, chair of the Washington, D.C., public transit board. Metro had originally floated the idea of setting up separate trains for protesters attending an upcoming "unite the Right" protest in Washington, D.C. The rally is organized by the same group responsible for the white nationalist tiki-torch mafia that took to the streets of Charlottesville last summer.
FREE MARKETS
If you tax them, they will come?
Tariffs are working big time. Every country on earth wants to take wealth out of the U.S., always to our detriment. I say, as they come,Tax them. If they don't want to be taxed, let them make or build the product in the U.S. In either event, it means jobs and great wealth…..

— Donald J. Trump (@realDonaldTrump) August 5, 2018
Read more on the disasters of Trump's trade policies from Steve Chapman and Shikha Dalmia.
QUICK HITS