D.C.'s Metro Has Warned Riders Against Taking the Metro. I Did it Anyway.
Washington D.C.'s rail transit system is increasingly irrelevant to the city it's supposed to serve.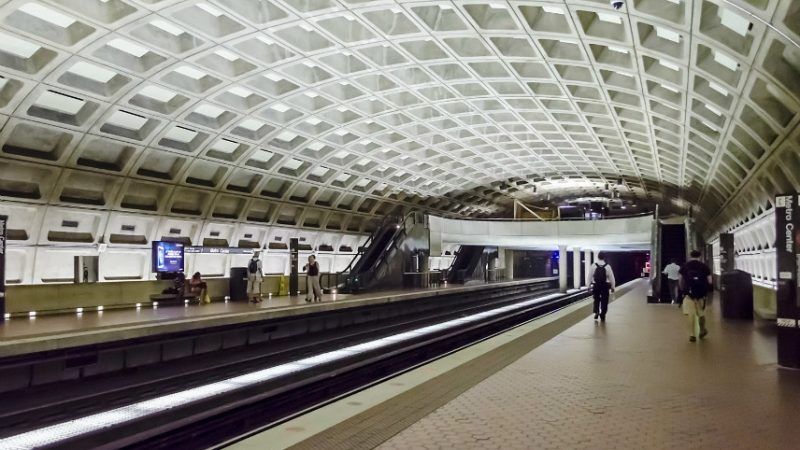 (Marcorubino/Dreamstime.com)
Against the advice of Washington D.C.'s rail transit authorities, I decided to take D.C.'s rail transit system this morning.
As a wave of station closures and service reductions has hit D.C.'s Metro this summer, the agency responsible for operating it—the Washington Metropolitan Area Transportation Authority (WMATA)—has been urging riders to steer clear of its trains.
In pamphlets warning of major delays on segments of the Orange, Silver, and Blue line trains, WMATA has told riders to "only take Metro if you have no other option." Similar advice to "consider alternative travel options" has been offered to riders on the city's Red line, segments of which WMATA has closed to allow for badly-needed repairs at the Rhode Island Avenue station.
There are 3 guarantees in life: death, taxes, and @wmata screwing you over. August is gonna be ~grand~ #MetroFail @unsuckdcmetro pic.twitter.com/eN7U1gBHrq

— Mina Radman (@minaradman) July 31, 2018
Seeing as the Rhode Island station is the one closest to my home, and one that had been making headlines in recent years for all the wrong reasons, I wanted to see just how bad things are. What I found was not so much a Metro system in crisis, but rather one that was becoming increasingly irrelevant to the city it's supposed to serve.
Approaching the station this morning I saw construction crews at work repairing structural damage that was first discovered back in 2016, when concrete started falling from the ceiling. That incident saw emergency repairs performed during a 25-day shutdown in October and November of 2016. It also triggered an internal investigation that uncovered Metro safety inspectors at the station had taken to just cutting and pasting positive evaluations from prior year reports instead of actually checking for damange in some hard-to-reach areas of the station.
Now WMATA is closing the station for another 45 days to finish the job.
I assumed this closure would mean hard times for businesses near the station. WMATA, after all, likes to tout Metro as "the key to the region's economic vitality," bringing in the customers and workers necessary to make the city's retail sector run. But while talking to a cashier at the Dunkin Donuts across the street from the station, I was told there had been no slow-down in business. It was the same story at the CVS further down the block, where a manager said customer volume had "been about the same." A few other restaurants around the Rhode Island station were uninterested enough in the morning crowd of commuters, however diminished, that they weren't even open.
My next stop was the bus bay near the rail station, where the shuttle buses used to replace the idle trains on the Red Line were pulling in. Social media and news articles from the beginning of the Red Line's shut down in late July had conditioned me to expect huge crowds pushing their way onto and off of irregularly-timed buses.
Instead I saw a handful of commuters being picked up or deposited at a decent frequency and without incident.
Declining to take one of the shuttle buses, I decided to walk the mile or so to the nearest operating Red Line station at NoMa-Gallaudet. One of WMATA's performance metrics is the aggregate calories its riders burn walking to their train stations (2.2 million per weekday in 2017!), and I wanted to do my part.
At NoMA, I failed to find even the typical crowding for what should be a busy Monday morning commute. Instead, a less-than-normal crowd of riders waited for trains running at a slightly elongated eight minutes apart. All the stations on my way into the city center appeared less packed than normal save for Gallery Place, where refugees are able to get back onto the Red Line after having taken alternative Green or Yellow line trains that route them around the closed stations.
That I did not find the transit apocalypse I was expecting does not, of course, mean that Metro's problems are overblown: Escalators still break down with infuriating regularity (not a minor gripe with a subway system as deep as D.C.'s); track fires force periodic delays (there was one this morning); fares are up, service levels are down, and some 20 out of 91 Metro stations still need to be rebuilt (a project that will cost $300-$400 million and see some stations shut down from May to September next year).
The anemic crowds and indifferent businesses I saw today are evidence that commuters are abandoning the system in favor of increasingly abundant transportation alternatives. And that change has been a long time coming. Metro ridership has cratered in recent years, going from a 2008 high of 750,000 weekday boardings to an average of 612,000 in 2017. That's slightly below where Metro ridership was in 2001, when the D.C area had about 1.3 million fewer residents. Residents have taken in increasing numbers to biking, driving, and or taking rideshare services like Uber, Lyft, and Via.
My guess is that more than a few of these riders are lost for good to the Metro system, even as policymakers shovel an extra $500 million a year to WMATA to stop its rail service from getting even worse. Shovelling money into Metro will probably help those D.C. residents and workers who can't afford ridesharing or automobile ownership, or are poorly served by WMATA's equally dreadful bus system. But as service degrades further and costs mount, it is worthwhile to consider whether it's more cost-efficient in the long run to invest in replacing Metro, rather than endlessly repairing it.