Ruth Bader Ginsburg Thinks She Has 'At Least 5 More Years' Before Retirement
The Bill Clinton appointee's comments suggest she doesn't want Donald Trump to nominate her successor.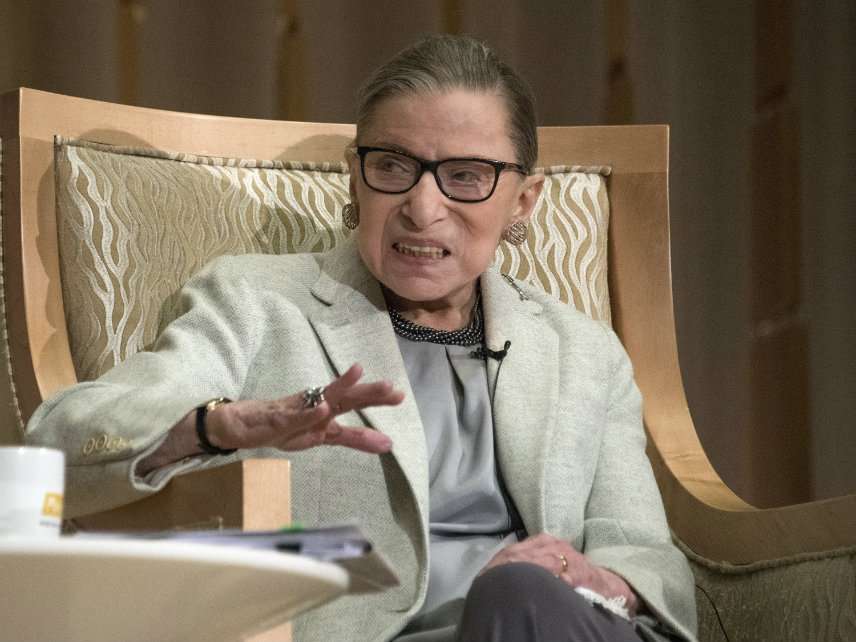 Ruth Bader Ginsburg, the oldest Supreme Court justice on the bench, says she's not retiring any time soon.
"I'm now 85," Ginsburg said Sunday, according to CNN. "My senior colleague, Justice John Paul Stevens, he stepped down when he was 90, so think I have about at least five more years."
Ginsburg's comments suggest the liberal justice doesn't want to give President Donald Trump the chance to pick her replacement. Trump has already nominated two conservative justices—Neil Gorsuch and Brett Kavanaugh—to the Court. The former was confirmed last year, while the Senate has yet to vote on the latter. If Trump gets another pick, he could have the opportunity to solidify the Court's conservative majority for decades to come.
Ginsburg, nominated by President Bill Clinton, has reportedly hired law clerks to last her through the 2020 term. And she has previously expressed her desire to stay on the Court until she's no longer able to do so. "As long as I can do the job full steam, I will do it," she said in October.
Speaking in New York on Sunday after viewing The Originalist, a play about the late Justice Antonin Scalia, Ginsburg said she doesn't think justices should be forced to step down if they don't want to. "You can't set term limits, because to do that you'd have to amend the Constitution," Ginsburg said. "Article III says…we hold our offices during good behavior."
As The Washington Post notes, Ginsburg's fans have obsessed over her well-being ever since Trump became president, particularly after Justice Anthony Kennedy announced his retirement last month.
There's no denying that Ginsburg is getting up there in age. Kennedy is three years younger than Ginsburg, and the next oldest justice—Stephen Breyer—is 79. According to Business Insider, the average age of the last 11 justices to announce their retirement is 80.