On Taxpayer-Funded Trip, Trump Says: 'Vote Republican'
He isn't the first president to do something like this. But it would be nice if he'd be the last.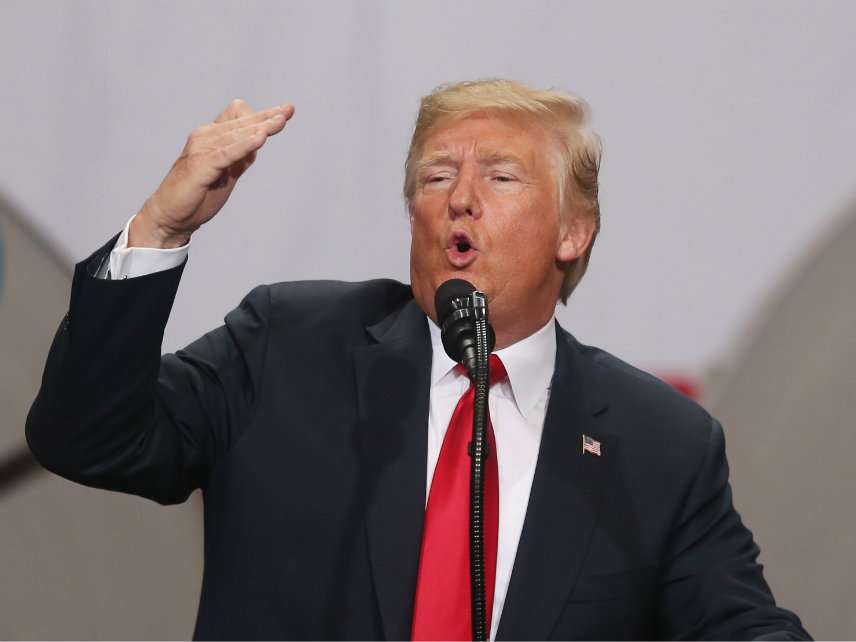 There were no campaign events scheduled on President Donald Trump's taxpayer-funded trip to Illinois on Thursday, but he still implored voters to support Republican candidates for office.
"You've got to vote Republican, folks, you've got to vote Republican," he said during a visit to a steel mill in Granite City, Illinois, according to The Washington Post. Three Republican representatives—Reps. Mike Bost (R-Ill.), Rodney Davis (R-Ill.), and Rep. John Shimkus (R-Ill.)—were on hand at the event. Bost and Davis are both facing tough re-election fights, so Trump was likely referring to them when he said, "Vote for these two congressmen; they know what we're doing. They know what they're doing. They're tough, and they're smart."
It wasn't the first time this week that Trump used an official trip to talk politics. Addressing the annual convention of the Veterans of Foreign Wars—as is customary for U.S. presidents—in Kansas City, Missouri, Trump on Tuesday expressed his support for Missouri Attorney General Josh Hawley, a Republican running for Senate.
Following Trump's speech in Illinois, White House Deputy Press Secretary Hogan Gidley was asked why it's OK for Trump to be making political endorsement on "a government-paid event, official government business trip." Gidley replied that there's "no legal prohibition for that to occur."
Trump is not the first president to mix politics with official business. As The New York Times noted in 2012, controversy over this practice has risen up many times over the years:
President George Bush made more political trips "than any president in history" before the 1990 midterm elections, The Los Angeles Times wrote, and "by mixing official and political travel" passed much of the cost to taxpayers. Bill Clinton, newly re-elected, "may well have set a record for political travel" in 1997 as he flew to fund-raisers to erase Democrats' debt, The Atlanta Journal-Constitution reported.
Prior to the 1982 midterms, then-President Ronald Reagan said during an official visit to Ohio that he would like to heap praise on several Republican candidates present—but "this isn't a political rally, so I won't say any of those things."
When presidents travel to explicitly political events on Air Force One, they have to pay the federal government back. Not so in cases like these. This may not be illegal, but that doesn't make it right. Presidents should learn to keep governing and campaigning separate when they're using the taxpayers' money.