As the New York Subway Melts Down, the City Moves to Cap the Number of Ubers and Lyfts on the Streets
Making the Big Apple less mobile.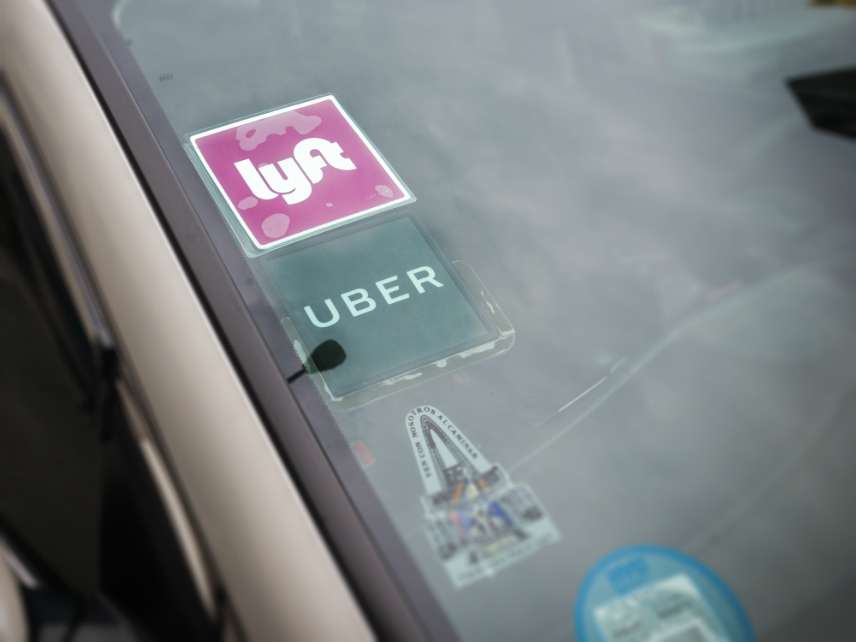 Uber and Lyft have gotten too popular too quickly for city councils across the country over. In June, D.C. raised its tax on rideshare trips from 1 percent to 6 percent. A similar proposal is working its way through the San Francisco. And yesterday New York City Council President Corey Johnson threw his support behind legislation to freeze the number of licenses granted to new rideshare drivers for a year. The bill would also restrict when and where they can offer rides in the city.
"This is the plan that we came up with and in my heart I believe it's the best path forward," Johnson tells The New York Times. "Our goal has always been to protect drivers, bring fairness to the industry and reduce congestion."
Noticeably absent from Johnson's stated goals: helping people get around town.
The idea of a cap is not new. In 2015, Mayor Bill De Blasio pushed for a limit on rideshare vehicles but backed down after stiff opposition from city councilmembers (including Johnson). The mayor's office has issued supportive statements for Johnson's latest initiative.
A day before Johnson made his announcement, former New York City transportation official and longtime rideshare skeptic Bruce Schaller released a report that purports to show that these services have added 2.8 vehicle miles travelled for every mile of personal auto travel they have eliminated. The report likewise claims that carpooling services such as Lyft Line and UberPOOL add 2.6 vehicle miles for every mile of personal auto travel that they remove.
The reason for this, according to Schaller, is that ridesharing services mostly scoop up riders who would otherwise be biking, walking, or taking mass transit. His report argues for aggressive government intervention to prevent rideshare companies form swallowing cities whole, through higher taxes, possible caps on rideshares, and "space-efficiency" requirements for rideshare fleets. (The latter is basically a mandate to operate buses instead of personal vehicles.)
Ridesharing companies hotly contest these findings. A Lyft spokesperson points Reason to the San Francisco Bay Area, where traffic congestion dropped 5 percent last year while the number of Lyft rides increased by 49 percent. A study from the UCLA's Institute for Transportation Studies found little evidence that people were making the switch from public transit to ridesharing services in California.
These findings focus on California, not New York City, where both ridesharing and traffic congestion have increased in the past couple years. But if congestion can rise in one city where ridesharing is growing while falling in another, that suggests other factors are at play. Like, say, the New York subway system being in a state of crisis.
Plummeting on-time rates. Constant maintenance problems both at the stations and along the tracks. Sewage pouring from ceilings. The subways are in such terrible shape these days that Gov. Andrew Cuomo promised emergency repairs last year. But as The New York Times noted this week, little progress on these fixes has had been made, "despite the hundreds of millions of dollars spent on repairs."
That miserable situation doesn't just help explain why subway riders would be switching to Uber and Lyft. It shows what a dismal idea it is to put a cap on ridesharing services just when they're needed the most.
With a cap in place, rideshare drivers would be more likely to confine their trips to the busiest parts of town, where both demand and fares are high. Citizens of the outer boroughs would lose out.
Arva Rice, president of the New York Urban League, made this very point in a May article for Crain's. A rideshare cap might reduce congestion in the central business district, she notes, but it could also "devastate transportation options in the rest of the city, predominantly communities of color, which have long been underserved and overlooked by transportation officials and independent cab drivers."
Meanwhile, Uber has rolled out a "De Blasio's Uber" mode on its app, which tells users there are either no cars available or that there will be a 25 minute wait.
No city in America currently caps the number of rideshare vehicles, and past efforts to impose a cap in New York City have failed. But rideshare companies' reputation has fallen since then, making the industry an easier target. If this idea takes hold, New Yorkers will get to have two hobbled transportations options instead of just one.