Andrew Cuomo Wants the State to Save a Failing Newspaper
After the struggling New York Daily News laid off about half of its staff yesterday, Gov. Cuomo offered to help.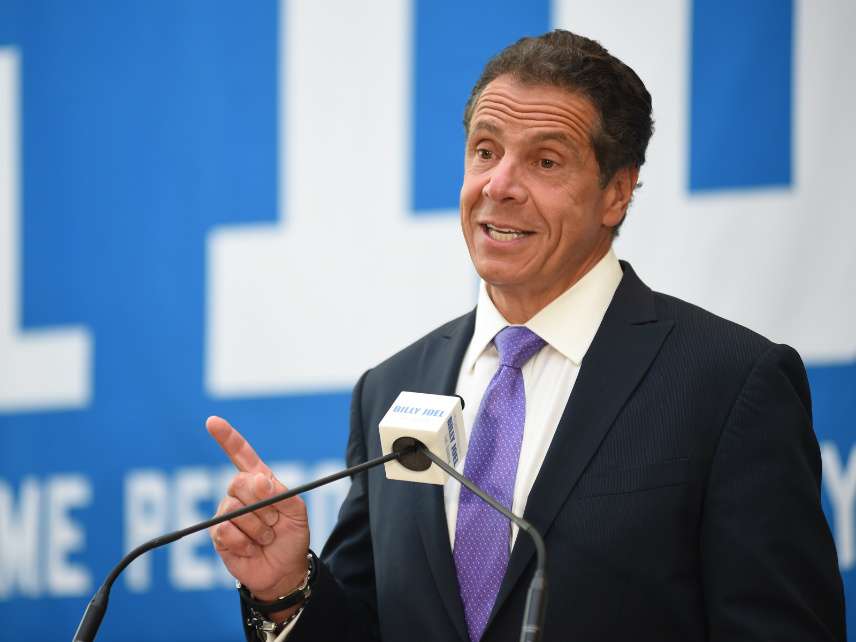 New York Gov. Andrew Cuomo indicated that the state might be willing to bail out the struggling New York Daily News, which laid off about half of its staff yesterday.
The Daily News has been in dire straits for some time, having lost about $90 million over the past three years. Though more than 2 million copies of the print edition were distributed daily in the 1940s, daily circulation dropped to about 200,000 by 2017. And last September, the newspaper was bought by media publishing giant Tronc for just $1.
So it shouldn't have come as any real surprise when staffers at the struggling paper received an email yesterday morning that said Tronc would be "fundamentally restructuring the Daily News." The newspaper's business model simply wasn't working, and changes were needed.
But Cuomo doesn't think layoffs are the answer, saying in a statement that the cuts "will undoubtedly devastate many households and hurt an important New York institution and one of our nation's journalism giants." The Democratic governor claimed the layoffs were made "without notifying the State or asking for assistance," and noted that his father, former New York Gov. Mario Cuomo, "came to the aid of the New York Post when it was facing difficult financial times" because he "understood the value of a robust free press." Cuomo went on to plead with Tronc to "reconsider this drastic move" and said he's "ready to work with them to avert this disaster."
"I understand that large corporations often only see profit and dividends as a bottom line," Cuomo said. "But in New York, we also calculate loss of an important institution, loss of jobs, and the impact on the families affected. I hope Tronc does the same and recalculates its decision. New York State stands ready to help."
Cuomo's concern is understandable. As governor of the state, he doesn't want to see people lose their jobs. But providing the Daily News with a bailout or other form of government assistance probably isn't the answer.
Like many of the country's newspapers, the Daily News is struggling to adapt in the age of digital news. Does that mean all those other papers should receive government assistance as well? Of course not. Journalism itself isn't dying; papers like the Daily News simply need to figure out how to turn a profit, or other outlets that can will take their place.
Cuomo's statement also raises another issue: A publicly funded press is not a free press. Politico's Jack Shafer summarized this concern well when critiquing New Jersey's experiment in state-funded news earlier this month:
Even if the consortium stays clean, won't it avoid politically charged stories of great watchdogging potential because it will fear to bite the hand that feeds it? Government-funded news outfits like NPR and PBS, ever fearful of offending their funding sources, avoid hard-hitting government news for this reason. Public media may follow the news pack on a story about government corruption, but generally, they're too compromised to lead.
The Daily News has stuck around for more than a century, and it's sad to see the newspaper struggle. But it's not Cuomo's problem to fix.