Portland Food Cart Shuts Down Following Harassment by Occupy ICE Protesters
The Happy Camper provoked demonstrators' wrath by continuing to serve federal immigration officials.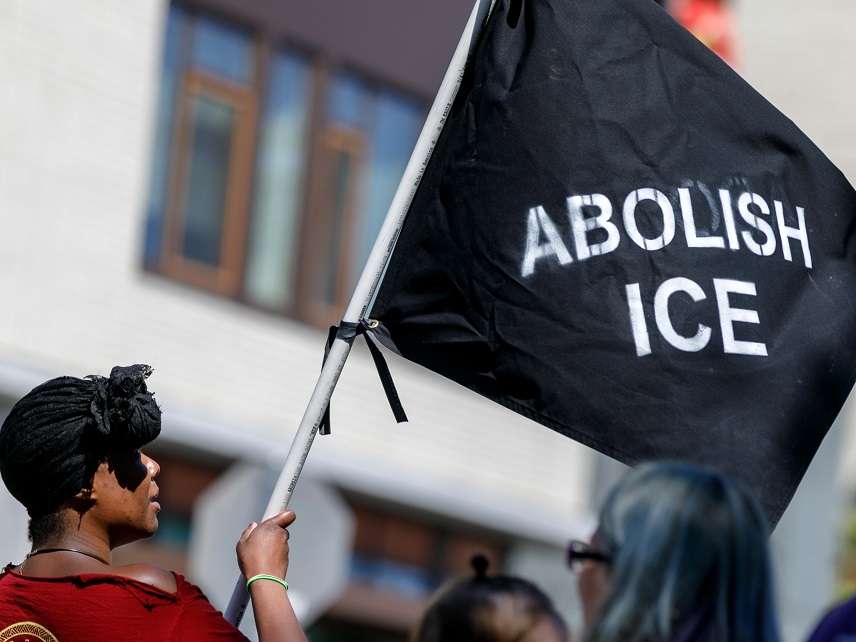 A Portland food cart is closing down following harassment and alleged threats of violence from protestors who objected to the business serving federal immigration agents.
Since mid-June, demonstrators have set up an encampment outside the Immigration and Customs Enforcement (ICE) office in southwestern Portland to protest the Trump administration's border crackdown. The protest, known as Occupy ICE PDX, spawned similar protests across the country; it succeeded in shutting down ICE's Portland office for a week before police officers moved the demonstrators away from the entrances. An uneasy standoff has since developed between the remaining anti-ICE protestors and federal police.
Caught in the middle of this is The Happy Camper, a food cart that occupied a street corner directly across from both the encampment and ICE office.
Co-owned by couple Scott and Julie Hakes, The Happy Camper used to do steady business serving food to the federal agents who worked across the street. The two used the proceeds to help fund their non-profit Off The Grid, which supplies food and clothing to Portland's homeless population.
Julie was initially supportive of the Occupy ICE protest when it started, according to comments she made the Willamette Week. But the Hakes' attempt to "stay neutral and serve all who are hungry," including ICE and other Department of Homeland Security (DHS) staff who share the Portland office space, provoked anger from some anti-ICE demonstrators, who reportedly threatened staff at the food cart for failing to get on board with the struggle.
Video apparently taken by a female Happy Camper employee—and shared by a right-wing Twitter account—shows a demonstrator using a megaphone to call the staffer a "bitch" and accuse her of laughing at the victims of U.S. immigration laws.
According to Scott Hakes, the last straw came when protestors threatened his 21-year-old daughter for serving food to a DHS employee. "If they catch her outside the cart, they're going to hurt her. They're constantly cussing at her and screaming at her," he told KGW. According to the owners, protestors also threatened to burn down the cart.
On July 20, less than a month after protests began, a post went up on the Happy Camper's Facebook Facebook page announcing that the food cart would be shutting down. Reads the post: "We tried repeatedly to try to work out peaceful solutions with the organizations and individuals protesting, but it all came back to being told almost daily to either support the anti DHS agenda or suffer the consequences (Quote Unquote)."
Needless to say, threatening violence against third parties for not being sufficiently in favor of one's chosen cause is inexcusable. It's also remarkably counterproductive.
The Portland protest started as a focused demonstration against punitive immigration enforcement in general and the administration's reprehensible family separation policy in particular. If some of its members adopt such a strict with-us-or-against-us stance that they are willing to harass a business' employees just for serving food to their protest's target, that can only damage public sympathy for a laudable cause.