Secret Carter Page Surveillance Warrant Documents Released
Heavily redacted report shows the FBI believed former Trump aide was helping the Russians.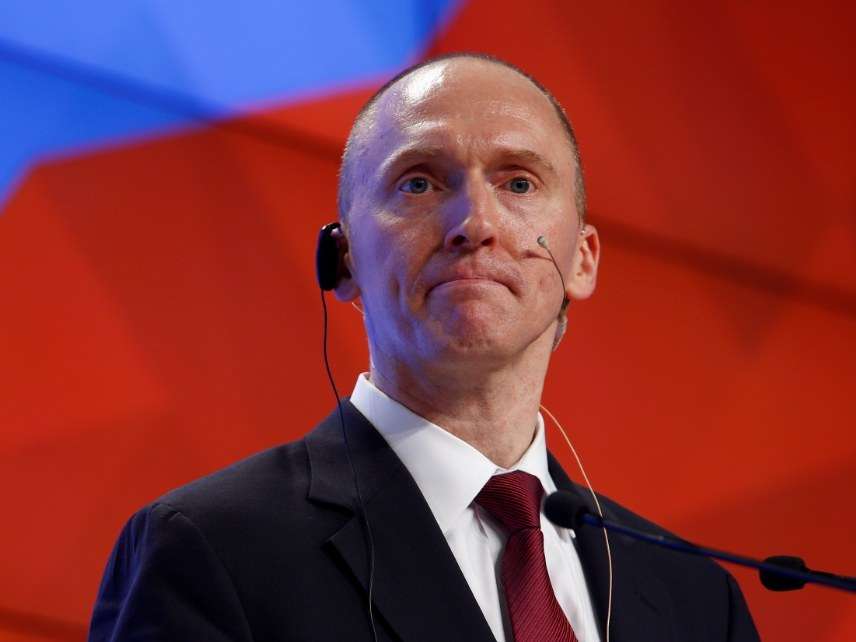 The FBI believed that former Trump campaign aide Carter Page was an agent of the Russian government working on behalf of the Russian efforts to influence the 2016 presidential election when the agency requested permission to secretly engage in surveillance on him.
The FBI's warrant requests with the Foreign Intelligence Surveillance Court (FISC) were released over the weekend in heavily redacted form, the result of several Freedom of Information Act lawsuits to get more information.
It is unheard of for secret warrant documents from FISC to be publicly released. One of the court's purposes is to provide a second branch of governmental oversight over our extremely secretive executive branch foreign surveillance. But the surveillance of Page has become a massive focus of public conflict over whether the FBI's snooping of people connected to the Trump campaign was legitimate or politically motivated. Democratic and Republican lawmakers have been consumed with either defending or attacking the investigation and the validity of the warrant.
The information released in the warrant is not going to resolve the conflict. Indeed, it appears to be playing out on Twitter and in media discussions exactly the same as it already had been. Critics of President Donald Trump and the administration believe that the warrant shows that the FBI was thoughtful and careful in its requests to FISC and had plenty of valid evidence and concerns above and beyond the controversial "Steele Dossier" that suggested that Russia had compromising information about Trump. For supporters of Trump, the warrant is thin on evidence and heavy on hearsay that Page was doing anything wrong.
Page went on CNN this morning to deny being a Russian agent. He has not yet been charged with any crimes. And Trump, of course, tweeted:
Looking more & more like the Trump Campaign for President was illegally being spied upon (surveillance) for the political gain of Crooked Hillary Clinton and the DNC. Ask her how that worked out—she did better with Crazy Bernie. Republicans must get tough now. An illegal Scam!

— Donald J. Trump (@realDonaldTrump) July 22, 2018
Andrew McCarthy—"I said this could never happen. This is so bad that they should be looking at the judges who signed off on this stuff, not just the people who gave it. It is so bad it screams out at you." On the whole FISA scam which led to the rigged Mueller Witch Hunt!

— Donald J. Trump (@realDonaldTrump) July 22, 2018
Two responses to those tweets: One, the FBI didn't submit these warrants until after Page left Trump's campaign, a detail that gets repeated and repeated but seems to get ignored. Page was not surveilled while he was working for Trump's campaign. Two, the four judges who approved the warrants were all appointed by Republican presidents.
But if you're looking for me to tell you whether the warrants were on the level, I'm afraid I don't have any answers for you, because of that issue of FISC warrants being kept secret. I have no basis of comparison here with other warrants that have come before the court. We don't really have contextualization to say that the warrant was more or less thorough in making its case than previous warrants.
I will say, though, that the insistence by some that the warrant didn't have enough to justify surveillance suggests that certain Trump supporters will settle for nothing less than a full smoking gun, which would make the need for surveillance unnecessary in the first place. This was a hunt for evidence based on probable cause, not a full indictment. That there's uncertainty in the warrant doesn't invalidate it and it doesn't necessarily tag it as a "fishing expedition." The warrant is for the purpose of finding out whether Page was violating the law in the scope of his relationships with Russia. If it turns out he was not, that doesn't actually mean the warrant was bad or politically motivated. Sometimes investigations show that people are innocent.
It may ultimately mean that the FISC judges are too quick to approve warrants, but that's a completely separate discussion that we're probably never going to have because it has nothing to do with Trump and everything to do with how the court operates. And we know that just last year, Trump approved the renewal and expansion of the surveillance powers of the Foreign Intelligence Surveillance Act to be used against American citizens while complaining at the exact same time that he had been snooped on.
That people don't care about the court outside of Trump's interests (either shielding or attacking him) is a disappointment, because Page is hardly the only American whose life can be upended on the basis of secret evidence concealed from the public. The release of parts of a FISC warrant should actually be the tip of the iceberg of bringing some more transparency to America's most secretive court. If trends continue, though, it will remain largely submerged.
Read the FBI warrants here.