Movie Review: Mamma Mia! Here We Go Again
A new director and fresh young stars make the ABBA experience new again.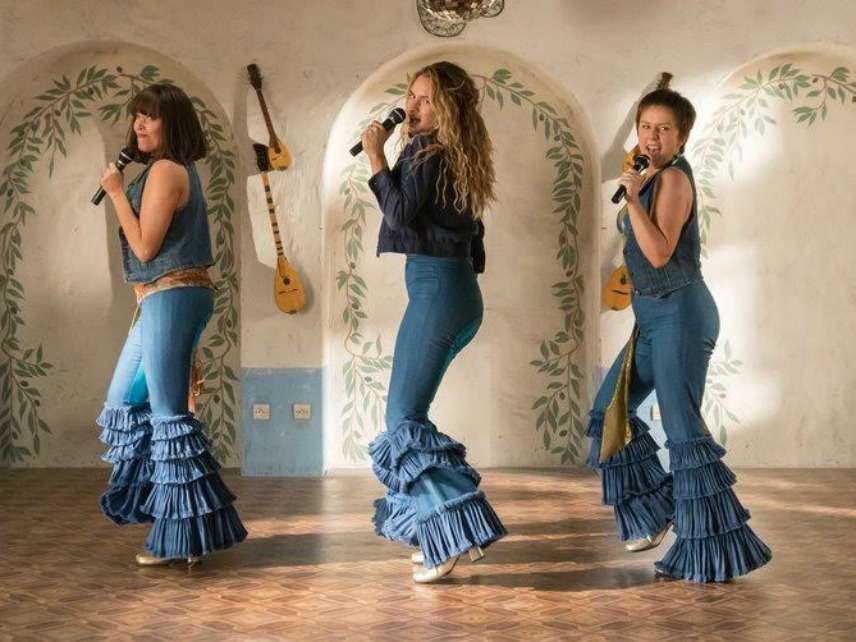 Does this movie signal the onset of Too Much ABBA? Of course not. There's no such thing as too much ABBA.
Oh, there have always been naysayers, especially in this country, which was stubbornly resistant to the group's music in its heyday, back in the 1970s and early '80s. At first, with its glitter-bomb stage outfits (a dodge to take advantage of a Swedish tax law) and its unapologetically danceable music, the group was consigned by many rock-inclined pop critics to the dustbin of disco. Village Voice critic Robert Christgau, writing off ABBA's Greatest Hits album in a 1976 review, said, "the band's real tradition is the advertising jingle, and I'm sure their disinclination to sing like Negroes reassures the Europopuli."
Criticism at that level now seems perverse. In the intervening years, ABBA has probably sold more than 100-million albums (a lowball estimate). Its songs have been covered by admirers ranging from Portishead to Yngwie Malmsteen. And Mamma Mia!, the 1999 jukebox musical from which this movie and its 2008 predecessor were drawn, has been a phenomenal hit all around the world, especially in the U.S., where it had a 14-year Broadway run, and the U.K., where it's still doing business in London's West End.
Anyone who's seen the stage show will know it's a dancing-in-the-aisles celebration of ABBA's great chart hits. (Cher, who appears in this movie, recently said she's attended the show three times and was dancing in the aisles herself.) Oh, there's a story, too—some business about a mom and her daughter and a sunny Greek island. But that's just a clothesline for the sunny songs.
The first Mamma Mia! film, directed by Phyllida Lloyd, who also directed the London and New York stage shows, hewed very close to the theatrical narrative. Meryl Streep played the mom, a woman named Donna, who has raised her daughter Sophie (Amanda Seyfried) on the gorgeous travel-porn island of Kalokairi, where Donna is the proprietor of a picturesque inn. When Sophie becomes engaged to a young man named Sky (Dominic Cooper), she decides to seek out the father she never knew (and Donna has never identified) and invite him to her wedding. But It turns out there are actually three paternal candidates: a New York architect named Sam (Pierce Brosnan), a London banker named Harry (Colin Firth), and a sailing adventurer named Bill (Stellan Skarsgård). Donna had brief liaisons with each of these men back in her bohemian youth, so it's complicated. Also hanging about are Donna's longtime comic-relief buddies, Tanya (Christine Baranski) and Rosie (Julie Walters). Many musical-comedy complications ensue, and in the end the three good-hearted guys decide to share Sophie's paternity.
So is this new movie, Here We Go Again, just a rehash of the last one? Well, similarities were unavoidable. Since the first film hoovered up ABBA's most resounding hits, without which no ABBA-based movie would seem quite right, the big numbers get an encore here – so welcome back, "Waterloo," and "Dancing Queen," and you too, title tune. But writer-director Ol Parker (who scripted The Best Exotic Marigold Hotel) asked ABBA songmasters Benny Andersson and Björn Ulvaeus if he could plumb the group's large catalog for new numbers to freshen things up, and they said sure. So now, scattered among the returning classics and some great songs making their franchise debut (among them "Knowing Me, Knowing You," "One of Us," and "When I Kissed the Teacher"—which ignites a tremendous song-and-dance sequence), are some less widely known tunes like "Angeleyes," "I've Been Waiting for You" and "Andante, Andante," which can stand proudly among ABBA's best efforts.
The story is more than just a reprise, too. It's told on two levels, one of which features the original characters, still played by Seyfried and Cooper, Brosnan, Firth and Skarsgård, and Baranski and Walters. In this iteration, Donna is dead, Sophie is pregnant and she and Sky are opening a new hotel – an event to which Sophie has once again invited her three dads. She hasn't invited her grandmother (Cher, at full diva wattage, with platinum hair, Hollywood shades and a silver walking stick), but grandma shows up anyway.
On the other level, a separate storyline takes us back to Donna's youth, with the character now played, with sparkling pizzazz, by Lily James (Cinderella, Baby Driver). Her three young lovers are Josh Dylan, Jeremy Irvine and Hugh Skinner (who leads her on an all-stops-out romp through "Waterloo" in a Paris restaurant, featuring dueling baguettes and a maitre d' dressed, for some reason, as Napoleon). Younger versions of Donna's pals Tanya (Jessica Keenan Wynn) and Rosie (Alexa Davies) naturally crop up as well, and there are very funny bits by Andy Garcia, as the sultry manager of Sophie's new hotel, and Omid Djalili, playing some sort of dockside passport-stamper. Overall, the movie benefits greatly from this injection of new characters and young blood.
However, the Greek island of Kalokairi presented here is notably different from the one we saw in the first movie (now it's actually the Croatian island of Vis), and the sun doesn't seem to be shining down on it quite as gloriously. And if I must stretch for complaints I'd say that I wish the movie had ended with its most gratifying musical number, under a night sky filled with starburst fireworks, instead of continuing on through a feel-extra-good fantasy that will no doubt wring a tear or two from those susceptible. Although…I guess that's okay, actually.