Milwaukee Launches Lawsuit, Threatens Fines Over Dockless E-Scooters
Residents continue riding the scooters in a stirring display of civil disobedience.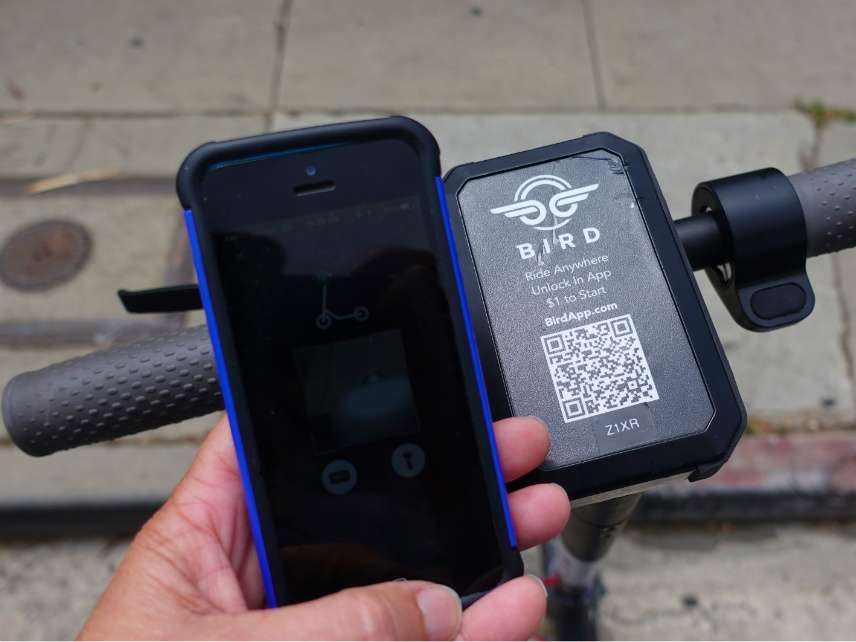 It's a familiar story by now: Dockless e-scooters pop up in a new city, people take to them immediately, and local officials, fearful of this unpermitted convenience, begin a crackdown. The latest battle is in Milwaukee, where the dockless e-scooter company Bird is being sued by the city for refusing to take its vehicles off the streets.
Bird, similiar to competitors Lime and Spin, has distributed thousands of motorized e-scooters on the streets of cities across America, where people can rent them via a smartphone app. Because they are dockless, they need not be picked up or dropped off at particularlocations.
In late June, Bird dropped 100 scooters in Milwaukee's downtown, to the delight of city residents, who have rented the vehicles more than 6,900 times. Less happy were city officials, who declared the Bird scooters unregistered motor vehicles that did not meet federal safety standards and therefore could not legally be operated on Milwaukee's sidewalks or streets.
The week that Bird launched in Milwaukee, Deputy City Attorney Adam Stevens sent the company a letter demanding that it cease and desist. When Bird chose instead to persist and resist, the city sued.
Bird has decided to fight the lawsuit while extending an olive branch to the city. A company spokesperson told the website Smart Cities Dive that Bird "respectfully disagrees" with the claim that its scooters are unlawful but nevertheless looks "forward to working with the city to create and enforce common sense rules encouraging the safe use of our sustainable transportation option."
The Milwaukee Common Council has chosen to ratchet up tensions instead. At a meeting on Wednesday, the council advanced a measure empowering the city to impound Bird scooters, while refusing to hear comments from a company representative who was present. The city also has threatened e-scooter riders with $100 tickets.
It's a bizarre attitude for a city government so concerned about downtown connectivity that it's building a $128 million, 2.5-mile streetcar line. Many Milwaukee residents take a different view, continuing to zip around on Bird's scooters with reckless disregard for the picayune demands of Wisconsin's motor vehicle code.
Yesterday the Milwaukee Journal-Sentinel published a survey of Bird riders who were either blissfully unaware of or totally unconcerned about the city's e-scooter ban. "I know it's illegal, but I'm not worried about getting a ticket," said one rider. "I've gone past a few cops already, and I have a lot of friends riding them." Another Bird customer told the paper, "It was a blast. We're not worried about getting fines. I can't really imagine a cop chasing us down."
Milwaukee police declined to say how many people, if any, they had ticketed. The Journal-Sentinel, which talked to ten riders, found none who had heard of anyone who got a ticket.
The contrast between the political consternation that has greeted dockless e-scooters in courtrooms and city halls and the mostly positive reactions from residents on city streets is telling. The crackdown on these services has far more to do with local governments throwing their weight around than with mitigating any negative impact from the new transportation service.
"You got to follow the rules," Milwaukee Alderman Robert Bauman said on Wednesday. "This company is basically giving the city of Milwaukee the middle finger. When the law is changed, I'm more than willing to sit down with [Bird]."
Milwaukee politicians have said that Bird needs to get permission from the state legislature before its vehicles can be allowed on city streets. Until that happens or the city's lawsuit is resolved, residents of Milwaukee will continue to quietly flip the bird to city hall as they zip around town on their dockless contraband.