Florida Couple Gets to Keep Home's 'Starry' Paint Job; Mayor Must Publicly Apologize for $10,000 Fine
In a settlement reached Tuesday night, two residents of Mount Dora, Florida, will receive $15,000 and permission to keep their Van Gogh-inspired paint job.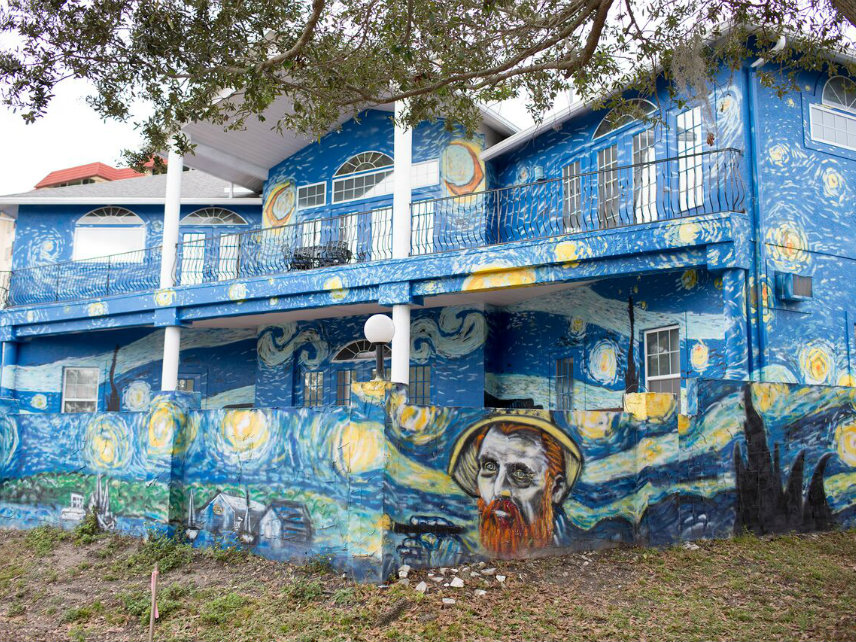 The mayor of Mount Dora, Florida, will have to publicly apologize Wednesday afternoon for his city's overzealous code enforcement that targeted a home painted in the likeness of Vincent van Gogh's masterpiece Starry Night.
More important, the city will remove a lien against the property and drop more than $10,000 in fines it had issued to the husband and wife who own the home, according to a settlement approved unanimously by the city council Tuesday night. The Orlando Sentinel reports that the settlement also includes the payment of $15,000 to homeowners Lubomir Jastrzebski and his wife, Nancy Nemhauser.
The couple's colorful home became the subject of national media attention and legal scrutiny last year when city officials deemed the elaborately painted mural covering a wall in front of the house to be "graffiti" and ordered the couple to remove it. At first, they were told the house and wall had to match—but after Jastrzebski and Nemhauser expanded the mural to include the entire house, city officials shifted their argument and claimed the display constituted an unapproved "sign" because it attracted people to look at the house. The couple was fined $100 per day.
It was something of a sign. Jastrzebski and Nemhauser intended the wall to serve as a sort of beacon for their 25-year-old son, who suffers from autism. If he were to ever get lost, they reasoned, he could simply tell anyone in town to take him to the van Gogh house.
Since then, the Starry Night House became national news. Jastrzebski and Nemhauser refused to pay the fines and filed a lawsuit against Mount Dora, claiming that the city had violated their First Amendment rights to free expression. The Pacific Legal Foundation, a nonprofit public interest law firm, represented them.
Attorneys from PLF seemed pleased with the outcome when it was announced Tuesday night.
It's a good settlement. https://t.co/4sHf0KgEUM

— Jeremy Talcott (@jeremytalcott) July 18, 2018
(Update: Talcott tweets to clarify that "it's a good settlement" is his nice way of saying "we got absolutely everything plus a public freaking apology," so, yeah, he seems pretty pleased.)
A federal judge ordered the city to halt those $100-a-day fines earlier this year. Losing that preliminary ruling seems to have caused officials in Mount Dora, somewhat famous as a colony for artists in central Florida, to reconsider their fight against the beautifully painted house.
As part of the settlement, Mount Dora will be required to rewrite its code enforcement rules. The city council will form a seven-member advisory committee, including Nemhauser, to advise the city on new ordinances and codes.
As the settlement was nearing a final vote from the city council this week, Jastrzebski told the Sentinel he was happy with the outcome but still shocked by the whole process. "I almost felt like being in communistic Poland, where the rules were being made up by officials on the fly," he said. "I couldn't believe something like this could happen in the United States of America."